US close: Stocks extend rally following Powell's testimony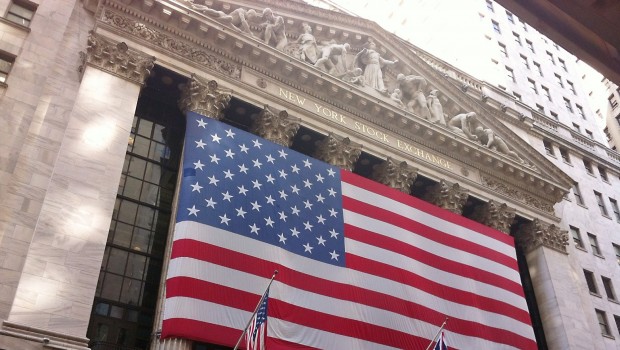 Wall Street stocks closed higher on Tuesday after the Dow Jones Industrial Average turned in its best performance since March a day earlier.
At the close, the Dow Jones Industrial Average was up 0.20% at 33,945.58, while the S&P 500 was 0.51% firmer at 4,246.44 and the Nasdaq Composite saw out session 0.79% stronger at 14,253.27.
The Dow closed 68.61 points higher on Tuesday, adding to the considerable gains recorded by the index in the previous session.
Tuesday's main focus was testimony from Federal Reserve chairman Jerome Powell before the House of Representatives, where he discussed the central bank's response to the Covid-19 pandemic.
Powell's remarks supported the expectation that the Federal Reserve will shortly look to discuss removing a number of the unprecedented stimulus measures it put into place as a result of the pandemic.
"Since we last met, the economy has shown sustained improvement," Powell said. "Widespread vaccinations have joined unprecedented monetary and fiscal policy actions in providing strong support to the recovery. Indicators of economic activity and employment have continued to strengthen, and real GDP this year appears to be on track to post its fastest rate of increase in decades."
While the Fed head acknowledged that inflation has "increased notably" in recent months," he also noted that the majority of these increases appear to be only temporary in their effect and that inflation should settle back to 2% over the long term.
Also in focus, bitcoin fell below $30,000 to its lowest level in over five months and pushing into negative territory for the year on the back of intensified efforts to crack down on the cryptocurrency in China.
On the macro front, the Federal Reserve Bank of Philadelphia's non-manufacturing diffusion index for current general activity at the firm level rose sharply from 22.1 in May to 56.7 in June, its highest reading since March 2012.
Elsewhere, existing home sales fell 0.9% in May to a seasonally adjusted annual rate of 5.80m, according to the National Association of Realtors, a fourth straight monthly decline as low inventory pushed out many potential buyers and builders were unable to deliver houses due to an increase in the expensive of lumber.
Lastly, the Richmond Fed's manufacturing index showed activity across the central Atlantic region picked up further steam in June, with the Fifth District Survey of Manufacturing Activity's composite index coming in at 22 in June, up from 18 in May.
No major corporate earnings were released on Tuesday.
Dow Jones - Risers
Nike Inc. (NKE) $132.48 1.85%
Home Depot Inc. (HD) $312.71 1.66%
Apple Inc. (AAPL) $133.98 1.27%
Microsoft Corp. (MSFT) $265.51 1.10%
Visa Inc. (V) $235.93 0.69%
Dow Chemical Co. (DOW) $63.59 0.62%
Walmart Inc. (WMT) $137.03 0.46%
McDonald's Corp. (MCD) $233.88 0.42%
Coca-Cola Co. (KO) $54.56 0.37%
Chevron Corp. (CVX) $106.40 0.33%
Dow Jones - Fallers
Merck & Co. Inc. (MRK) $76.19 -0.73%
Boeing Co. (BA) $243.78 -0.61%
Salesforce.Com Inc. (CRM) $242.98 -0.56%
Walgreens Boots Alliance, Inc. (WBA) $51.77 -0.31%
Walt Disney Co. (DIS) $173.50 -0.27%
American Express Co. (AXP) $164.50 -0.24%
Travelers Company Inc. (TRV) $148.30 -0.24%
International Business Machines Corporation (CDI) (IBM) $146.36 -0.20%
JP Morgan Chase & Co. (JPM) $150.21 -0.15%
Amgen Inc. (AMGN) $239.91 -0.14%
S&P 500 - Risers
L Brands Inc (LB) $69.09 5.02%
Nordstrom Inc. (JWN) $34.46 4.71%
Cintas Corp. (CTAS) $374.59 3.25%
Tractor Supply Company (TSCO) $180.54 2.95%
Twitter Inc (TWTR) $63.78 2.94%
Kohls Corp. (KSS) $55.00 2.67%
Macy's Inc. (M) $18.65 2.59%
Nvidia Corp. (NVDA) $755.47 2.49%
Netflix Inc. (NFLX) $508.82 2.38%
Best Buy Co. Inc. (BBY) $111.04 2.17%
S&P 500 - Fallers
Iron Mountain Inc (New) (IRM) $43.75 -3.53%
Evergy, Inc. (EVRG) $61.88 -2.87%
Kimco Realty Corp. (KIM) $20.56 -2.19%
Carnival Corp. (CCL) $28.06 -2.13%
FMC Technologies Inc. (FTI) $9.17 -2.03%
Royal Caribbean Cr (RCL) $85.66 -1.99%
Hess Corp. (HES) $88.62 -1.97%
Vornado Realty Trust (VNO) $47.26 -1.81%
Norwegian Cruise Line Holdings Ltd (NCLH) $30.84 -1.72%
Biogen Inc (BIIB) $374.40 -1.71%
Nasdaq 100 - Risers
Cintas Corp. (CTAS) $374.59 3.25%
Nvidia Corp. (NVDA) $755.47 2.49%
Netflix Inc. (NFLX) $508.82 2.38%
Facebook Inc. (FB) $339.03 2.03%
Xilinx Inc. (XLNX) $130.02 1.95%
Mercadolibre Inc. (MELI) $1,505.00 1.94%
Charter Communications Inc. (CHTR) $707.00 1.75%
Amazon.Com Inc. (AMZN) $3,505.44 1.49%
Adobe Systems Inc. (ADBE) $575.74 1.48%
Cadence Design Systems Inc. (CDNS) $134.04 1.45%
Nasdaq 100 - Fallers
NetEase Inc. Ads (NTES) $105.93 -1.86%
Biogen Inc (BIIB) $374.40 -1.71%
American Airlines Group (AAL) $22.11 -1.51%
Microchip Technology Inc. (MCHP) $145.88 -1.27%
Align Technology Inc. (ALGN) $604.71 -1.12%
Citrix Systems Inc. (CTXS) $114.79 -1.09%
Western Digital Corp. (WDC) $68.46 -1.07%
Marriott International - Class A (MAR) $141.43 -1.01%
Seagate Technology Plc (STX) $84.50 -0.95%
DENTSPLY Sirona Inc. (XRAY) $64.38 -0.94%