US close: Major indices sharply lower as bond yields remain in focus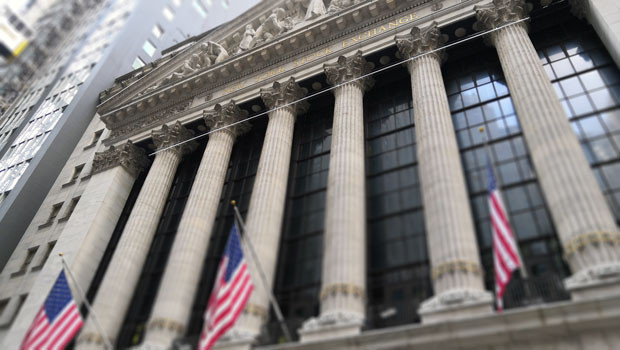 Wall Street stocks closed lower again on Friday as Netflix weighed on the tech-heavy Nasdaq and bond yields eased off somewhat but remained elevated.
At the close, the Dow Jones Industrial Average was down 1.30% at 34,265.37, while the S&P 500 was 1.89% softer at 4,397.94 and the Nasdaq Composite saw out the session 2.72% weaker at 13,768.92.
The Dow closed 450.02 points lower on Friday, extending losses recorded in the previous session after this week's jobless claims figures came in hotter than expected.
The yield on the benchmark 10-year Treasury note was still in focus on Friday, although the note slipped back slightly and was hovering at around 1.763% ahead of the Federal Reserve Bank's two-day meeting next week.
In the corporate space, Netflix shares tumbled after the streaming giant's fourth-quarter earnings revealed a slowdown in subscriber growth throughout the period, while Peleton shares were also in focus after news broke that the company will temporarily cease production of its fitness products.
On the macro front, the Conference Board's leading index increased 0.8% in December to 120.8, following a 0.7% increase in November, suggesting the economy will continue to expand well into the spring.
No major earnings were released on Friday.
Dow Jones - Risers
McDonald's Corp. (MCD) $254.90 0.58%
Procter & Gamble Co. (PG) $162.62 0.38%
Nike Inc. (NKE) $142.95 0.15%
Honeywell International Inc. (HON) $230.94 0.00%
Dowdupont Inc. (DWDP) $30.52 0.00%
Intel Corp. (INTC) $52.04 0.00%
Home Depot Inc. (HD) $349.10 -0.14%
Johnson & Johnson (JNJ) $165.04 -0.23%
Unitedhealth Group Inc. (UNH) $461.17 -0.40%
Verizon Communications Inc. (VZ) $53.16 -0.45%
Dow Jones - Fallers
Walt Disney Co. (DIS) $137.38 -6.94%
Boeing Co. (BA) $205.44 -4.09%
Visa Inc. (V) $205.93 -3.93%
Cisco Systems Inc. (CSCO) $56.68 -2.41%
Salesforce.Com Inc. (CRM) $218.63 -1.93%
Dow Chemical Co. (DOW) $56.72 -1.89%
Microsoft Corp. (MSFT) $296.03 -1.85%
JP Morgan Chase & Co. (JPM) $145.08 -1.75%
Travelers Company Inc. (TRV) $162.61 -1.56%
American Express Co. (AXP) $158.74 -1.35%
S&P 500 - Risers
CF Industries Holdings Inc. (CF) $66.00 2.64%
Ventas Inc. (VTR) $52.47 2.22%
VF Corp. (VFC) $68.05 2.06%
Carmax Inc. (KMX) $108.10 1.92%
CBRE Group Inc (CBRE) $101.51 1.81%
Iron Mountain Inc (New) (IRM) $43.35 1.78%
Welltower Inc (WELL) $87.51 1.78%
Union Pacific Corp. (UNP) $246.33 1.76%
NRG Energy Inc. (NRG) $39.22 1.71%
Best Buy Co. Inc. (BBY) $96.45 1.63%
S&P 500 - Fallers
Netflix Inc. (NFLX) $397.50 -21.79%
Svb Financial Group (SIVB) $581.76 -10.21%
Huntington Bancshares Inc. (HBAN) $15.18 -8.99%
Ecolab Inc. (ECL) $195.09 -8.48%
Intuitive Surgical Inc. (ISRG) $269.53 -7.93%
Nucor Corp. (NUE) $93.05 -7.27%
Nektar Therapeutics (NKTR) $10.95 -7.05%
Walt Disney Co. (DIS) $137.38 -6.94%
Twitter Inc (TWTR) $34.82 -6.60%
Mattel Inc. (MAT) $20.33 -5.96%
Nasdaq 100 - Risers
Trip.com Group Limited (TCOM) $25.77 2.22%
Texas Instruments Inc (TXN) $175.64 1.26%
Xilinx Inc. (XLNX) $187.79 1.17%
Regeneron Pharmaceuticals Inc. (REGN) $621.40 1.14%
Hologic Inc. (HOLX) $70.68 1.12%
Gilead Sciences Inc. (GILD) $68.51 1.03%
Mondelez International Inc. (MDLZ) $68.36 0.89%
Fastenal Co. (FAST) $56.52 0.62%
Starbucks Corp. (SBUX) $96.31 0.62%
Analog Devices Inc. (ADI) $159.52 0.56%
Nasdaq 100 - Fallers
Netflix Inc. (NFLX) $397.50 -21.79%
Intuitive Surgical Inc. (ISRG) $269.53 -7.93%
NetEase Inc. Ads (NTES) $96.99 -6.16%
Amazon.Com Inc. (AMZN) $2,852.86 -5.95%
Align Technology Inc. (ALGN) $462.78 -5.69%
Paypal Holdings Inc (PYPL) $163.54 -5.62%
Tesla Inc (TSLA) $943.90 -5.26%
Autodesk Inc. (ADSK) $239.19 -5.24%
Seagate Technology Plc (STX) $95.52 -4.89%
JD.com, Inc. (JD) $73.46 -4.60%