Market buzz: Sky and BT win most Premier League TV rights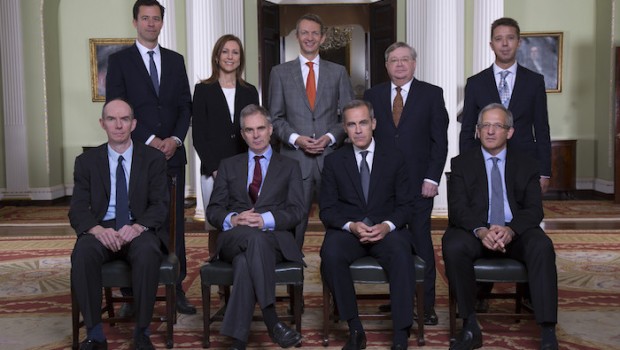 1920: English Premier League football TV broadcasting rights for the three seasons beginning 2019/20 have been decided - well most of them. BT Sport and Sky Sports have defended well, keeping most of the games for a cost of £4.46bn, with two of the seven live broadcasting packages still to be confirmed by the EPL, which said there was "interest from multiple bidders".
BT Group has secured a package of 32 games per season for a total across the three seasons of £885m. It will pay a deposit of £26.5m this month, followed by six instalments of around £145m starting in July 2019, payable every six months until December 2021.
Sky said it will pay a total of £3.57bn for the new deal, down from £4.1bn on 126 games a season last time. This new deal therefore represents a reduction of £199m per year and a 16% cost reduction per game.
1646: London's blue chip share index ended the session little changed on Tuesday, even as the pound rallied on a higher than expected reading from the Office for National Statistics on consumer prices for January, increasing expectations that the Bank of England will hike interest rates in the spring. The FTSE 100 lost 0.13% on the day to finish at 7,168.01, while the pound was up 0.4% against the dollar at 1.3888 and 0.2% lower versus the euro to 1.1235.
1629: The Office for National Statistics earlier said it is going to change the day when is publishes jobs data so it does not clash with a key Wednesday feature in Parliament.
"Publication of labour market statistics on the day of Prime Minister's Questions — one of the most important and most widely covered parliamentary occasions — means there is a risk that these detailed statistics are not fully understood by parliamentarians on both sides of the House before they can be debated. This reduces the public value of these statistics.
"To ensure that there is greater time to understand these statistics and promote public debate and scrutiny, we are bringing forward publication of labour market statistics from Wednesdays to Tuesdays."
1521: The pound is performing well against the likes of the Aussie given the recent sharp drop in commodity currencies. From a technical perspective, Fawad Razaqzada, market analyst at City Index, says the GBP/AUD could be on the verge of resuming its upward trend after its recent pullback from the key 1.80 psychological resistance level has worked off overbought conditions.
As the price is currently refusing to hold below the low at 1.7610/12, the short-term bias could turn bullish in the event the GBP/AUD forms a base above last week's closing price of 1.7685.
"Consequently, we may see the bears abandon their positions, accelerating the potential rally back towards, and this time possibly above, 1.8000. But first thing is first: we need to see the formation of a bullish daily candle here on a closing basis. Alternatively, if the GBP/AUD gives up today's gains and goes below last week's low then in that case we could see a deeper retracement in the coming days, before price potential forms a base."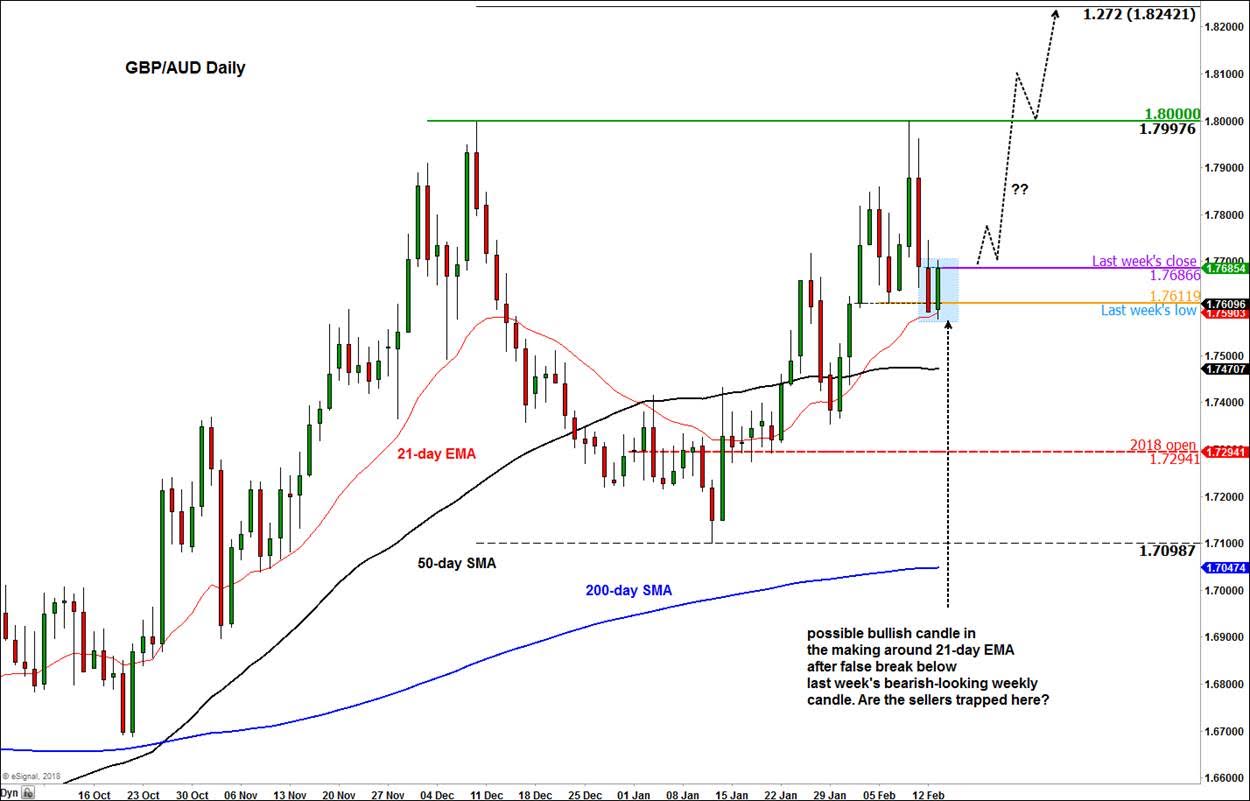 1505: On Thursday, EU officials will hold a discussion on the options for a future trade deal with the UK post Brexit. The meeting looks to discuss the mobility of workers and how cars, chemicals and food safety are regulated in the internal market, according to Bloomberg, where reporters have seen documents relating to the meeting.
1500: In remarks prepared for his swearing in ceremony, new Fed chief Jerome Powell says the central bank "will remain alert" to financial stability risks.
1407: Tomorrow's US inflation reading is arguably the biggest financial event of the week, with eurozone GDP also important.
Goldman Sachs earlier said US core CPI data "will be key to watch" as it said there was some scope for policymakers to lean against rapid tightening in financial conditions. "But with a slow hiking path (relative to history) already the baseline, that support is unlikely to be forthcoming in the very near term, and a stabilization in markets will need investors to regain confidence that the increase in inflation will be gradual and long-end rates will not rise too swiftly."
Economic data will also be key in determining how far the correction has to run further, with CPI on Wednesday being a crucial factor. Goldman expects January's core CPI to move back to 1.7% year-on-year from 1.8% in December. "While a large upside surprise on Wednesday may prompt a second leg in the selloff, we ultimately expect US inflation to rise only gradually."
1409: Earlier UK inflation was stronger than expected but Barclays has slightly cut its inflation profile for the year ahead, predicting headline CPI inflation to average 2.4% this year, down 0.2 percentage points on its previous projection. But the bank's economists have left their 2019 calculations unchanged at 2.2%. "Overall, we continue to expect limited medium-term inflationary pressures."
1355: US hedge fund manager Ray Dalio has suggested the risks of a recession in the next 18-24 months are rising and bonds are past their peak. "We don't know exactly how far we are from the top in the stock market and then the economy, though it is clear that we are past the top in the bond market," said Dalio, manager of the enormous Bridgewater hedge fund, in a blog post.
"We are in the part of the cycle in which the central banks' getting monetary policy right is difficult and that this time around the balancing act will be especially difficult," he said.
He added: "While most market players are focusing on the strong 2018, we are focusing more on 2019 and 2020 (which is the next presidential election year). Frankly, it seems to be inappropriate oversight to not be talking about the chances of a recession and what that recession might look like prior to the next election."
1315: Ahead of the US opening bell, here's a couple of analyst comments.
In a Wall Street preview, Barclays said: "US equity markets falling into correction territory in recent days begs the question of how far equities would have to fall, or volatility to rise, for the Fed to consider a delay in its policy plans. We think it is too early for the Fed to consider altering course and we believe the committee will likely take some comfort in the tightening in financial conditions as it will reduce the risk of a hard landing overtime."
Looking at the big internet stocks, if the drawdown ends up only being 14%, investors should look to accumulate Facebook at $170, Google parent Alphabet at $1045, Amazon at $1290 and Netflix at $250, Barclays analysts said. "However, the team thinks another 5-10% may be on the cards."
On energy, RBC Capital Markets said: "Many attribute the recent oil price retracement to broad based market turbulence, but there is more than meets the eye. Energy prices needed a breather and investors should not discount the caution signs that have been emerging. While record investor length and roaring US production have certainly been sure-fire warning signals, the tempering physical oil backdrop is also playing a central role in the recent price softness. In our view, the market has been overly focused on the race towards rebalance without realizing that transient pockets of oversupply have been emerging in the physical market."
1259: The South African rand is down as South African President Jacob Zuma continues to refuse to resign, despite now being officially recalled by his party. ANC Secretary General Ace Magashule told reporters in Cape Town that Zuma had agreed to resign but had asked for three months.
1230: An interesting couple of notes for mining industry followers.
A general overview from Capital Economics: "We are sceptical that President Trump's infrastructure plan will be approved by Congress. What's more, even if congressional approval is forthcoming, the reliance on state and local governments and private investors to do most of the heavy lifting appears overly optimistic. As such, we do not expect a marked upturn in US infrastructure spending or commodities demand anytime soon."
Then one from Oxford Economics focused on the impact of the shift towards electric vehicles and in particular the bottlenecks and the risks around some of these new emerging technologies that potentially threaten to disrupt major commodity markets.
Oxford noted figures from LMC pure battery-powered EV sales excluding hybrids increased 67% in 2017, helped by rapid subsidy-driven growth in China, although sales are still less than 1% of the global total.
In the note the economists highlight potential bottlenecks, with the industry seen as likely to struggle to meet the lithium demand of the EV industry for the time being, with cobalt another potential bottleneck for EV producers as production of this metal is likely to remain a major challenge for the next 5-10 years as the industry is incredibly reliant on the Democratic Republic of Congo as it threatens new mining laws.
"In particular it looks like lithium batteries will provide a new way forward for motive power – threatening to disrupt major commodity markets such as oil, steel, copper and aluminium," the report says.
1211: The London midday report shows the FTSE 100 index hovering around the flat line, even as the pound rallied after inflation came in higher than expected for January, increasing expectations that the Bank of England will hike interest rates in the spring. The blue chip index was barely moved since the previous close at 7,175.14, while the pound was up 0.5% against the dollar at 1.3909 and 0.1% firmer versus the euro at 1.1264.
1109: Three month LME-traded copper futures are trading higher to $6,919 per metric tonne from $6,825 a tonne the day before. As a backdrop, one trading outfit is pointing out the potential for strikes at BHP Billiton's Escondida mine.
1045: The official seasonally adjusted house price index rose by 0.5% month-to-month in December, up 5.2% on the year, with the rate exceeding the 5.0% rate in November and the consensus for a 4.9% gain.
"The slowdown in house price growth shown by most survey measures has not been recorded yet by the official data," economists at Pantheon Macroeconomics say.
"The official data are based on transactions, so it should be the gold standard indicator. Early estimates, however, often are revised significantly, and initially, coverage is particularly thin for new build home prices [...] Although the Help to Buy Scheme is supporting the new build sector, we doubt that prices are rising as quickly as the initial official data suggest."
1021: Higher than expected UK consumer price inflation has put further pressure on the Bank of England to raise rates, lifting the pound and so helping pull the FTSE 100 lower.
"UK inflation looks like it is here to stay, as expectations of a fall in UK CPI were blown away this morning," said market analyst Joshua Mahony at IG. "While traders were fixated on whether the headline figure would drop back below 3%, the real head turner turned out to be the core CPI reading, which jumped back to 2.7% to negate last month's 0.2% fall.
"With core CPI now back to the joint highest level since 2011, the intense price pressures remain on the BoE to raise rates, with markets factoring in a greater than 50% chance of two or more rate rises in 2018. Unfortunately for Mark Carney, his recent reasoning that inflation could rise over the short term due to energy prices appears to be undermined, with the core reading showing that UK inflation is on the rise irrespective of energy prices."
0955: "UK inflation came in higher than expected in January, adding further pressure for policymakers to hike interest rates again, possibly as soon as May," says economist Chris Williamson at IHS Markit.
0945: UK inflation remains at 3.0%, which was higher that the market expected and keeps the prospect of a Bank of England interest rate hike firmly in play over the coming months. The consumer price index in January was 3.0% higher than a year ago, the ONS reveals. This was in line with the Bank of England's inflation report last week but stronger than the average forecast from economists of 2.9%.
Core CPI, which strips out more volatile prices such as food and fuel, rose 2.7% in January, more strongly than the 2.6% predicted and up from the 2.5% rise a month before.
0925: Tour operator Tui is the highest riser on the FTSE 100 this morning after it jetted off to a strong start for its financial year with sales and underlying earnings both much improved on last year, sending its shares to fresh highs.
Imperial Brands is the biggest faller after a downgrade to 'neutral' at Piper Jaffray. Among other broker note action, Smiths Group was on the up as Barclays initiated coverage of the stock at 'overweight', while Dixons Carphone was lifted by an upgrade at Cenkos. BP is slightly lower after a downgrade to 'equalweight' by Morgan Stanley.