Director dealings: Oxford Nanopore exec sells over $0.5m of shares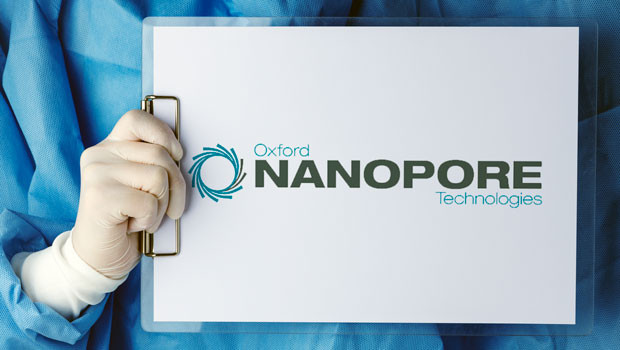 Shares in Oxford Nanopore were in the red on Monday afternoon, after the company's chief strategy officer sold almost $0.6m worth of his holding.
The firm said Dr James 'Spike' Willcocks made the sales across two transactions on 5 and 6 October, both on the US OTC market.
In the first transaction on 5 October, he offloaded 105,984 shares for 291.38 US cents each, valuing the sale at $308,816.18.
On 6 October, Dr Willcocks then sold 94,016 shares for 297.13 cents apiece, netting him $279,349.73.
At 1438 BST, shares in Oxford Nanopore Technologies were down 7.58% at 250p.
Reporting by Josh White at Sharecast.com.
Top Director Buys
Victorian Plumbing Group (VIC)
Director name: Radcliffe,Mark
Amount purchased: 1,000,000 @ 40.00p
Value: £400,000.01

M&g (MNG)
Director name: Rossi,Andrea
Amount purchased: 175,000 @ 167.50p
Value: £293,124.99

M&g (MNG)
Director name: Braham,Edward
Amount purchased: 95,000 @ 166.80p
Value: £158,460.00

Intermediate Capital Group (ICP)
Director name: Schioldager,Amy
Amount purchased: 10,000 @ $12.93
Value: $106,621.59

Tesco (TSCO)
Director name: Grote,Byron Elmer
Amount purchased: 19,866 @ $2.24
Value: $36,639.15

Caledonia Mining Corporation (di) (CMCL)
Director name: Learmonth ,John Mark
Amount purchased: 2,805 @ 891.00p
Value: £24,992.55

Tpximpact Holdings (TPX)
Director name: Gandhi,Neal Narendra
Amount purchased: 43,000 @ 46.50p
Value: £19,995.00

Tesco (TSCO)
Director name: Grote,Byron Elmer
Amount purchased: 6,000 @ $2.21
Value: $10,934.28

Diageo (DGE)
Director name: Ferrán,Javier
Amount purchased: 228 @ 3,622.00p
Value: £8,258.16

Ceres Power Holdings (CWR)
Director name: Glock,Uwe
Amount purchased: 2,000 @ 4.30
Value: 7,747.75

Tesco (TSCO)
Director name: Grote,Byron Elmer
Amount purchased: 4,134 @ $2.26
Value: $7,715.41

Ceres Power Holdings (CWR)
Director name: Glock,Uwe
Amount purchased: 2,000 @ 4.19
Value: 7,553.15

Iqgeo Group (IQG)
Director name: MacLeod,Andy
Amount purchased: 2,848 @ 104.90p
Value: £2,987.55

Tpximpact Holdings (TPX)
Director name: Gandhi,Neal Narendra
Amount purchased: 5,089 @ 45.00p
Value: £2,290.05

Tpximpact Holdings (TPX)
Director name: Kelly,Isabel Jane
Amount purchased: 2,325 @ 43.00p
Value: £999.75

Actual Experience (ACT)
Director name: Bennetts,Steve
Amount purchased: 41,281 @ 1.90p
Value: £784.34

Actual Experience (ACT)
Director name: Steele ,Richard
Amount purchased: 33,776 @ 1.90p
Value: £641.74

Actual Experience (ACT)
Director name: English ,Kirsten
Amount purchased: 33,051 @ 1.90p
Value: £627.97

Allianz Technology Trust (ATT)
Director name: Patel,Neeta
Amount purchased: 222 @ 222.80p
Value: £494.62

Actual Experience (ACT)
Director name: Davidson,Stephen
Amount purchased: 19,290 @ 1.90p
Value: £366.51

Mondi (MNDI)
Director name: King,Andrew
Amount purchased: 11 @ 1,366.19p
Value: £150.28

Mondi (MNDI)
Director name: Powell,Mike
Amount purchased: 11 @ 1,366.19p
Value: £150.28


Top Director Sells
Oxford Nanopore Technologies (ONT)
Director name: Willcocks,James (Spike)
Amount sold: 105,984 @ 291.38p
Value: £308,816.18

Oxford Nanopore Technologies (ONT)
Director name: Willcocks,James (Spike)
Amount sold: 94,016 @ 297.13p
Value: £279,349.73