ITM Power signs lease on big new production facility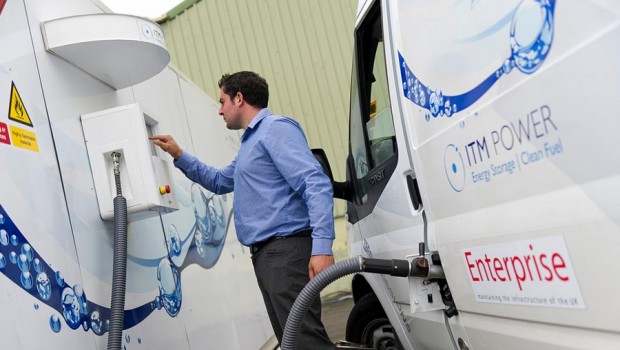 Energy storage and clean fuel company ITM Power has signed an agreement to lease new premises in Sheffield for its global manufacturing headquarters, it announced on Monday, and had made a senior production appointment to support the transition to the new facilities.
The AIM-traded firm said the agreement was for ITM Power to lease a new build development of 134,000 square feet in Sheffield, at PLP Bessemer Park.
It said the manufacturing facility would have an electrolyser manufacturing capacity of up to 1GW per annum - the largest in the world.
PLP Bessemer Park was being developed by PLP, with the agreement committing ITM Power and PLP to enter into a lease at completion of the building, expected in the fourth quarter.
ITM Power described PLP Bessemer Park as a new 50-acre development at a strategic location, next to junction 34 of the M1 and in close proximity to the firm's existing facilities.
It said it expected to occupy the building from March 2020, and complete its own technical and industrial fit-out and transition the majority of its operations into PLP Bessemer Park by summer next year.
The requirement to expand ITM Power's production capacity had been led by the continued growth in its order pipeline.
It said its new headquarters would see the company co-locate into a single building, and gain access to a five-fold increase in production space.
Key to the selection of the building was the proximity of the grid connection to provide the substantial power supply required for ITM Power's needs, using existing infrastructure near to the location.
ITM Power said it had been able to take advantage of a new build development in construction that would meet its needs for capacity and production at speed.
The new development would include capacity for 140 office-based staff, and would accommodate a large production and after sales support workforce.
It had the advantage of "excellent" public transport connections in addition to substantial parking facilities for staff and visitors, the board explained.
Key to the firm's development strategy was reducing the cost of its product offering through standardisation, process development and production volume, ITM Power explained.
Central to that was the adoption of semi-automated manufacturing equipment for repeat components.
Those special-purpose machines had required "significant" upfront engineering and verification work as part of an integrated manufacturing system.
The board said the planning behind such an important step had been underway for some time, and had worked in parallel to the search for the right premises.
Key to maximising product throughput was the increase in mains power connection available at PLP Bessemer Park, with the "substantial" power connection set to enable parallel testing of larger products prior to dispatch.
The company also announced a senior production appointment, with Grant Teagle appointed as master production scheduler, which the board said would bring "significant" experience in manufacturing, including change management and driving complex projects in production.
"The move to larger premises and the design of our new manufacturing and testing process has taken some time," said ITM Power chief executive officer Dr Graham Cooley.
"I am delighted to be able to announce this key milestone in the project and I do so with confidence that ITM Power and its advisors have done a thorough job in selecting the right premises.
"The detailed planning that has taken place will pay dividends as we transition our activities to PLP Bessemer Park from the New Year."