Engage XR revenues set to rise as losses widen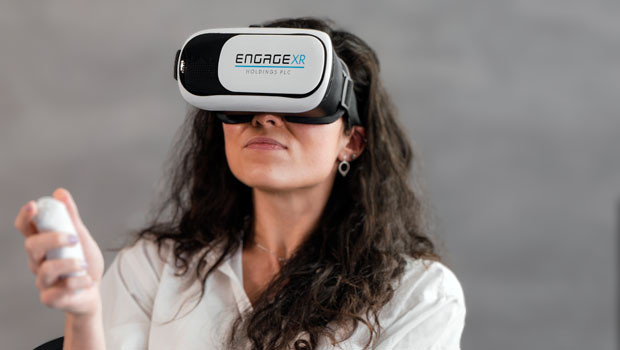 Metaverse technology company Engage XR said in an update on Wednesday that its total revenue for 2022 was expected to be €3.9m, an increase of 63% year-on-year.
The AIM-traded firm said Engage revenue comprised 85% of total group revenue, compared to 75% in 2021, with Engage revenue up 83%, and expected to total €3.3m.
Its gross margin for the 12 months ended 31 December was set to have risen to 82%, from 79% in 2021, while its EBITDA loss was expected to have widened to €5.8m from €2.7m, reflecting its increased headcount in the year.
Net cash at year-end totalled €2.2m, higher than the revised expectation for €1.9m but down from €7.8m at the end of the prior year.
The board said that was primarily due to cash collections in December being "slightly ahead of schedule", and revenue being better-than-expected in the final month of the year.
Engage XR said it finished 2022 with an encouraging performance, with December its "strongest-ever month", with revenue of €0.6m.
Looking ahead, Engage XR said its cash burn was expected to be about €0.4m per month during the first six months of 2023.
"2022 has been a year of substantial revenue growth for the group, despite the economic outlook in many other areas of the tech sector," said chief executive officer David Whelan.
"Engage platform revenue grew by 83% in this period, and we closed the year with our strongest-ever sales month with €0.6m of revenue in December.
"We continue to see increased momentum in terms of customer engagement with our Engage platform."
Whelan said the first few weeks of 2023 had already seen "some good contracts signed", with revenue already ahead of where it was at the same point last January.
"We are optimistic about our prospects for the remainder of this year, with a strong sales pipeline in place following the launch of our enterprise metaverse platform, Engage Link, in November.
"We believe that Engage Link has been well received, and we expect to deliver a significant expansion of this service throughout 2023.
"The sales purchasing cycle lengthened in the second half of 2022 in some areas due to the global economic conditions, but early signs are that this trend is easing."
The company therefore expected to see steady growth for the first half, David Whelan said, with the benefits of its new Lenovo partnership announced in November expected to be seen during the second half of 2023.
"Lenovo and Engage will work together, bundling Lenovo hardware with Engage software licences for large corporate clients and providing metaverse services to those who request them.
"This will be an exciting time for both companies.
"Our sales teams are already working together to ensure we execute on all the opportunities and scale efficiently with a focus on the US and EU markets."
Whelan added that during 2023, the company believed it would see the use of the metaverse by corporations and educational institutes increase and evolve.
"My vision for Engage is for it to become the dominant metaverse platform of choice for Fortune 500 companies.
"In 2022, we worked on partnerships and deals that will further this long-term goal at the expense of closing multiple smaller cash deals.
"At Engage XR, we build our business relationships on strong foundations, and I believe that this coming year is set to be a seminal one for the Group and its prospects."
The company said its preliminary results for the 12 months ended 31 December were set to be published in April.
At 1438 GMT, shares in Engage XR Holdings were down 0.11% at 4.52p.
Reporting by Josh White for Sharecast.com.