Monday newspaper round-up: Brexit, house prices, Barclays, Patisserie Valerie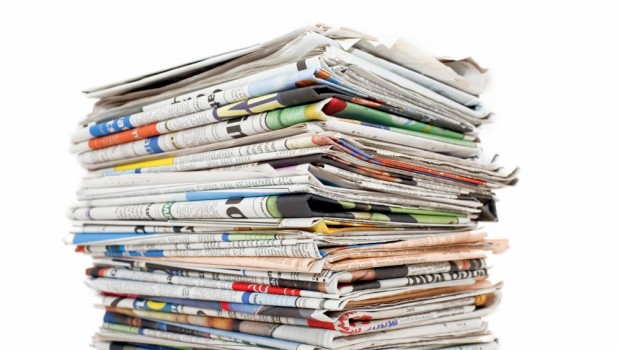 Theresa May secured the backing of some staunch Brexiteers for her deal after personally lobbying MPs but last night remained significantly short of the number she needs to win a vote this week. Esther McVey, the former work and pensions secretary who quit over Brexit, confirmed her support yesterday after hinting late last week that she could back the deal. - The Times
Theresa May will embark on a final desperate scramble to win the Democratic Unionist party's backing for her Brexit deal on Monday, in the hope that it could unlock parliament's support at the third time of asking. With several prominent Brexiters, including the former work and pensions secretary Esther McVey, now willing to switch their vote and support the deal, government sources said they hoped DUP backing could create "a sense of momentum". - Guardian
Theresa May will cancel plans to hold a third vote on her Brexit deal this week if she does not believe she can win it, ministers revealed on Sunday. Instead, Downing Street is understood to be discussing an alternative strategy of holding the vote the week after, cranking up the pressure on MPs to back the deal or accept the blame for a lengthy delay. - Telegraph
Plans to scrap tariffs on the bulk of UK imports would reduce the short-term damage of a disorderly no-deal Brexit by up to £10 billion, according to economists. Official estimates of the hit to GDP from leaving the EU without a deal or a transition have been calculated on the assumption that Britain mirrors the EU's external tariff schedule. However, the government said last week that tariffs would be made zero on all but 5 per cent of imports. - The Times
Barclays' board faces a sweeping overhaul in the coming months as incoming chairman Nigel Higgins prepares to further stamp his mark on the bank. Sources told The Telegraph that a major cull will take place later this year as the veteran Rothschild investment banker prepares to replace John McFarlane in May.
Brexit anxiety has all but killed the traditional spring property revival, pushing down asking prices across the UK by 0.8% in the year to March, according to property website Rightmove. Inner London saw the sharpest falls, followed by boroughs across the rest of the capital and surrounding counties, as separate reports showed that Brexit uncertainty was also damaging UK exports and the broader economy. - Guardian
Interserve, the troubled government contractor which collapsed last week, was handed £660m worth of public contracts in the run-up to going into administration, in an apparent repeat of the Carillion fiasco, the GMB union has claimed. Last Friday, the company which employs 45,000 staff in the UK working on £2bn worth of government contracts, was put into administration after negotiations over a rescue deal with shareholders failed.
Lenders to Debenhams could consider a "pre-pack" administration in an effort to protect the struggling department store from a campaign by Mike Ashley's Sports Direct to gain control. Debenhams has been holding talks for weeks with its lenders about securing £150 million of funds before a wider restructuring of more than £500 million of debt next year. - The Times
Patisserie Valerie shareholders are threatening to take the collapsed chain's administrators KPMG to court to get hold of a devastating report alleged to show how the company's cash balances were artificially inflated. Produced by forensic accountants at PwC, the document is alleged to detail a suspected fraud running to tens of millions of pounds. - Telegraph
Glencore's offices in Mumbai have been raided by the Indian competition regulator as part of an investigation into alleged price fixing of pulses. More than 25 officials from the Competition Commission of India are said to have searched the premises of the mining group as well as those of Africa's Export Trading Group and India's Edelweiss group over a suspected three-way pricing cartel. - The Times
Major Japanese investors, including those most indebted to coal, are seeking to back large-scale renewables projects across Asia, marking a "monumental" shift that energy market analysts say is "the start of the end for thermal coal".At the same time, Japanese banks and trading houses are walking away from coal investments, selling out of Australian mines and scrapping plans to build coal-fired power. - Guardian
Car parts manufacturers are considering moving work out of the UK amid uncertainty over the future of the industry in Britain, research has found. Two thirds of suppliers to carmakers are thinking about relocating overseas, according to a study of 300 manufacturers by KPMG. - The Times
Germany's Deutsche Bank and Commerzbank have begun talks about a merger after getting approval about a tie-up from the Berlin government. Discussions about a combination will move forward after politicians indicated that they would accept job losses and other cost cuts that a merger would entail. - Telegraph
Disneyland Paris returned to profit last year for the first time in more than a decade as increases in attendance and guest spending boosted revenue 12.9pc to a record £1.5bn, according to ­recently filed accounts. The complex is Europe's most visited tourist attraction with an estimated 14.9m guests every year but has rarely made a profit since its gates swung open in 1992 as its bottom line has been weighed down by interest payments on bank loans that funded its construction. - Telegraph
The cost of a weekly universal basic income (UBI) for everyone in Britain could be covered by reversing cuts to benefits over the past decade, according to a report. The government could make tax-free payments of £60 to every adult, £175 for those over 65 and £40 for each child under 18, regardless of other income, in a proposal designed to cut rising levels of poverty and inequality across the country. - Guardian
Rail leaders will this week call for a new independent watchdog that will allow Chris Grayling, the Transport Secretary, to take a back seat from meddling with the country's ­beleaguered train network. Paul Plummer, chief executive of the Rail Delivery Group (RDG), the trade body that represents operators and tracks and station owner Network Rail, will urge Keith Williams, who is ­conducting the biggest review of the railways since privatisation, to set up an "arms-length body" that will prevent the railways from being used as a ­"political football". - Telegraph
Junk food advertisements would be banned from Facebook and Google before 9pm under government proposals to fight obesity, specifically in children. Online adverts likely to be seen by many children also face curbs as ministers consult on how to extend a TV watershed to the digital world. Bacon and cheese have won a reprieve, however, as a clampdown on foods high in sugar, salt and fat is tailored to exclude traditional products. - The Times
The owner of the Daily Mail has become the latest news publisher to call for a break-up of Google and Facebook. The dominance of the two platforms over the online advertising market was "seriously anti-competitive" and risked putting publishers out of business, said DMG Media. Despite having an audience of 12 million daily readers, Mail Online had yet to break even, it added. - The Times
Addiction to social media may need to be classed as a disease, according to MPs and doctors who want technology companies to pay a mental health tax. A legal duty of care and statutory code of conduct must be imposed on social media companies to protect children, says a report out today by the all-party parliamentary group on social media and young people's mental health and wellbeing. Children who spend more than three hours a day using social media are twice as likely to show symptoms of mental ill health than those who do not use the sites, the report finds. - The Times
Spotify will face tough legal challenges securing a victory over Apple in a dispute over a 30pc 'tax' levied on music streaming companies which has prompted allegations of anti-competitive practices, experts have said. The Swedish music streaming business launched a formal competition complaint to Brussels last week, in which it claimed Apple was abusing its dominance with its App Store to favour its own music streaming service Apple Music. - Telegraph