Green under pressure to plug Arcadia pension gap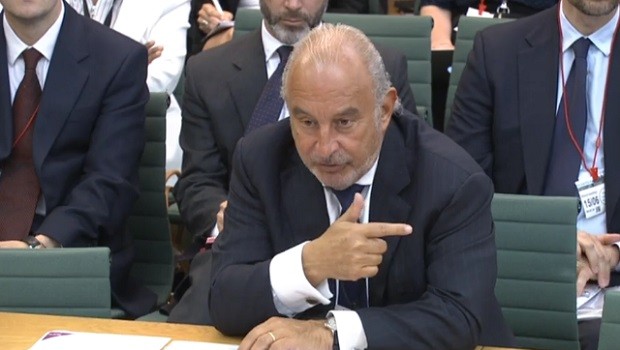 Beleaguered retailer Philip Green on Tuesday came under increasing pressure on Tuesday to help plug a reported £350m funding shortfall in the Arcadia pension scheme after the company collapsed overnight.
Arcadia, which owns a range of brands including TopShop, Topman, and Dorothy Perkins, failed to secure emergency funding to help it survive the impact of the Covid-19 pandemic.
The company has more than 13,000 employees and around 500 stores. Arcadia's pension scheme has around 10,000 members. Arcadia is owned by Green's wife Tina. Both are based in Monaco where they spend time on their £32m superyacht.
They took a £1.2bn dividend from the group in 2005, the largest in UK history. However, the group failed to follow the shift towards online shopping and found their market share being taken by newcomers such as Boohoo. The coronavirus pandemic and subsequent lockdowns compounded the group's problems.
Trustees of the Arcadia scheme said overnight night that it would continue to pay out as normal but would be assessed by the state-back Pension Protection Fund (PPF).
The PPF provides a "lifeboat" that steps in to make up payments for failing schemes, but workers usually end up with at least a 10% reduction in benefits.
Green, currently worth a reputed £900m, has been urged to bridge the funding gap so fund members will face no loss in income. Labour Party leader Keir Starmer said the shop owner "should do the right thing and fill the Arcadia pension deficit".
He came under fire in 2017 after selling the High Street chain BHS in 2016 for £1 to serial bankrupt Dominic Chappell. The company collapsed a year later with a £500m pension scheme deficit. A protracted campaign and parliamentary inquiry saw Green finally pay £363m into the fund.
Tina Green agreed a £385m funding package for the Arcadia pensions scheme with the regulator last year.