China takes stake in Norwegian Air after restructure deal
Govt bailout deal finally agreed as airline returns in leaner form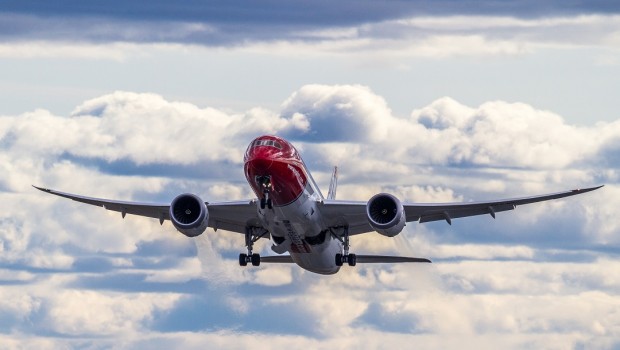 The Chinese government emerged as a shareholder in troubled budget carrier Norwegian Air following a debt restructuring and credit guarantee deal agreed on Wednesday.
Norwegian is now largely owned by the companies from which it leases its planes, including Bank of China-backed BOC Aviation with 12.7%, which has been aggressively pushing its way into the global market as the coronavirus hobbles cash-strapped airlines.
The airline, which made its mark offering cheap no-frills £150 flights to New York on new Boeing 787 Dreamliners, will now operate as a leaner outfit after qualifying for a NKR 2.7bn (£221m) state aid package.
Norwegian had warned it would run out of cash in mid-May if it did not receive a bailout having been forced to grounding nearly all its fleet due as passenger travel collapsed due to the coronavirus pandemic.
The company's bondholders, lessors and shareholders agreed to a NKR 12.7bn debt conversion and share sale that boosted Norwegian's equity ratio to 17% from 4.8% at end-2019, in excess of the 8% legal minimum.
"This has been a very challenging process with parallel negotiations and a lot of moving parts with constant dialogue and negotiations for more than two months. The negotiations have been tough, but constructive with significant contributions from all stakeholders," said Norwegian's chief financial officer Geir Karlsen.
Irish leasing company Aercap now holds 15.9% after converting lease obligations into shares as did smaller firms. Norwegian will fly only seven aircraft for up to a years before increasing to 110-120 planes in 2022. It was running around 150 before the pandemic.
Norwegian's chief executive Jacob Schram said the months ahead "will remain challenging and with a high degree of uncertainty for the industry".
"Norwegian will still need to collaborate closely with a number of creditors as the company currently has limited revenues."
The company once employed 11,000 people, and was carrying 37m passengers but started to buckle under a £6bn debt burden after it had to ground the 787 fleet because of problems with their Rolls-Royce engines coupled with similar woes for the Boeing 737 Max after two fatal crashes involving other airlines.
BOC Aviation has used the airline industry's predicament to strike an estimated $5.5bn of deals with carriers including Southwest and United Airlines in the US to buy and lease back aircraft.