UK retail sales slump 3.7% in December as Omicron hits footfall
ONS says fall comes as shoppers also completed Xmas purchases earlier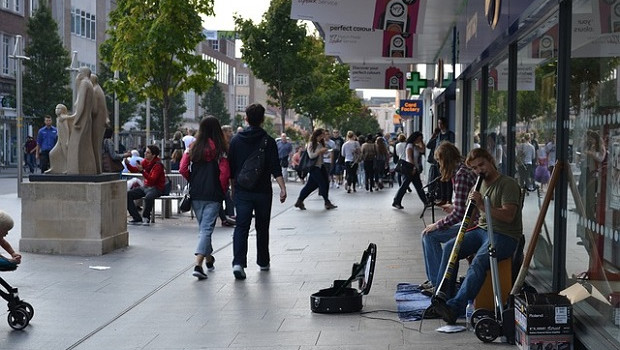 UK retail sales fell a worse-than-expected 3.7% in December as the Omicron Covid variant deterred shoppers, according to official data released on Friday.
No sector was left unscathed, with food, clothing and footwear, household goods and department stores all suffering. The fall compared with a 1% rise in November as some Christmas spending was brought forward to November and assisted by Black Friday sales. Economists had tipped a 0.6 fall for November.
The Office for National Statistics said non-food stores sales volumes fell by 7.1% in December after strong sales in November, adding that Omicron, which increased rapidly during December, "was reported by some retailers as impacting retail footfall".
Year-over-year growth fell 0.9%, from 4.3% in November, also below the consensus of 3.4%.
Clothing stores and department stores reported a fall of 8.0% and 6.3% over the month and were 7.2% and 10.6% below levels in February 2020. The volume of household goods stores sales fell by 3.2% in December and were 1.4% below their February 2020.
Sales of petrol and diesel slumped by 4.7% as people were asked to work from home if they could under new restrictions. Food store sales volumes fell by 1% in December 2021; but despite that drop, volumes were 2% above levels in February 2020.
"As Plan B restrictions in England meant more people working from home, there was a notable fall for fuel sales," said ONS deputy director for surveys Heather Bovill.
"However despite the fall in December, retail sales are still stronger than before the pandemic, with over a quarter of sales now made online.
The proportion of retail sales online rose slightly to 26.6% in December from 26.3% in November, substantially higher than the 19.7% in February 2020 before the coronavirus pandemic.
"December's sharp decline in retail sales likely will not dissuade the MPC from raising Bank Rate again at its meeting on February 3," said Samuel Tombs chief economists Pantheon Macroeconomics.
"The drop largely is the consequence of consumers purchasing Christmas gifts earlier than normal last year, due to concerns about product availability."
"Omicron likely was behind the decline in petrol sales, but the new variant probably helped to support food store sales ... as people avoided restaurants, and might also have cushioned the fall back in non-store sales. So on net, Omicron probably was only a marginally negative influence on total sales."