UK retail sales slide, further job losses predicted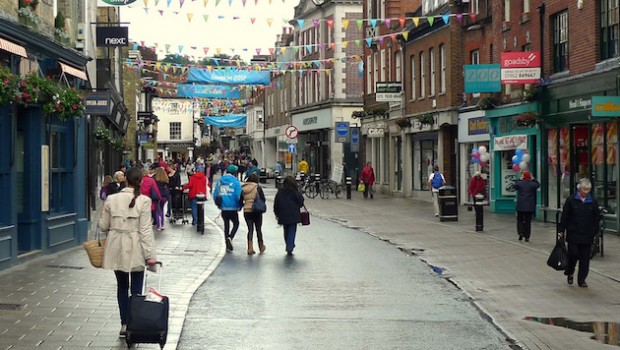 Retail volumes fell in February, a closely-watched industry survey showed on Tuesday, although online sales surged to fresh highs.
The latest CBI Distributive Trades Survey found that retail sales declined sharply in February, with a reported sales balance of -45%. That is an improvement on January's eight-month low of -50%, but below analyst expectations for around -40%.
A steeper decline of -62% was predicted for March. Non-essential stores are currently slated to remain shut until April at the earliest.
Only grocers reported sales growth in volumes in the year to February.
However, internet sales grew at a record pace, with a balance of 75% compared to 43% in January. A similar rate - 78% - is expected for March.
On a quarterly basis, retail employment fell for the 17th consecutive quarter, to -44%. It was also at a sharper pace than in the year to November, when it was -32%. Retailers are expecting a fall of -44%, in the year to March.
For the distributive sector as a whole, employment also fell at a record pace, with a balance of -49% compared to -38% in November.
Ben Jones, principal economist at the Confederation of British Industry, said: "With lockdown measures still in place, trading conditions remain extremely difficult for retailers.
"Record growth in internet shopping suggests that retailers' investments in online platforms and click-and-collect services may be paying off, but the reopening of the sector can't come soon enough to protect jobs and breathe life back into the sector."
Samuel Tombs, chief UK economist at Pantheon Macroeconomics, said: "The CBI's survey suggests that trading conditions improved almost imperceptibly for retailers in February, though other indicators have pointed to a bigger improvement.
"The muted recovery in the reported sales balance probably reflects the fact that retailers are asked to compare sales to their level a year ago, and do not provide any sense of magnitude of changes in demand."
However, he conceded that the quarterly balances "paint a bleak picture", noting: "The likelihood that the pandemic has triggered a lasting shift in spending online suggests that retailers will continue to cut employment when the furlough scheme - which they have used extensively - eventually ends in the summer."
The CBI surveyed 140 firms, 70 of which were retailers, between 27 January and 15 February.