UK manufacturing output slumps at historic pace in May - CBI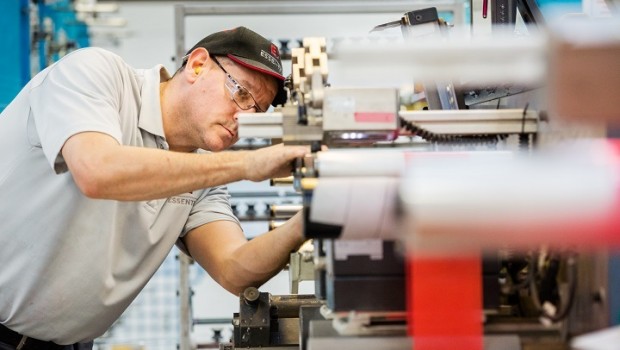 UK manufacturing output slumped at a record pace in May, the CBI reported on Thursday, as the Covid-19 pandemic continued to batter the British economy.
According to the latest CBI Industrial Trends Survey, its gauge of manufacturing output volumes for the three months to May fell to -54%, compared to -21% in April. That marked the fastest rate of decline since 1975.
Output dropped in 15 of the 17 sub-sectors, with motor vehicles and transport, and food, drink and tobacco, driving the headline fall.
Orders also fell sharply, with total order books at their weakest since October 1981, at -62% compared to -56% in April, and well below consensus for -50%.
Export order books were -55% against -49% a month earlier, the lowest since October 1998.
Looking ahead, manufacturers expect output to continue to fall over the next three months, though at a slightly slower pace, at -49%.
Asked specifically about Covid-19, 51% of survey respondents reported partial shutdowns, 74% said they had faced cash flow difficulties, and 59% reported temporarily laying off staff. Just 9% said they had permanently reduced workforces.
Anna Leach, CBI deputy chief economist, said: "UK manufacturers are still grappling with the impact of the pandemic. Production levels have fallen even more sharply, as firms experience collapsing demand and supply chain disruption. The sector is bracing for what will be a challenging period."
However, Samuel Tombs, chief UK economist at Pantheon Macroeconomics, warned that the way the CBI Industrial Trends survey was structured meant it could be overly pessimistic.
He said: "We continue to think that manufacturing output likely has recovered modestly in May, despite the further deterioration in the CBI's survey.
"Firms give the same response to the survey if orders are 1% below normal or 99% below normal, so the balance tells us little about how demand and activity has changed at firms that already were hit by Covid-19 in April.
"In addition, the CBI's survey always is conducted in the first half of the month, so it likely failed to capture any recovery since the government encouraged manufacturing employees to return to work on 13 May.
"For now, then, we're still assuming that manufacturing output will rise by about 5% month-to-month in May, following a likely cumulative drop in output of about 20% over the course of the previous two months."
Howard Archer, chief economic adviser to the EY Item Club, called the CBI survey "disappointing", though he noted: "The May survey overall showed deeper manufacturing weakness, as the coronavirus continued to weigh heavily on activity. This was somewhat at odds with the earlier flash May PMI, which showed some easing in manufacturing contraction in May."
IHS Markit reported earlier on Thursday a flash reading for the May UK Composite PMI of 28.9, an improvement on April's final reading of 13.8, though it remains a record low.
The CBI Industrial Trends Survey was conducted between 27 April and 14 May, with 384 manufacturers responding.