UK manufacturers upbeat for the future - CBI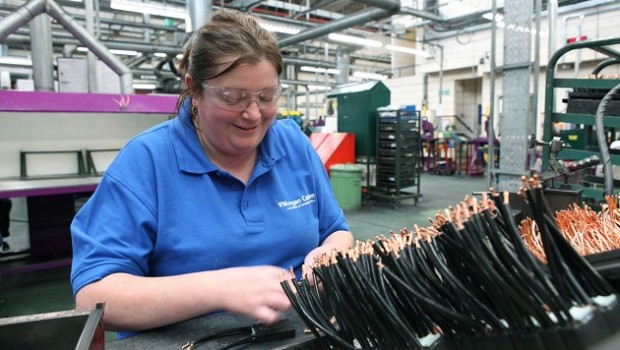 Optimism across the British manufacturing sector has improved sharply, reaching levels not seen since 2014, a widely-watch survey revealed on Wednesday.
According to the latest Confederation of British Industry industrial trends survey, the quarterly business optimism balance rose to +23% from -44% in the previous quarter. The hike took analysts by surprise: most had pencilled it a balance of -20%. It was also the biggest turnaround in sentiment since the quarterly survey began in 1958.
The surge in sentiment came despite ongoing poor trading conditions. Of the 300 firms surveyed, 19% said the volume of output rose in the three months to January, while 33% said it fell, giving a rounded balance of -15%. Output expanded in just five of the 17 sub-sectors, the CBI found.
Total new orders dropped, with a balance of -21%, while headcounts fell at the fastest pace since the financial crisis, at -16%.
"With business optimism improving at its fastest pace since 2014 and some of the squeeze on investment plans lifting, it's clear manufacturers are entering the new year with a spring in their step," CBI deputy chief economist Anna Leach.
"Firms are now planning to invest more in plants and machinery, which will ultimately help increase capacity and output.
"However, this boost to sentiment belies poor trading conditions over the past quarter, with output and orders still declining. If we are to build on this rebound in optimism among UK manufacturers, it is crucial for the UK and European Union to establish a trade deal that supports growth in this sector."
Samuel Tombs, chief UK economist at Pantheon Macroeconomics, called the survey "another positive sign".
He continued: "The CBI's industrial trends survey provides more evidence that the general election has triggered a positive step-change in business confidence. It's particularly encouraging to see the business optimism balance rise to its highest level since the second quarter of 2014, even though the government has reaffirmed that it will pursue a hard Brexit.
"That said, the survey always is conducted in the first half of the month, so it probably has not captured manufacturers' reaction to Chancellor Sajid Javid's comments that 'there will not be alignment' to EU rules and regulations post-Brexit.
"In addition, the survey has a small sample size, and its relationship with the PMI, which will have a much bigger bearing on the Monetary Policy Committee's decision next week, is not particularly strong."
The latest IHS Markit purchasing managers' index is due out on Friday, with the Bank of England's rate setting committee meeting the following week, on 30 January.