UK employment rate hits record high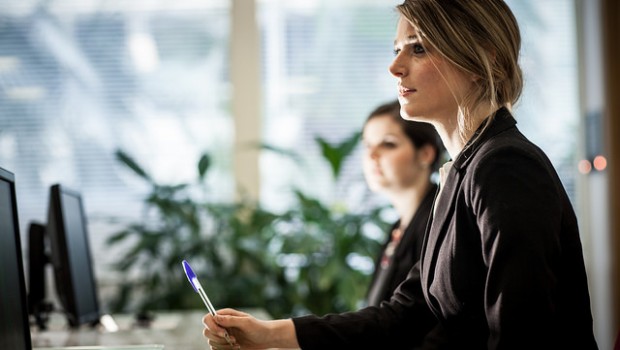 The UK employment rate has hit another fresh high, official data showed on Tuesday, after a boom in the number of women in work.
The Office for National Statistics said the UK employment rate was 76.3% in the three months to November, a forecast-beating 0.6% improvement on the same period a year earlier and 0.5% higher than the previous quarter. It was the highest since records began in 1971. Unemployment held steady at 3.8%.
A record 32.9m people aged 16 and over were in employment during the period, of which 15.58m were women - a new high.
Overall, the number of women in work was 72.3%, a 1.1 percentage point hike on the prior year, and 0.7 percentage points higher than the previous quarter. The lifting of the state pension age means there are now fewer women retiring between the ages of 60 and 65.
Also underpinning the overall rate was an increase in the number of self-employed people. There were 5.001m self-employed people working during the quarter, a 1.4% increase on the previous three months and a 3.0% jump on the same period in 2018.
David Freeman, head of labour market and households at the ONS, said: "The employment rate is at a new record high, with over two-thirds of the growth in people in work in the last year coming from women working full-time.
"Self-employment has also been growing strongly, and the number of people working for themselves has now passed 5m for the first time ever."
The data on wage growth was less impressive, however. Estimated annual growth in average weekly earnings remained at 3.2% for total pay, which includes bonuses, and slowed to 3.4% from 3.5% for regular pay, which excludes one-off payments.
Once adjusted for inflation, annual growth in total pay was estimated to be 1.6%, and 1.8% for regular pay.
"While pay growth has eased since last summer, with inflation remaining subdued, earnings are continuing to increase in real terms," said Freeman.
The Bank of England is due to meet on 30 January and there has been growing speculation that it will move to cut interest rates. While employment remains high, inflation is weak and the Bank is keen to ensure the economy is able to survive any post-Brexit bumps.
Ed Monk, associate director for personal investing at Fidelity International, said: "Wage data shows the rate of annual wage growth stabilising. Regular pay (excluding bonuses) ticked lower, which taken along with lower inflation suggests the case for the Bank to cut interest rates next week remains strong.
"The good news is that households, in aggregate, are getting richer as wages rises faster than prices. That's some comfort when there are other warning lights for the economy. Weak overall growth and retail sales suggest the economy is stalling."
Debapratim De, UK economist at Deloitte, said: "Today's data highlights the resilience of the UK labour market despite slowing growth.
"However, falling vacancies and no acceleration in wages indicates a slow loss of momentum. With weak productivity growth and corporates focussed on cost control, there seems limited scope for a further pickup in wages."
However, Samuel Tombs, chief UK economist at Pantheon Macroeconomics, argued: "The continued resilience of the labour market increases the chances that the Monetary Policy Committee will take a rain-check next week instead of cutting the bank rate.
"Encouragingly, the huge 208,000 increase in employment was driven by a 135,000 rise in employee numbers, which was the biggest rise since the three months to February 2019. Businesses clearly are not gearing up for a downturn.
"The increase in full-time employee roles was even stronger at 149,000; part-time positions declined by 15,000."
Tej Parikh, chief economist at the Institute of Directors, said: "The UK labour market remains in fine shape, with a renewed surge in jobs growth providing uplift for the economy.
"The other side of the coin is pay. Wage growth has disappointed in recent months, but with inflation also weakening, consumers' spending power should not be overly impacted. In particular, small businesses have been struggling to raise salaries to attract new staff, and they will be hoping for cost-cutting measures at the March budget, alongside more investment in the UK's gummed-up skills system."