May to allow MPs vote on second Brexit referendum, pound rallies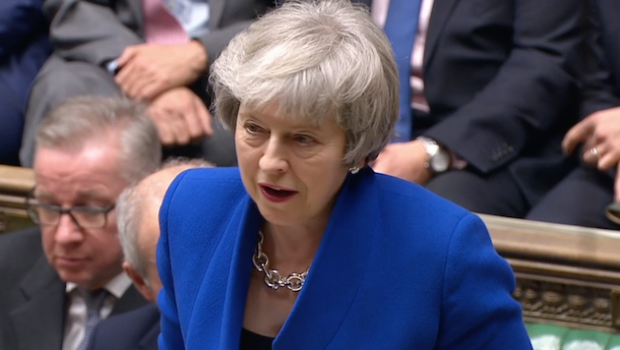 The Prime Minister said in a speech on Tuesday that she will offer MPs a vote on putting her deal to a second referendum if it passes the first stage of voting in Parliament.
Theresa May was banking on being able to clinch the support of referendum-supporting MPs in order to get her deal through Parliament after it was shot down in the Commons on three previous occasions.
"The government will include in the Withdrawal Agreement Bill a requirement to vote on whether to hold a second referendum, and this would take place before the Withdrawal Agreement can be ratified," she said.
However, it was unclear whether MPs would be free to vote how they wanted or if they would be bound by party loyalty.
May also said the new bill would give the House of Commons the right to "approve objectives for the future relationship and treaties" before they are agreed to by the government.
According to the Prime Minister, she was doing everything in her power to deliver Brexit, having gone as far as enlisting the help of the opposition. Indeed, she would acquiesce to some of Labour's demands, as respects workers' rights and the environment, in the hope that in return MPs would give their support.
May addressed the issue of the Northern Ireland backstop, which had already been agreed to in the withdrawal deal, saying that the UK government will be obliged to seek alternative arrangements by December 2020 so that it never needs to be put into use.
Failing that, lawmakers would ensure that Northern Ireland and the rest of Great Britain remained aligned.
And she also issued a stark warning, telling MPs that if her deal was rejected, then leaving the EU "with a negotiated deal will be dead in the water".
The Irish backstop and the customs arrangement were proving to be large thorns in the PM's side, meeting with opposition both from Labour as well as from her own Conservative MPs.
Having already agreed to set out a timetable for her departure once her deal is voted in the Commons in June, this could prove to be one of the last speeches Theresa May gives as UK Prime Minister.
On the back of the news, GBP/USD jumped over 1.2800 after hitting a low of 1.2685 earlier in the day.