Extinction Rebellion protesters glue themselves to Home Office and DfT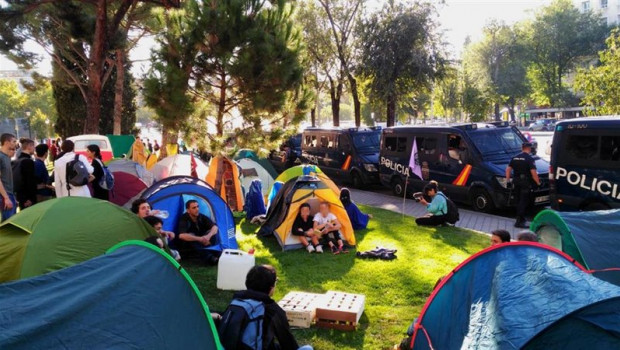 Extinction Rebellion activists glued themselves to the Department for Transport and the Home Office as part of two weeks of protests against climate change which are expected to include further demonstrations at other government buildings.
Specialist police teams were forced to use syringes filled with acetone to unstick them, having already arrested 319 people since the protests began the day before.
About 200 protesters camped on the streets of central London on Tuesday on the second day of protests, after Westminster Bridge, Lambeth Bridge, Trafalgar Square and Smithfield market, as well as several roads in Westminster, were blockaded by activists on Monday.
According to the Guardian, the prime minister, Boris Johnson, attacked the Extinction Rebellion activists, dismissing them as "uncooperative crusties" who should stop blocking the streets of the capital with their "heaving hemp-smelling bivouacs".
Johnson made the remarks at the launch of the final volume of a biography of Margaret Thatcher.
There were simultaneous protests in many cities around Europe, in Sydney and in New York all calling for action from governments to solve the climate emergency.