EU's Hogan fears higher transatlantic tariffs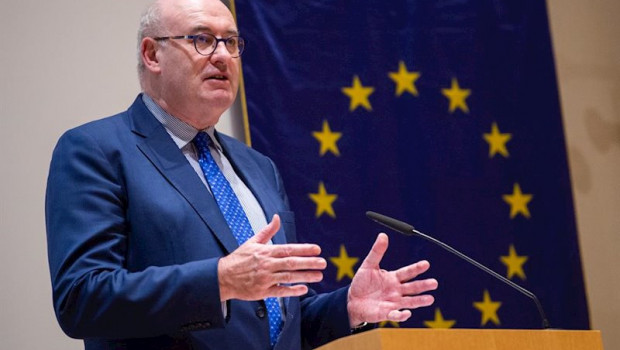 The US and the EU are heading for a rocky period of trade relations that could lead to higher tariffs on goods flowing both ways, the European trade commissioner said.
"Judging by the signals coming out of the United States administration in recent days I think we could have a turbulent period ahead in the context of the US election," Hogan said during a webinar reported by Bloomberg. "I don't see good positive signals from President Trump in recent days about threatening more tariffs on European products."
The US said on 24 June it was considering slapping tariffs on $3.1bn of exports from Europe including as much as 100% on olives, beer, gin and trucks while increasing existing duties on aircraft, cheese and yoghurt. It made the threat after the World Trade Organization ruled against the EU on subsidies for Airbus.
President Trump has returned to his pledge to impose tariffs on European cars. His top trade official,Robert Lighthizer, has also threatened extra tariffs on exports from France and other European countries if they impose a unilateral digital services tax on US companies.
Hogan said he has not managed to ease transatlantic tensions by much this year. He said the US had twice rejected Brussels' offer to negotiate a settlement to the 15-year-old WTO dispute over subsidies to Boeing and Airbus.
"Three weeks ago when I spoke to Ambassador Lighthizer, he said he was in a very comfortable position because they have unilaterally declared Boeing to be in compliance with the WTO ruling," Hogan said. "We expect a ruling of the WTO panel on Boeing in early September and we are ready to retaliate if we don't have an agreed outcome by then."
A trade dispute between the US and the EU would damage economic and market confidence further with tensions high between the US and China and the global economy battered by the effects of the Covid-19 pandemic.
Hogan on Monday ruled himself out of running for to be the next director general of the WTO, saying he needed to concentrate on his duties as trade commissioner rather than suspend his work during the selection process.