US open: Stocks trade higher as investors focus on Powell's testimony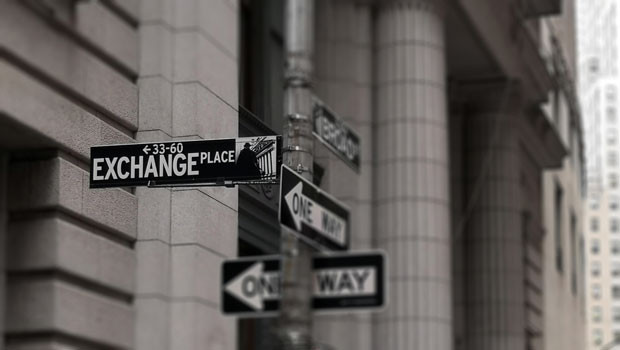 Wall Street stocks traded higher early on Thursday as market participants continued to keep a keen eye on Federal Reserve chairman Jerome Powell's testimony in Washington.
As of 1530 BST, the Dow Jones Industrial Average was up 0.28% at 30,569.31, while the S&P 500 was 0.46% firmer at 3,777.34 and the Nasdaq Composite came out the gate 0.78% stronger at 11,139.76.
The Dow opened 86.18 points higher on Thursday, erasing losses recorded in the previous session after Powell told the Senate the central bank remained "strongly committed" to lowering inflation but also warned that a recession was still a real "possibility".
Powell will now head to the House for a second-straight day of testimony and will deliver remarks as part of a congressionally-mandated semiannual report on monetary policy.
The yield on the benchmark 10-year Treasury note was also drawing an amount of investor attention at the open, dropping almost fourteen basis points to 3.024% early on Thursday.
On the macro front, the number of Americans filing fresh unemployment claims fell by 2,000 in the seven days ended 18 June to hit 229,000, below expectations for a print of 227,000 and pointing to an exceptionally tight labour market. According to the Labor Department, on a non-seasonally adjusted basis, initial claims fell by 3,255 from the previous week to 202,844, with notable decreases seen in Missouri, while the main increases were in California and Pennsylvania.
Elsewhere, the S&P global flash US manufacturing PMI fell to 52.4 in June, down from 57 in May and well below market expectations of 56, while the services PMI fell to 51.6 in June, down from 53.4 in May for the lowest reading in five months. A flash reading of the composite PMI decreased to 51.20 points in June from 53.60 points in May.
On another note, America's current account deficit reached a fresh record high equivalent to 4.8% of the country's gross domestic product over the first three months of 2022. According to the Department of Commerce, in seasonally adjusted terms, the US current account deficit yawned wider in the first quarter to reach -$291.4bn, against -$224.8bn during the previous three-month stretch. Economists had pencilled-in a deficit of -$284.8bn.
Still to come, the results of the Fed's bank stress test will follow at 2130 BST.
In the corporate space, Darden Restaurants reported an 11.7% jump in same-store sales ahead of the opening bell.
Smith & Wesson, BlackBerry, and FedEx will all report earnings after the close.
Reporting by Iain Gilbert at Sharecast.com
Dow Jones - Risers
Unitedhealth Group Inc. (UNH) $498.96 1.90%
Merck & Co. Inc. (MRK) $90.74 1.77%
Walmart Inc. (WMT) $122.55 1.54%
Salesforce.Com Inc. (CRM) $169.95 1.49%
Johnson & Johnson (JNJ) $178.35 1.48%
Procter & Gamble Co. (PG) $140.37 1.35%
Verizon Communications Inc. (VZ) $51.44 1.28%
Walgreens Boots Alliance, Inc. (WBA) $40.93 1.19%
Home Depot Inc. (HD) $272.03 1.13%
Apple Inc. (AAPL) $136.62 0.94%
Dow Jones - Fallers
Caterpillar Inc. (CAT) $182.72 -2.72%
Boeing Co. (BA) $133.97 -2.33%
American Express Co. (AXP) $141.90 -1.72%
JP Morgan Chase & Co. (JPM) $113.70 -1.28%
Cisco Systems Inc. (CSCO) $43.02 -1.26%
Chevron Corp. (CVX) $146.22 -1.12%
Dow Chemical Co. (DOW) $51.83 -0.98%
Goldman Sachs Group Inc. (GS) $282.60 -0.68%
Walt Disney Co. (DIS) $92.87 -0.67%
3M Co. (MMM) $129.79 -0.47%
S&P 500 - Risers
Nektar Therapeutics (NKTR) $4.05 5.34%
Lennar Corp. Class A (LEN) $70.22 3.78%
D. R. Horton Inc. (DHI) $66.45 3.70%
Autodesk Inc. (ADSK) $175.29 3.63%
Whirlpool Corp. (WHR) $158.27 3.58%
PulteGroup Inc. (PHM) $39.21 3.40%
Sba Communications Corp. (SBAC) $321.39 3.10%
Vertex Pharmaceuticals Inc. (VRTX) $280.70 3.08%
IQVIA Holdings Inc. (IQV) $207.96 3.08%
Idexx Laboratories Inc. (IDXX) $343.36 3.08%
S&P 500 - Fallers
Robert Half International Inc. (RHI) $74.64 -6.82%
Mosaic Company (MOS) $47.11 -5.83%
Deere & Co. (DE) $300.80 -5.39%
Booking Holdings Inc. (BKNG) $1,803.91 -4.55%
CF Industries Holdings Inc. (CF) $84.58 -4.52%
United Airlines Holdings Inc (UAL) $35.19 -4.17%
Freeport-McMoRan Inc (FCX) $30.08 -3.96%
Royal Caribbean Cr (RCL) $35.47 -3.33%
FMC Technologies Inc. (FTI) $6.46 -3.29%
Wynn Resorts Ltd. (WYNN) $51.66 -3.26%
Nasdaq 100 - Risers
Autodesk Inc. (ADSK) $175.29 3.63%
Baidu Inc. (BIDU) $147.80 3.58%
Vertex Pharmaceuticals Inc. (VRTX) $280.70 3.08%
Idexx Laboratories Inc. (IDXX) $343.36 3.08%
Align Technology Inc. (ALGN) $242.30 3.07%
JD.com, Inc. (JD) $63.25 2.98%
Mercadolibre Inc. (MELI) $693.68 2.40%
Costco Wholesale Corp. (COST) $470.58 2.31%
O'Reilly Automotive Inc. (ORLY) $622.78 2.29%
Qurate Retail Inc. (QRTEA) $3.40 2.25%
Nasdaq 100 - Fallers
Booking Holdings Inc. (BKNG) $1,803.91 -4.55%
Wynn Resorts Ltd. (WYNN) $51.66 -3.26%
Marriott International - Class A (MAR) $132.53 -2.88%
American Airlines Group (AAL) $12.74 -2.75%
Expedia Group Inc. (EXPE) $94.69 -2.52%
eBay Inc. (EBAY) $42.18 -2.20%
Nvidia Corp. (NVDA) $161.40 -1.34%
Cisco Systems Inc. (CSCO) $43.02 -1.26%
Seagate Technology Plc (STX) $70.74 -1.21%
Tesla Inc (TSLA) $700.39 -1.11%