US open: Stocks head south as bond yields move higher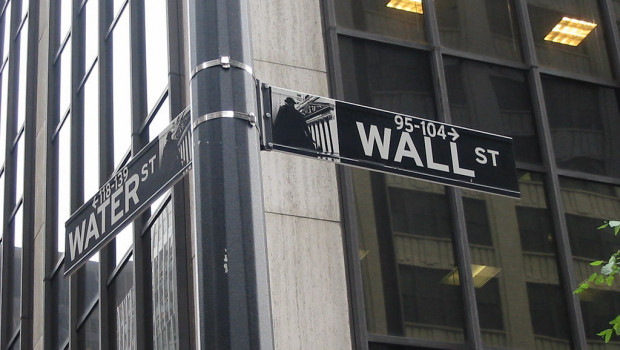 Wall Street stocks were firmly in the red early on Tuesday as market participants digested more corporate earnings and kept one eye on government bond yields that were now at pandemic-era highs.
As of 1520 GMT, the Dow Jones Industrial Average was down 1.62% at 35,329.77, while the S&P 500 was 1.40% weaker at 4,597.65 and the Nasdaq Composite came out the gate 1.26% softer at 14,706.37.
The Dow opened 582.04 points lower on Tuesday, extending losses recorded on Friday before major indices took a one-day break for the Dr Martin Luther King Jr holiday yesterday.
Bond yields were firmly in focus at the open, with the yield on the benchmark 10-year Treasury note hitting 1.843% early on Tuesday, the highest level seen since January 2020, while the 2-year yield broke above 1% for the first time since February 2020.
The Covid-19 Omicron variant was also in focus, with questions now being raised regarding the state of the global economic recovery, with a number of countries and regions reinstating lockdowns and other social distancing measures as part of an effort to curb the spread of the variant.
In the corporate space, investment bank Bank of New York Mellon beat quarterly earnings estimates on Tuesday after assets under management increased during the period thanks to higher market values and net inflows, while Goldman Sachs posted quarterly earnings per share of $10.81, down from $12.08 in the fourth quarter of 2020 and missing expectations of $11.76.
Netflix and United Health earnings will both post earnings after the close.
Elsewhere in company headlines, Microsoft agreed to buy video game company Activision Blizzard in a $68.7bn deal. Under the terms of the deal, Microsoft will pay $95.00 per share in cash for the Call of Duty and World of Warcraft publisher. When the transaction closes, Microsoft will become the world's third-largest gaming company by revenue, behind Tencent and Sony.
On the macro front, NY Empire State Manufacturing Index turned negative for the first time in a year as the Covid-19 omicron strain weighed on the index, tumbling to -0.7 in January following December's print of 31.9.
Finally, the National Association of Housebuilders' Housing Market Index came in at 83,000 in January, down from the previous month's reading of 84,000.
"The solid market for home building continued in November despite ongoing supply-side challenges," said NAHB Chairman Chuck Fowke. "Lack of resale inventory combined with strong consumer demand continues to boost single-family home building."
Dow Jones - Risers
American Express Co. (AXP) $168.40 0.00%
Apple Inc. (AAPL) $173.07 0.00%
Coca-Cola Co. (KO) $61.39 0.00%
Microsoft Corp. (MSFT) $310.20 0.00%
Nike Inc. (NKE) $148.18 0.00%
Dow Chemical Co. (DOW) $60.74 0.00%
Chevron Corp. (CVX) $128.96 0.00%
Dowdupont Inc. (DWDP) $30.52 0.00%
Walt Disney Co. (DIS) $151.94 0.00%
Johnson & Johnson (JNJ) $167.84 0.00%
Dow Jones - Fallers
American Express Co. (AXP) $168.40 0.00%
Apple Inc. (AAPL) $173.07 0.00%
Coca-Cola Co. (KO) $61.39 0.00%
Microsoft Corp. (MSFT) $310.20 0.00%
Nike Inc. (NKE) $148.18 0.00%
Dow Chemical Co. (DOW) $60.74 0.00%
Chevron Corp. (CVX) $128.96 0.00%
Dowdupont Inc. (DWDP) $30.52 0.00%
Walt Disney Co. (DIS) $151.94 0.00%
Johnson & Johnson (JNJ) $167.84 0.00%
S&P 500 - Risers
Air Products & Chemicals Inc. (APD) $291.35 0.00%
Huntington Ingalls Inds Inc Wi (HII) $197.68 0.00%
Becton, Dickinson & Company (BDX) $262.62 0.00%
Hewlett Packard Enterprise (HPE) $17.56 0.00%
NetApp Inc. (NTAP) $95.41 0.00%
Edwards Lifesciences Corp. (EW) $118.26 0.00%
Travelers Company Inc. (TRV) $163.21 0.00%
Walmart Inc. (WMT) $145.06 0.00%
NextEra Energy Inc. (NEE) $83.20 0.00%
Micron Technology Inc. (MU) $97.36 0.00%
S&P 500 - Fallers
Air Products & Chemicals Inc. (APD) $291.35 0.00%
Huntington Ingalls Inds Inc Wi (HII) $197.68 0.00%
Becton, Dickinson & Company (BDX) $262.62 0.00%
Hewlett Packard Enterprise (HPE) $17.56 0.00%
NetApp Inc. (NTAP) $95.41 0.00%
Edwards Lifesciences Corp. (EW) $118.26 0.00%
Travelers Company Inc. (TRV) $163.21 0.00%
Walmart Inc. (WMT) $145.06 0.00%
NextEra Energy Inc. (NEE) $83.20 0.00%
Micron Technology Inc. (MU) $97.36 0.00%
Nasdaq 100 - Risers
Walgreens Boots Alliance, Inc. (WBA) $54.30 0.00%
Dish Network Corp. (DISH) $36.19 0.00%
Starbucks Corp. (SBUX) $100.12 0.00%
Check Point Software Technologies Ltd. (CHKP) $126.14 0.00%
Regeneron Pharmaceuticals Inc. (REGN) $615.24 0.00%
Monster Beverage Corp (MNST) $89.91 0.00%
Xilinx Inc. (XLNX) $198.45 0.00%
Meta Platforms Inc. (FB) $331.90 0.00%
Comcast Corp. (CMCSA) $51.68 0.00%
Broadcom Inc. (AVGO) $596.37 0.00%
Nasdaq 100 - Fallers
Amgen Inc. (AMGN) $235.36 0.00%
Microchip Technology Inc. (MCHP) $84.29 0.00%
Align Technology Inc. (ALGN) $524.63 0.00%
Workday, Inc. (WDAY) $254.31 0.00%
Alphabet Inc. Class A (GOOGL) $2,789.61 0.00%
Baidu Inc. (BIDU) $154.53 0.00%
Western Digital Corp. (WDC) $66.64 0.00%
Incyte Corp. (INCY) $74.88 0.00%
Hasbro Inc (HAS) $100.12 0.00%
Gilead Sciences Inc. (GILD) $71.77 0.00%