US pre-open: Futures drop sharply after US official reportedly denies thaw in US-China talks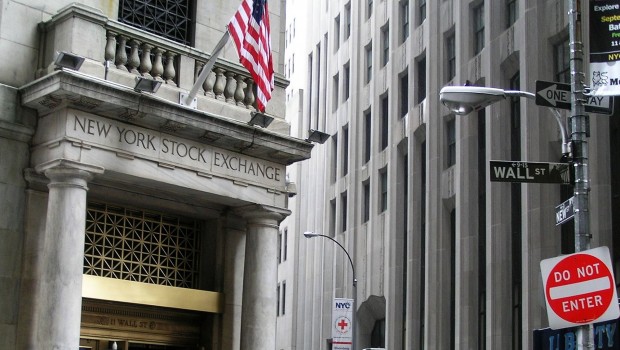 Wall Street futures were pointing to heavy losses at the opening bell on the back of much weaker than expected economic data out of China and following a report that Washington was not easing back in its trade war with Beijing.
Futures nearly doubled their losses after CNBC's Kayla Tausche reported that a senior US administration official had said that Washington's latest tariff reprieve was "not at all" an indication of a thaw in US-China relations.
There were also some headlines to be seen regarding who had blinked in the trade war, including hedge fund 'short seller', Jim Chanos (a large donor to the Democratic party according to CNBC), who said that it had been the US President.
In the background meanwhile, both the US and UK Treasury yield curves had flipped slightly into inversion, triggering a possible recession warning and more media headlines.
As of 1226 BST, Dow futures were down by 241.0 points at 26,073.0, while those on the S&P 500 were off by 25.25 points to 2,906.75 and those tracking the Nasdaq-100 were set to open 72.50 points weaker, respectively.
The Dow closed 372.54.63 points higher on Tuesday after Washington removed several items from its list of new Chinese tariffs, bouncing back from sharp losses in the prior session.
However, the yield on the benchmark 10-year Treasury note fell to 1.70%, only narrowly ahead of that on the 2-year security at 1.67%, as investors turned toward safe-haven assets amid global growth concerns.
And on Wednesday morning, both two and 10-year yields were at 1.58%, with the former having briefly risen above the latter, thus inverting.
Investors give the yield spread between 'twos and tens' a great deal of attention given that inversions had preceded every recession over the past 50 years.
Gold pushed up higher on the news, breaking past $1,506, as it cemented its recovery after Tuesday's selloff.
Elsewhere, market focus was largely attuned to the much softer-than-expected data from China.
In other news overnight, China's Commerce Ministry also revealed that Vice Premier Liu He had spoken with US Trade Representative Robert Lighthizer and Treasury Secretary Steven Mnuchin over the phone on Tuesday, with the trio agreeing to talk again in two weeks.
On the data front, US homeowners headed to their lenders at a rapid pace last week, with lower mortgage rates leading Americans to try and save money on their monthly payments.
Mortgage application volume jumped 21.7% last week-on-week, according to the Mortgage Bankers Association. On a yearly basis, volume soared 81%.
July's import price index will be published at 1330 BST.
In corporate news, Tencent, Macy's, Canada Goose and Cisco Systems will all report earnings on Wednesday.