US close: Stocks turn weaker ahead of third quarter earnings season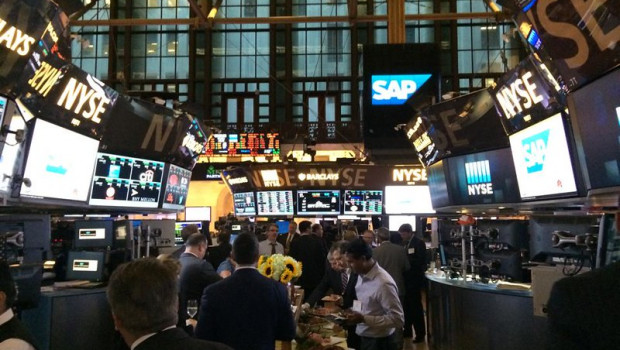 Wall Street closed in negative territory on Tuesday after the International Monetary Fund cut its global growth forecast.
At the close, the Dow Jones Industrial Average was down 0.34% at 34,378.34, the S&P 500 lost 0.24% to 4,350.65, and the Nasdaq Composite was off 0.14% to 14,465.92.
The Dow closed 117.72 points lower on Tuesday, adding on to the losses it recorded in Monday's session.
Earlier in the day, the IMF cautioned that the Federal Reserve should be ready to tighten monetary policy if inflation ran too hot.
In its World Economic Outlook, the IMF said it expects global gross domestic product to grow by 5.9% in 2021, a 0.1% decrease on its July estimate.
"We're seeing major supply disruptions around the world that are also feeding inflationary pressures, which are quite high and financial risk-taking also is increasing, which poses an additional risk to the outlook," said IMF economist Gita Gopinath.
Investors were also preparing their pocketbooks for third-quarter earnings season - with the likes of JP Morgan Chase and other major US banks all prepped to release their latest quarterly figures on Wednesday.
On the macro front, the Bureau of Labor Statistics revealed the number of job openings declined to 10.4m on the last business day of August following a series high in July.
Hires decreased to 6.3m, while total separations were little changed at 6.0m.
No major corporate earnings were released on Tuesday.
Dow Jones - Risers
Nike Inc. (NKE) $153.35 2.04%
Salesforce.Com Inc. (CRM) $279.00 1.92%
American Express Co. (AXP) $174.91 0.84%
Goldman Sachs Group Inc. (GS) $386.53 0.33%
Home Depot Inc. (HD) $337.80 0.25%
Travelers Company Inc. (TRV) $156.48 0.16%
Chevron Corp. (CVX) $107.15 0.02%
Walgreens Boots Alliance, Inc. (WBA) $47.42 0.00%
Coca-Cola Co. (KO) $54.23 0.00%
Honeywell International Inc. (HON) $230.94 0.00%
Dow Jones - Fallers
Intel Corp. (INTC) $52.17 -2.38%
Amgen Inc. (AMGN) $201.89 -2.33%
Verizon Communications Inc. (VZ) $51.33 -1.63%
Johnson & Johnson (JNJ) $157.69 -1.60%
Caterpillar Inc. (CAT) $189.90 -1.54%
International Business Machines Corporation (CDI) (IBM) $140.47 -1.38%
Boeing Co. (BA) $223.57 -1.27%
Cisco Systems Inc. (CSCO) $54.28 -1.18%
Apple Inc. (AAPL) $141.51 -0.91%
Dow Chemical Co. (DOW) $57.74 -0.84%
S&P 500 - Risers
MGM Resorts International (MGM) $48.69 9.61%
VF Corp. (VFC) $72.30 4.22%
Fluor Corp. (FLR) $16.50 3.77%
Ford Motor Co. (F) $15.64 3.64%
Ralph Lauren Corp (RL) $115.06 3.23%
Fastenal Co. (FAST) $53.83 3.06%
Norwegian Cruise Line Holdings Ltd (NCLH) $27.04 3.05%
Public Storage (PSA) $311.31 3.05%
Wynn Resorts Ltd. (WYNN) $91.44 2.76%
Gap Inc. (GPS) $22.69 2.76%
S&P 500 - Fallers
HP Inc (HPQ) $26.55 -4.08%
Citrix Systems Inc. (CTXS) $90.95 -3.94%
Micron Technology Inc. (MU) $66.72 -3.61%
Western Digital Corp. (WDC) $54.20 -3.51%
Franklin Resources Inc. (BEN) $28.88 -3.51%
T. Rowe Price Group Inc. (TROW) $188.50 -3.27%
Seagate Technology Plc (STX) $79.01 -3.21%
FMC Technologies Inc. (FTI) $7.66 -2.92%
TE Connectivity Ltd (TEL) $141.51 -2.83%
Texas Instruments Inc (TXN) $188.48 -2.53%
Nasdaq 100 - Risers
Fastenal Co. (FAST) $53.83 3.06%
Wynn Resorts Ltd. (WYNN) $91.44 2.76%
Tesla Inc (TSLA) $805.72 1.74%
Ulta Salon, Cosmetics & Fragrance Inc. (ULTA) $386.92 1.59%
Workday, Inc. (WDAY) $257.19 1.39%
Sirius XM Holdings Inc (SIRI) $6.04 1.34%
Adobe Systems Inc. (ADBE) $580.69 1.33%
Synopsys Inc. (SNPS) $292.04 1.14%
Qurate Retail Inc. (QRTEA) $10.14 1.10%
Biomarin Pharmaceutical Inc. (BMRN) $78.63 0.94%
Nasdaq 100 - Fallers
Citrix Systems Inc. (CTXS) $90.95 -3.94%
Micron Technology Inc. (MU) $66.72 -3.61%
Western Digital Corp. (WDC) $54.20 -3.51%
Seagate Technology Plc (STX) $79.01 -3.21%
Texas Instruments Inc (TXN) $188.48 -2.53%
Intel Corp. (INTC) $52.17 -2.38%
Amgen Inc. (AMGN) $201.89 -2.33%
Analog Devices Inc. (ADI) $164.02 -2.31%
Microchip Technology Inc. (MCHP) $140.99 -2.03%
Electronic Arts Inc. (EA) $136.67 -2.01%