US close: Stocks rally as Syria worries ease; Bank of America beats expectations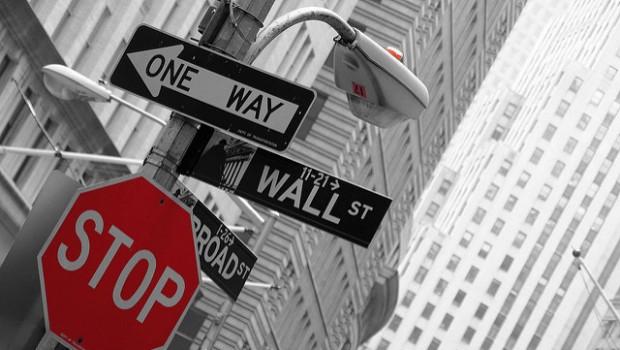 US stocks ended higher on Monday as worries about Syria began to ease following the US-led airstrikes over the weekend, with better-than-expected numbers from Bank of America and solid retail sales data helping to underpin the tone.
The Dow Jones Industrial Average rose 0.9% to 24,573.04, the S&P 500 gained 0.8% to 2,677.84 and the Nasdaq closed up 0.7% at 7,156.28.
Over the weekend, the US, France and Britain launched more than 100 missiles targeting facilities linked to Syria's chemical weapons programme, in what was called a "one time shot" by the Pentagon.
Oanda analyst Craig Erlam said: "It was feared that a Western response could trigger an escalation in the region, further damaging relations with Russia in the process due to its backing of the Assad regime. Instead, an apparent one-off limited strike by the three countries on chemical weapons sites in an attempt to prevent further attacks in the future has not yet stoked such fears and instead, investors appear relatively at ease.
"Of course, we'll find out in the coming days just what the response to the strikes will be, assuming there will be any. For now, investors appear at ease with the situation and as long as no further escalation occurs, attention may now switch to other matters such as first-quarter earnings season which got underway late last week."
Earnings were in focus again after JPMorgan, Wells Fargo and Citigroup failed to impress last week.
Bank of America fared better on Monday, however, ending in the black after posting record net income for the first quarter.
Gaming and Leisure Properties advanced as Icahn Enterprises announced that its majority-owned Tropicana Entertainment had agreed to purchase GLP's real estate for $1.85bn. Icahn also said it would merge its gaming and hotel business into Eldorado Resorts, which was also higher.
Navistar surged after Volkswagen said it was mulling over the idea of increasing its stake in the company to more than 17%.
NewLink Genetics slumped after confirming it would not proceed as planned with a late-stage trial of its indoximod drug for advanced melanoma.
On the macro front, data form the Department of Commerce showed US retail sales rose for the first time in four months in March, boosted by a large increase in automobile purchases.
Total sales grew at a 0.6% month-on-month pace in March to reach $509.4bn, comfortably beating consensus expectations of a 0.2% increase.
Joshua Mahony at IG said: "US consumer data continues to improve, with the March retail sales figures providing a welcome boost for the first quarter economic outlook. With 2017 hurricane season proving the most expensive in US history, we are seeing spending rise in a bid to repair and replace damaged homes. With consumer confidence rising, and the impact of the tax reforms gradually taking hold, it is likely that we will see a greater confidence from US shoppers to invest in big ticket and luxury goods as we move through 2018."
Elsewhere, the New York Federal Reserve's Empire State Manufacturing index fell to 15.8 in April from 22.5 in March, nearly three whole index points below consensus estimates.
Lastly, builders' confidence in the market for new single-family homes maintained its high levels as the National Association of Home Builders' housing market index dipped to 69 in April from 70 in March.
"Strong demand for housing is keeping builders optimistic about future market conditions," NAHB chairman Randy Noel said.
"However, builders are facing supply-side constraints, such as a lack of buildable lots and increasing construction material costs. Tariffs placed on Canadian lumber and other imported products are pushing up prices and hurting housing affordability," he added.