US close: Stocks finish higher amid job market concerns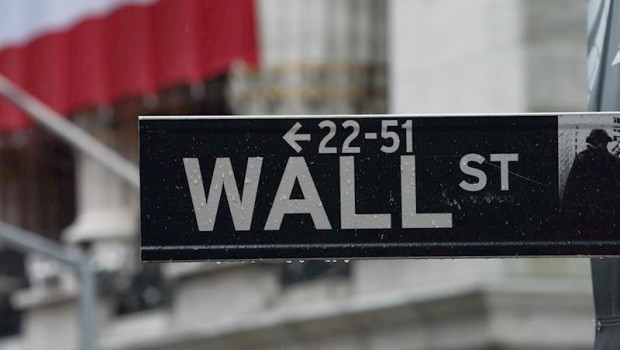 Stocks on Wall Street finished slightly higher on Thursday, after weekly jobless claims figures that some economists said showed that the jobs market was set to stall in October.
The Dow Jones Industrial Average ended the session ip 0.2% at 26,815.44, the S&P 500 added 0.3% to 3,246.59, and the Nasdaq Composite was 0.37% firmer at 10,672.27.
"Initial jobless claims are no longer falling; they have probably been flat since early August," said Pantheon Macroeconomics chief economist Ian Shepherdson.
"Small business employment now seems to be falling outright, with no prospect of a turnaround.
"August durable goods orders likely were flattered by a drop in cancellations of aircraft orders."
On top of the jobs data, some analysts believed that further income support for the unemployed from Capitol Hill was unlikely until February, after the election.
"Investors are growing increasingly unimpressed with the near-term prospects for the global economy and the markets are suffering the consequences," said Craig Erlam, senior market analyst at Oanda.
"Rising Covid cases, a fiscal void in Washington and monetary policy caution is taking its toll on investor sentiment as we head into a challenging winter period, fraught with uncertainty."
In the prior session, top Federal Reserve officials had warned that more fiscal stimulus was needed.
Initial unemployment claims for the week ending on 19 September were little changed at 870,000, while continuing claims - which reference the week before last - fell by 167,000 to 12.58m.
Continuing claims are closely linked to trends in hiring and had been expected to retreat to 12.58m.
New home sales, meanwhile, soared in August, by 4.8% month-on-month to reach an annualised pace of 1.01 million, against consensus forecasts for 880,000.
That came as new home sales apparently managed to dodge hurricane Laura and tropical storm Marco.
Dow Jones - Risers
Goldman Sachs Group Inc. (GS) $195.11 4.83%
Microsoft Corp. (MSFT) $203.19 1.30%
Apple Inc. (AAPL) $108.22 1.03%
Coca-Cola Co. (KO) $48.70 1.02%
Intel Corp. (INTC) $49.16 0.70%
Merck & Co. Inc. (MRK) $83.15 0.63%
3M Co. (MMM) $160.42 0.57%
McDonald's Corp. (MCD) $216.12 0.53%
Caterpillar Inc. (CAT) $145.14 0.53%
Walmart Inc. (WMT) $136.70 0.52%
Dow Jones - Fallers
Boeing Co. (BA) $146.05 -3.39%
Nike Inc. (NKE) $124.75 -1.86%
Raytheon Technologies Corporation (RTX) $57.38 -1.63%
Cisco Systems Inc. (CSCO) $37.85 -1.12%
Pfizer Inc. (PFE) $35.76 -0.67%
Walt Disney Co. (DIS) $122.49 -0.64%
International Business Machines Corporation (CDI) (IBM) $118.09 -0.62%
Home Depot Inc. (HD) $265.70 -0.32%
Chevron Corp. (CVX) $71.80 -0.21%
Exxon Mobil Corp. (XOM) $34.32 -0.20%
S&P 500 - Risers
Fluor Corp. (FLR) $9.35 10.26%
Darden Restaurants Inc. (DRI) $97.31 8.12%
Jefferies Financial Group Inc. (JEF) $18.23 6.80%
Illumina Inc. (ILMN) $286.31 4.88%
Goldman Sachs Group Inc. (GS) $195.11 4.83%
Freeport-McMoRan Inc (FCX) $15.38 4.13%
Invesco Ltd. (IVZ) $10.80 3.65%
Campbell Soup Co. (CPB) $46.81 3.61%
Albemarle Corp. (ALB) $83.31 3.59%
Devon Energy Corp. (DVN) $8.96 3.23%
S&P 500 - Fallers
Carmax Inc. (KMX) $94.28 -11.00%
Accenture Plc (ACN) $214.42 -7.04%
Coty Inc. Class A (COTY) $2.77 -5.14%
Twitter Inc (TWTR) $43.14 -4.83%
Nektar Therapeutics (NKTR) $18.03 -4.65%
Under Armour Inc. Class A (UAA) $11.01 -3.67%
Western Digital Corp. (WDC) $37.53 -3.57%
Norwegian Cruise Line Holdings Ltd (NCLH) $14.63 -3.56%
Boeing Co. (BA) $146.05 -3.39%
Under Armour, Inc. (UA) $9.67 -3.30%
Nasdaq 100 - Risers
Illumina Inc. (ILMN) $286.31 4.88%
Lam Research Corp. (LRCX) $327.17 3.20%
Cadence Design Systems Inc. (CDNS) $102.12 2.41%
eBay Inc. (EBAY) $51.78 2.17%
KLA-Tencor Corp. (KLAC) $184.54 2.07%
Dollar Tree Inc (DLTR) $88.43 1.97%
Tesla Inc (TSLA) $387.79 1.95%
Henry Schein Inc. (HSIC) $58.28 1.92%
Nvidia Corp. (NVDA) $493.92 1.85%
Synopsys Inc. (SNPS) $201.51 1.84%
Nasdaq 100 - Fallers
Western Digital Corp. (WDC) $37.53 -3.57%
Qurate Retail Inc. (QRTEA) $7.04 -3.16%
JD.com, Inc. (JD) $72.72 -2.51%
Biomarin Pharmaceutical Inc. (BMRN) $76.58 -2.36%
Marriott International - Class A (MAR) $91.35 -1.71%
Regeneron Pharmaceuticals Inc. (REGN) $557.46 -1.37%
American Airlines Group (AAL) $11.77 -1.34%
Gilead Sciences Inc. (GILD) $62.25 -1.33%
Ross Stores Inc. (ROST) $86.68 -1.21%
Hologic Inc. (HOLX) $63.01 -1.16%