US close: Stocks finish higher after Powell, Mnuchin testimony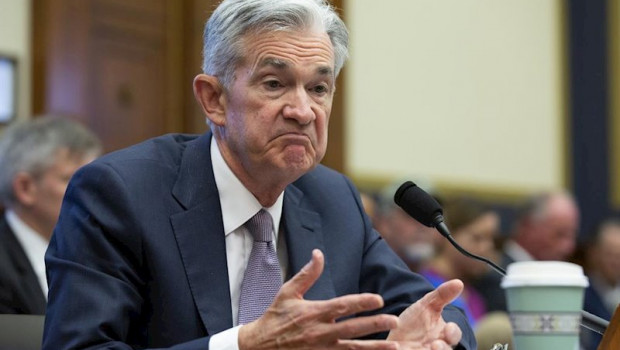 Wall Street stocks closed in positive territory on Tuesday - the final day of trading for June and the second quarter.
The Dow Jones Industrial Average ended the session up 0.85% at 25,812.88, the S&P 500 added 1.54% to 3,100.29, and the Nasdaq Composite was 1.87% firmer at 10,068.77.
It was a green session entirely for the Dow, which had opened 15.96 points higher, carrying on from Monday's gains that came despite a spike in new coronavirus cases in certain US states over the weekend.
Investors were focussed on testimony from Federal Reserve chair Jerome Powell and Treasury secretary Steven Mnuchin in front of the House Financial Services Committee during the afternoon.
In prepared remarks for his testimony, Powell told the committee that the US economic outlook would remain uncertain for some time as a result of the Covid-19 pandemic.
"Output and employment remain far below their pre-pandemic levels," he said.
"The path forward for the economy is extraordinarily uncertain and will depend in large part on our success in containing the virus.
"A full recovery is unlikely until people are confident that it is safe to reengage in a broad range of activities."
Mickey Levy, chief economist for the Americas and Asia at Berenberg, said both Powell and Mnuchin emphasised that they were intending to maintain expansive policies to support the economy, households, and businesses.
"Both praised Congress for enacting the CARES Act, and indicated that the Fed and Treasury would continue to coordinate with Congress to pursue effective policies.
"House Financial Services Committee chair Waters and several committee members emphasised that the pandemic and government shutdown had uneven economic impacts, harming lower-income households and minorities the most, which led Powell and Mnuchin to underline their support for ongoing aggressive policy initiatives."
Levy noted that Mnuchin said the Trump administration's goals included the passage of another round of fiscal action by the end of July.
"In prepared remarks, he indicated that additional fiscal relief would be 'targeted to certain industries that have been especially hard-hit by the pandemic', and noted that the Treasury still had $250bn remaining from the CARES Act to expand or create new Fed lending facilities.
"The Treasury has allocated $200bn to these lending facilities thus far which have only become operational recently.
"Taken together, this $450bn can be leveraged into several trillion dollars of lending."
Levy also said that Powell presented a "slightly more optimistic assessment" of the economy than he had recently, noting that the economy had entered an "important new phase" and had done so "sooner than expected", but at the same time emphasised the "high degree of uncertainty" in the outlook.
Also in focus, Beijing warned that it would retaliate against the US if the Trump administration stripped Hong Kong of its special status and treated it the same as mainland China.
While Trump has confirmed the US-Sino trade deal was still in place, it was again seen as being potentially at risk in light of recent developments.
On the macro front, home prices in the US continued moving higher in May, but a bit more slowly than anticipated.
The S&P CoreLogic Case-Shiller national home price index jumped at a month-on-month pace of 1.1%, pushing the year-on-year rate of increase from 4.6% to 4.7%.
Elsewhere, the recovery in factory sector activity in the Chicago area lagged behind the rest of the country in June and hiring continued to falter.
Market News International's Chicago Purchasing Managers' Index rose from a reading of 32.3 for May to 36.0 in June.
Economists had forecast an improvement to 42.0.
The other main highlight of the day, the Conference Board's June consumer confidence index rose to 98.1 for the month, well ahead of expectations on Wall Street for a reading of 91 and a marked improvement on the prior month's print of 85.9.
A loosening of stay-at-home and quarantine restrictions fuelled the reading, raising hope for an economic recovery.
In the corporate space, shares in chipmaker Micron Technology were 4.83% stronger after topping earnings estimates and issuing some strong forward revenue guidance.
Leisure wear maker Lululemon Athletica added 6%, after news broke that it would be acquiring in-home fitness business Mirror for $500m.
Dow Jones - Risers
Intel Corp. (INTC) $59.83 2.68%
Microsoft Corp. (MSFT) $203.51 2.55%
Nike Inc. (NKE) $98.05 2.27%
Goldman Sachs Group Inc. (GS) $197.62 2.15%
Unitedhealth Group Inc. (UNH) $294.95 1.79%
Home Depot Inc. (HD) $250.51 1.78%
Chevron Corp. (CVX) $89.23 1.78%
Procter & Gamble Co. (PG) $119.57 1.62%
Merck & Co. Inc. (MRK) $77.33 1.59%
Johnson & Johnson (JNJ) $140.63 1.14%
Dow Jones - Fallers
Boeing Co. (BA) $183.30 -5.75%
Raytheon Technologies Corporation (RTX) $61.62 -0.48%
Walt Disney Co. (DIS) $111.51 -0.01%
Dowdupont Inc. (DWDP) $30.52 0.00%
Walgreens Boots Alliance, Inc. (WBA) $42.39 0.17%
Pfizer Inc. (PFE) $32.70 0.18%
3M Co. (MMM) $155.99 0.27%
Walmart Inc. (WMT) $119.78 0.60%
American Express Co. (AXP) $95.20 0.72%
Coca-Cola Co. (KO) $44.68 0.72%
S&P 500 - Risers
Citizens Financial Group, Inc. (CFG) $25.24 7.27%
Xilinx Inc. (XLNX) $98.39 6.99%
Hologic Inc. (HOLX) $57.00 6.88%
Marathon Petroleum Corporation (MPC) $37.38 5.59%
Western Digital Corp. (WDC) $44.15 5.14%
Lam Research Corp. (LRCX) $323.46 4.86%
Micron Technology Inc. (MU) $51.52 4.83%
Freeport-McMoRan Inc (FCX) $11.57 4.80%
Phillips 66 Common Stock (PSX) $71.90 4.72%
Cooper Cos Inc. (COO) $283.64 4.69%
S&P 500 - Fallers
Boeing Co. (BA) $183.30 -5.75%
Coty Inc. Class A (COTY) $4.47 -5.70%
Molson Coors Beverage Co. Class B (TAP) $34.36 -2.99%
L3Harris Technologies Inc. (LHX) $169.67 -2.93%
Southwest Airlines Co. (LUV) $34.18 -2.45%
Carnival Corp. (CCL) $16.42 -2.15%
Delta Airlines Inc. (DAL) $28.05 -1.96%
Nordstrom Inc. (JWN) $15.49 -1.90%
American Airlines Group (AAL) $13.07 -1.88%
United Airlines Holdings Inc (UAL) $34.61 -1.87%
Nasdaq 100 - Risers
Xilinx Inc. (XLNX) $98.39 6.99%
Tesla Inc (TSLA) $1,079.81 6.98%
Hologic Inc. (HOLX) $57.00 6.88%
Western Digital Corp. (WDC) $44.15 5.14%
Lam Research Corp. (LRCX) $323.46 4.86%
Micron Technology Inc. (MU) $51.52 4.83%
Dish Network Corp. (DISH) $34.51 4.42%
Verisk Analytics Inc. (VRSK) $170.20 3.57%
Paypal Holdings Inc (PYPL) $174.23 3.49%
Nvidia Corp. (NVDA) $379.91 3.24%
Nasdaq 100 - Fallers
American Airlines Group (AAL) $13.07 -1.88%
T-Mobile Us, Inc. (TMUS) $104.15 -1.71%
Baidu Inc. (BIDU) $119.89 -1.15%
Dollar Tree Inc (DLTR) $92.68 -1.06%
Marriott International - Class A (MAR) $85.73 -1.00%
NetEase Inc. Ads (NTES) $429.38 -0.75%
Trip.com Group Limited (TCOM) $25.92 -0.61%
Expedia Group Inc. (EXPE) $82.20 -0.57%
O'Reilly Automotive Inc. (ORLY) $421.67 -0.17%
Booking Holdings Inc. (BKNG) $1,592.34 -0.06%