US close: Stocks end the session lower as trade tensions come back into focus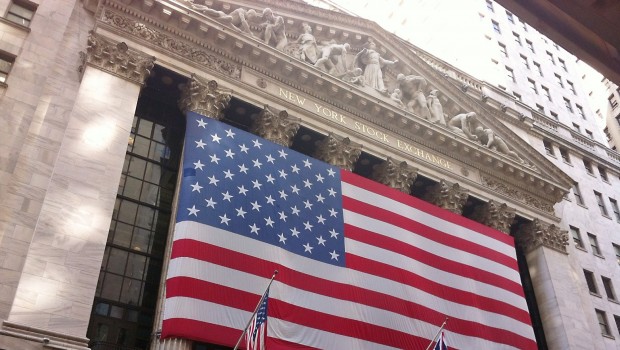 The Dow ended its daily winning streak at six on Tuesday as a decline in tech and industrial shares, as well as ongoing trade tensions, weighed on sentiment.
At the close, the Dow Jones Industrial Average was down 0.05% at 26,048.51, while the S&P 500 was 0.03% lower at 2,885.72 and the Nasdaq closed 0.01% weaker at 7,822.57.
The Dow closed 14 points lower on Tuesday - a change of pace from Monday's performance which saw the index close 78 points higher - after tech stocks took a hit after Commerce Secretary Wilbur Ross claimed Chinese tech giants Huawei and ZTE both presented national security on Tuesday.
"Both are doing practices that we think are potentially injurious to our national security," Ross said.
Investors also digested comments made late on Monday by Donald Trump, when he threatened China with a further hike in tariffs if President Xi Jinping refused to meet with him at the upcoming G20 summit in Japan.
In an interview with CNBC on Monday, Trump said that tariffs on $300bn-worth of Chinese goods would come into force immediately if there was no meeting at the summit scheduled for 28-29 June.
"The China deal is going to work out. You know why? Because of tariffs," Trump said.
"Right now, China is getting absolutely decimated by companies that are leaving China, going to other countries, including our own, because they don't want to pay the tariffs."
Global stocks rose early in the session after Chinese state news agency Xinhua revealed the country would allow local governments to use bonds in order to finance infrastructure projects. The Shanghai Composite jumped 2.6% overnight, while the Stoxx 600 index in Europe gained 1% and the FTSE 100 closed 0.31% firmer.
Still on Trump, the President claimed the US was at a disadvantage compared to other major currencies as other central banks continue to keep interest rates lower than the Federal Reserve.
"The Euro and other currencies are devalued against the dollar, putting the US at a big disadvantage," Trump tweeted, adding the Fed doesn't have "a clue".
On the data front, the National Federation of Independent Business' small business optimism survey rose to a seven-month high in May, with companies increasing capital spending plans, indicating firms remained confident that economic growth would continue.
The optimism index increased 1.5 points to 105 on more upbeat views of the economy, employment, capital outlays and sales - a markedly different outcome to the 1.5-point decline predicted by analysts.
Elsewhere, US producer prices increased for a second straight month in May, driven by an uptick in hotel accommodation costs and gains in an array of services, indicating a steady pickup in underlying inflation pressures.
Producer prices excluding food, energy and trade services rose 0.4% last month, according to the Labor Department, matching April's gain. Core PPI increased 2.3% in the 12 months through May after rising 2.2% in April.
In terms of corporate news, accountants H&R Block shares rose 3.16% after topping revenue and profit estimates in its fourth quarter, while Beyond Meat slumped 25.02% after analysts at JP Morgan cut their rating on the stock from overweight to neutral, citing valuation concerns.
Women's apparel retailer Chico's FAS closed 8.21% higher despite falling short on same-store sales estimates, while JetBlue gained 4.60% during the session after analysts at Citi issued a bullish note on the airline.
Advanced Micro Devices and Symantec led Tuesday's tech decline, sliding roughly 3% each.
Ten state attorneys general filed a lawsuit to block the proposed merger of T-Mobile and Sprint as federal antitrust officials were still reviewing the more than $26bn deal. Both firm's closed lower.