US close: Stocks eke out slight gains as market awaits FOMC meeting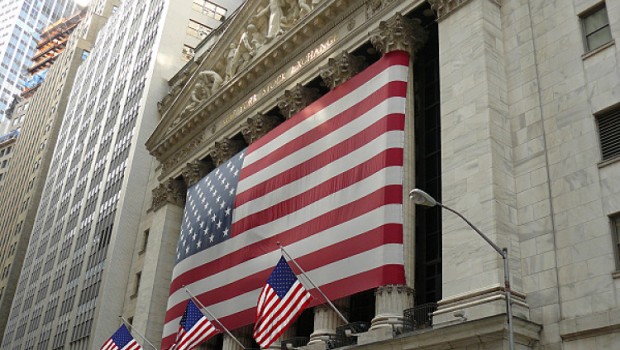 Stocks closed slightly higher to start the week on Monday, with investors looking ahead to the Federal Reserve's policy meeting later in the week and the upcoming G-20 leaders' summit in Japan.
At the close, the Dow Jones Industrial Average was up 0.09% at 26,112.53, while the S&P 500 was also 0.09% firmer at 2,889.67 and the Nasdaq Composite saw out the session 0.62% stronger at 7,845.02.
The Dow closed 22 points higher as stocks attempted to stage a rebound after closing lower on Friday when investors reacted to a spate of mixed economic data out of China and tensions between the US and Iran following an attack on two oil tankers in the Gulf of Oman on Thursday.
The week's focus looked set to be squarely on a long list of central bank policy risks, with policymakers at the ECB conference in Sintra likely to provide a steady stream of comments for investors to weigh even as they pondered whether or not the Federal Open Market Committee's, the US central bank's main policy organ, expected dovishness would be enough to satisfy investors hungry for rate cuts.
Elsewhere, Donald Trump warned Americans over the weekend that if he was not re-elected in 2020 there would be "a market crash the likes of which has not been seen before."
In remarks to the Wall Street Journal on Sunday, US commerce secretary Wilbur Ross downplayed the likelihood of a major trade deal should the leaders of the US and China meet at the 28-29 June G-20 leaders' summit, saying Donald Trump was "perfectly happy" to slap further tariffs on China.
"I think the most that will come out of the G-20 might be an agreement to actively resume talks. At the presidential level they're not going to talk about the details of how do you enforce a trade agreement," Ross reportedly said.
Manufacturing sentiment in New York state and northern New Jersey collapsed in June, on the back of fears of a tariff war with Mexico, the results of a closely-followed survey revealed.
The Empire State Manufacturing Index tumbled into negative territory after recording its largest monthly decline on record.
The headline general business conditions index for manufacturing in June, published by the Federal Bank of New York, fell 26 points to -8.6 after new orders receded and shipments increased modestly. That was well below consensus for a reading of somewhere between 10.0 and 11.0, and the lowest reading since October 2016.
Meanwhile, falling interest rates since December had clearly helped, home builders aren't exactly thrilled with their prospects either, according to the National Association of Housebuilders.
The NAHB's housing market index for June fell to 64 in June, shy of both the 66 recorded last month and the reading of 66 expected on the Street.
Pantheon Macroeconomics' chief economist Ian Shepherdson linked the index's drop to "peak Mexico tariff fear", which had since subsided.
On the corporate front, auctioneer Sotheby's saw its shares close 58.60% firmer after news that it would be acquired for $3.7bn by BidFair USA, while Array BioPharma shares surged 56.94% after being acquired by Pfizer for $10.6bn.
The slightly higher gains in the tech-heavy Nasdaq were a result of Facebook and Netflix shares climbing 4.2% and 3.2%, respectively, while Amazon advanced 0.9%, Alphabet gained 0.7% and Apple picked up 0.6%.