US close: Stocks close sharply lower as trade tensions overshadow Powell's address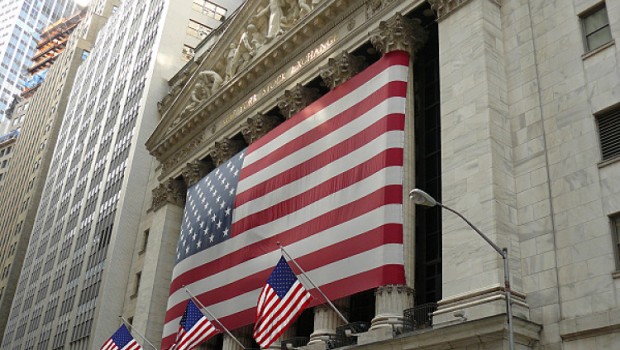 Stocks closed sharply lower on Friday following news that China was readying $75bn-worth of tariffs on US products and some hotly anticipated comments from Federal Reserve Chairman Jerome Powell.
At the close, the Dow Jones was down 2.37% at 25,628.90, while the S&P 500 was 2.59% weaker at 2,847.11 and the Nasdaq Composite came out of the gate 3.00% lower at 7,751.77.
The Dow opened 623.34 points lower as China unveiled a plan to impose additional 5-10% retaliatory tariffs on US exports worth $75bn in two tranches, on 1 September and 15 December.
The announcement followed comments by the editor-in-chief of China's Global Times who said: "Based on what I know, China will take further countermeasures in response to US tariffs on $300bn Chinese goods. Beijing will soon unveil a plan of imposing retaliatory tariffs on certain US products".
It was also revealed that China will reimpose a 25% levy on US-made cars from 15 December, although certain American car and parts manufacturers would be allowed to apply for exemptions.
Trump later upped the ante in his trade war with China following Beijing's decision to retaliate against the latest measures threatened by Washington.
In post on his personal account on Twitter, Donald Trump responded that he would do something "shortly".
"Additionally, the remaining 300 BILLION DOLLARS of goods and products from China, that was being taxed from September 1st at 10%, will now be taxed at 15%. Thank you for your attention to this matter," said Trump.
Fed chair Jerome Powell spoke at the Jackson Hole Symposium, however his much-anticipated speech was overshadowed by thr trade war news.
Powell said the US economy was still performing well as he vowed to remain "vigilant" regarding risks to the financial stability of the US. He highlighted that while trade uncertainty was weighing on global growth, foreign trade policies were ultimately outside of the bank's purview.
Trump quickly lashed out at Powell and the Fed for saying "nothing".
Both the Fed and Powell have suffered an unprecedented amount of criticism from Donald Trump as the US economy weakened and recession warnings started flashing red - leaving the President searching for someone else to blame as Washington's trade war with China has taken its toll heading into an election year.
On the macroeconomic calendar, sales of new US single-family homes fell more than expected in July, according to data released by the Commerce Department on Friday.
New home sales dropped by 12.8% to a seasonally-adjusted annual rate of 635,000 units, massively undershooting expectations for a 0.2% dip. June's sales pace was revised to 728,000 from 646,000.
On the corporate front, Foot Locker shares plummeted after the sneaker specialist reported an earnings and sales miss, while shares in accessories retailer Buckle closed 3.12% despite beating consensus on both the top and bottom line.
Trade bellwether Caterpillar was down 3.25% at the close, while Intel, Nike and 3M all weighed on the Dow Jones with losses of more than 3% during the session.