US close: Markets mixed amid trade deal delay chatter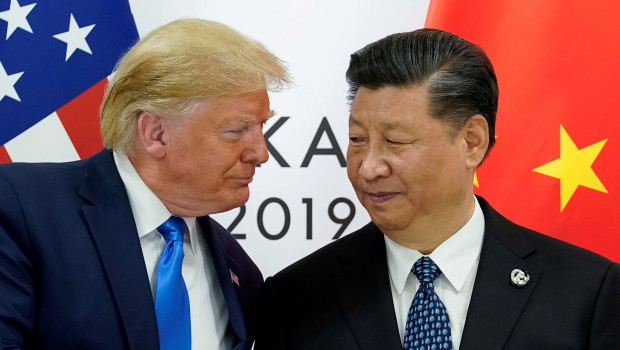 Stocks finished in a mixed fashion by the close in New York on Wednesday, following a report that a phase one trade deal between Washington and Beijing could be delayed until December.
The Dow Jones Industrial Average slipped 0.0003% to 27,492.56 and the Nasdaq Composite was down 0.29% at 8,410.63, while the S&P 500 rose 0.07% to 3,076.78.
"Global stocks have remained in consolidation mode, with the optimism of Monday failing to persist as we push through the week," said IG analyst Josh Mahony.
"Coming off the back of a highly volatile period, we are finally seeing some calm creep into markets, as traders await a new catalyst to drive another bout of action.
"With the sharp yuan gains also coming to a halt, it is clear that the consolidation seen across global stocks is primarily driven by a lack of trade war progress."
Earlier in the session, citing a senior trump administration official, Reuters reported that a US-China deal might not finally happen, although it was "more likely than not".
Until just a couple of weeks ago, a deal had been expected to be inked at the 16-17 Asia Pacific Economic Cooperation forum in Santiago, Chile, which was later cancelled due to the violent protests that had been rocking the South American country's capital.
Reuters also reported that China wanted the US to cancel the 15.0% trade levy on $125.0bn-worth of its goods that kicked-in on 1 September.
A source close to the talks reportedly also said that China wanted relief from the earlier 25.0% tariff imposed on roughly $250.0bn-worth of its exports to the States.
In the corporate arena, the spotlight was on Xerox Holdings, following a report in the Wall Street Journal that it was mulling a bid for PC and printer manufacturer HP Inc.
Xerox shares finished up 3.58%, while HP added 6.36%.
Shares of Humana and CVS Health were both higher, by 3.46% and 5.36% respectively, on the back of better-than-expected third quarter profit and revenue figures.
Stock in the New York Times was down 3.85%, after the company posted a 34% drop in third quarter net income and warned investors they should expect a decline in total advertising revenues during the fourth quarter.
In after-hours action, Qualcomm added 5.02% and Fox Corp was ahead 3.53%, following investor updates from both firms after the closing bell.
Dow Jones - Risers
Procter & Gamble Co. (PG) $120.32 1.19%
Cisco Systems Inc. (CSCO) $48.27 1.07%
Verizon Communications Inc. (VZ) $60.12 1.06%
McDonald's Corp. (MCD) $194.18 1.04%
Travelers Company Inc. (TRV) $132.35 0.82%
Home Depot Inc. (HD) $234.01 0.78%
American Express Co. (AXP) $119.69 0.77%
Coca-Cola Co. (KO) $52.80 0.72%
International Business Machines Corporation (CDI) (IBM) $138.78 0.65%
Walmart Inc. (WMT) $119.50 0.54%
Dow Jones - Fallers
Walgreens Boots Alliance, Inc. (WBA) $59.49 -2.81%
Exxon Mobil Corp. (XOM) $71.49 -2.19%
Chevron Corp. (CVX) $119.90 -1.67%
Boeing Co. (BA) $354.19 -1.14%
3M Co. (MMM) $174.00 -0.72%
Caterpillar Inc. (CAT) $145.49 -0.60%
Nike Inc. (NKE) $89.50 -0.45%
Microsoft Corp. (MSFT) $144.06 -0.28%
Walt Disney Co. (DIS) $131.27 -0.14%
Goldman Sachs Group Inc. (GS) $218.42 -0.10%
S&P 500 - Risers
Coty Inc. Class A (COTY) $13.02 13.61%
DaVita Inc (DVA) $70.51 12.92%
HP Inc (HPQ) $19.57 6.36%
CVS Health Corp (CVS) $70.93 5.36%
Western Union Co. (WU) $27.46 3.62%
Xerox Corp. (XRX) $37.66 3.55%
Humana Inc. (HUM) $304.94 3.46%
Ball Corp (BLL) $66.66 3.01%
CH Robinson Worldwide Inc (CHRW) $78.61 2.97%
Progressive Corp. (PGR) $70.94 2.95%
S&P 500 - Fallers
Diamondback Energy Inc. (FANG) $77.20 -14.44%
Sealed Air Corp. (SEE) $38.73 -7.32%
Perrigo Company plc (PRGO) $50.51 -6.72%
Occidental Petroleum Corp. (OXY) $39.61 -5.49%
Broadridge Fin Sol (BR) $116.84 -5.32%
Mosaic Company (MOS) $20.68 -4.48%
CBRE Group Inc (CBRE) $53.08 -4.43%
Macy's Inc. (M) $15.97 -4.43%
HollyFrontier Corp (HFC) $53.42 -4.42%
Microchip Technology Inc. (MCHP) $95.62 -4.40%
Nasdaq 100 - Risers
Tesla Inc (TSLA) $326.58 2.95%
NetEase Inc. Ads (NTES) $299.31 1.79%
Automatic Data Processing Inc. (ADP) $159.66 1.69%
O'Reilly Automotive Inc. (ORLY) $440.83 1.64%
Activision Blizzard Inc. (ATVI) $56.36 1.48%
Verisk Analytics Inc. (VRSK) $140.78 1.44%
Starbucks Corp. (SBUX) $82.99 1.34%
Henry Schein Inc. (HSIC) $68.65 1.28%
DENTSPLY Sirona Inc. (XRAY) $55.59 1.26%
Cisco Systems Inc. (CSCO) $48.27 1.07%
Nasdaq 100 - Fallers
Microchip Technology Inc. (MCHP) $95.62 -4.40%
Qurate Retail Inc. (QRTEA) $9.38 -3.79%
Mylan Inc. (MYL) $17.17 -3.49%
Dish Network Corp. (DISH) $33.52 -3.23%
Wynn Resorts Ltd. (WYNN) $122.56 -3.19%
Walgreens Boots Alliance, Inc. (WBA) $59.49 -2.81%
Regeneron Pharmaceuticals Inc. (REGN) $324.49 -2.44%
Micron Technology Inc. (MU) $47.68 -2.05%
Maxim Integrated Products Inc. (MXIM) $59.64 -2.02%
Xilinx Inc. (XLNX) $93.77 -1.71%