Europe midday: Stocks edge higher boosted by hopes for central bank easing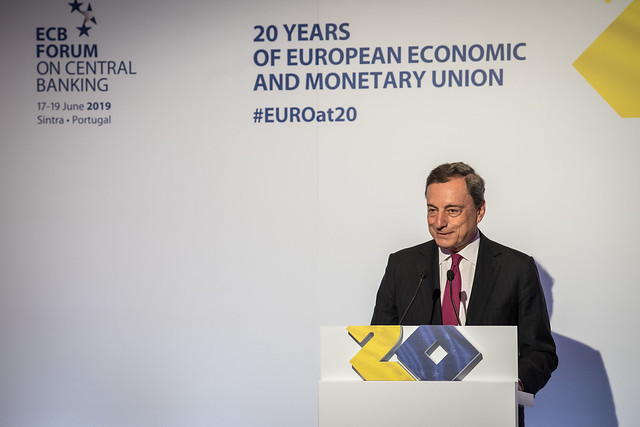 Stocks are holding mostly higher come midday, buoyed by hopes for easier central bank policy and a record close on the Dow Jones Industrial overnight, although international trade concerns continued to be very much present.
"Equity markets in the US rallied yesterday as traders remain hopeful the Federal Reserve will cut interest rates. Dealers remain divided as the size of the cut and when we might see the rates being lowered, but the view across the board is that monetary policy will be loosened," said David Madden, analyst at CMC Markets UK.
Nevertheless, Chinese import data released overnight revealed a larger than expected drop in Chinese imports of -7.3% in June (consensus: -4.5%), stoking concern over weak domestic demand in the Asian giant.
Ahead of those figures, Singapore's highly-dependent export driven economy was reported to have shrunk at a 3.4% quarter-on-quarter pace in the second quarter of 2019, underscoring the costs of the ongoing global trade tensions.
On a more positive note, US and Eurozone officials are making positive sounding noises around trade talks between the two blocs, with the US Trading Representative having reportedly said that it was in the interest of both to avoid an escalation.
As of 1232 BST, the benchmark Stoxx 600 was adding 0.13% to 387.22, while the Dax was dipping 0.02% to 12,329.04 with an advance of 0.44% in the French Cac-40 to 5,576.47 alongside.
Meanwhile, front month Brent crude oil futures were jumping 1.06% to $67.23 on the back of forecasts that tropical storm Barry will turn into a hurricane as it approaches the US Louisiana coast.
In parallel, euro/dollar was a tad higher, adding 0.02% to 1.12566.
To take note of, reports indicated that Turkey might be slapped with US sanctions after accepting delivery of the first units of a Russian-made missile defence system.
There was some positive news to be had on the economic front with Eurostat reporting a 0.9% rise in Eurozone industrial output for May (consensus: 0.2%).
Over in Spain meanwhile, the country's national statistics office confirmed a dip in the year-on-year rate of increase for harmonised consumer prices from 0.9% for May to 0.6% in June.
Investors in Daimler got run over at the end of the week after the German carmaker issued its fourth profit warning in just a little over a year, placing the blame on the costs associated with the recall of faulty airbags and higher provisions to deal with the diesel emissions scandal.
Shares of Anheuser Busch-Inbev were lower after Bloomberg reported, citing people familiar with the matter, that it was finding it hard to price the flotation of its Asia Pacific unit on the Hong Kong stock exchange.