Europe close: Stocks finish lower after weaker China data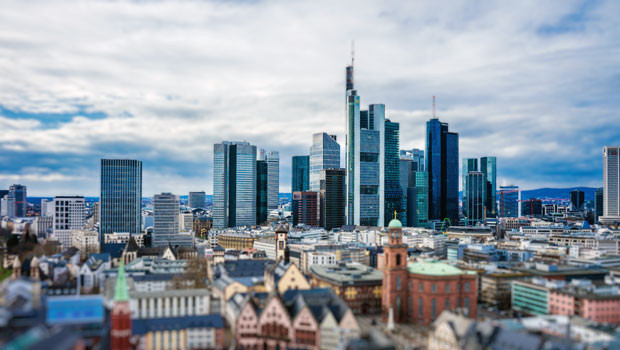 European shares remained in the red by the end of trading on Wednesday, as worries over China's weakening economy and the ongoing US debt ceiling debate continued to ripple across global markets.
The pan-European Stoxx 600 fell 1.07% to settle at 451.76 points.
Germany's DAX and France's CAC 40 both dropped 1.54%, with values standing at 15,664.02 and 7,098.70 respectively.
The FTSE 100 in London also dipped, losing 1.01% to 7,446.14.
On the currency front, the euro struggled against its major counterparts, last falling 0.62% on sterling to trade at 85.94p, while it weakened 0.79% against the dollar to change hands at $1.0650.
"Markets have not been able to find their footing this afternoon, and as well as the US debt ceiling, are also grappling with renewed signs of a slowdown in China," said IG chief market analyst Chris Beauchamp.
"The boost from the reopening of China's economy seems to have faded altogether, and this has meant that recession fears are front and centre once more.
"The debt ceiling now seems to be mostly a procedural problem, but until it is resolved markets seem determined to remain on edge."
German inflation falls as unemployment remains stable
On the economic front, German inflation fell to its lowest point since March last year in May, reaching 6.1% year-over-year, down from 7.2% in April.
The dip came in below the expected 6.5%, according to the official data, countering consensus expectations.
A decrease in energy prices and costs for goods, food, and services contributed to the downward trend.
Meanwhile, harmonised consumer prices, which are adjusted to allow comparisons with other European Union nations, rose 6.3%.
That was a decrease from the 7.6% growth observed in April, and defied expectations for a smaller dip to 6.8%.
"The core rate will only be included in the final inflation release, but it probably fell by around 0.3 percentage points," said Franziska Palmas, senior Europe economist at Capital Economics.
"The press release stated that services inflation edged down from 4.7% to 4.5%.
"But that partly reflects the re-introduction of cheap transport tickets this month suggesting that services price pressures remain very strong."
On the jobs front, May saw the German unemployment rate remain stable at 5.6%, consistent with expert forecasts.
The Federal Labour Office reported that the figure was unaltered from the prior month.
Unemployment claims, however, rose by 9,000 to 2.573 million, marking a more moderate increase than April's 24,000 hike.
Compared to the same time last year, the number of unemployed individuals had increased by 284,000, despite predictions of a smaller increase of around 15,000 for May.
"Despite a weak economy, the labour market is steady overall," said Daniel Terzenbach, head of the regions at the Federal Labour Office.
In other economic news, signs of a struggling recovery in China's economy became more evident earlier as manufacturing activity fell more than anticipated.
Official data showed the manufacturing purchasing managers' index (PMI) falling to a five-month low of 48.8, down from 49.2 in April.
The figure missed the projected increase to 49.4, and was also below the 50-point level that separates contraction from expansion.
Additionally, the non-manufacturing gauge dropped to 54.5 from 56.4, while the new-orders sub-index and new-export-orders sub-index fell to 48.3 and 47.2 respectively, signalling a decrease in demand.
"The Chinese recovery is faltering, especially the industrial sector, as China decided to allow a rebound in consumption to be the main driver of the reopening rebound, while holding off from broad stimulus," noted Pantheon Macroeconomics.
"China's ebbing industrial sector activity means diminished demand for inputs and raw materials, including from overseas.
"This reinforces our view that China will export disinflation, even deflation, to the world this year."
B&M rises on outlook, luxury brands hit by China data
In equities, shares in B&M European Value Retail jumped 8.03% despite the discount retailer reporting a drop in annual profits.
The uptick came on the back of the company's positive outlook, as it announced expectations of higher adjusted core earnings in the current period.
WH Smith also enjoyed a rally, with its shares adding 2.75% after the stationery and book retailer reported a "modest" improvement in its full-year expectations, driven primarily by sustained momentum in its global travel business.
On the downside, several luxury brands took a hit in the European market, with Burberry Group down 2.45%, while LVMH Moet Hennessy and Hermes International both experienced a 2.64% decrease.
The downturn in the high-end fashion houses came on the back of the weaker data out of China - a significant market for luxury goods.
Reporting by Josh White for Sharecast.com.
STOXX 600 -4.88 (-1.07%) 451.76
RISERS
Uniper SE +15.42%
B&M European Value Retail +8.03%
Capgemini +6.82%
JCDecaux +4.17%
AIB Group +4.03%
FALLERS
Husqvarna B -7.56%
Cineworld -6.8%
Prudential -6.13%
Amundi -5.99%
Polymetal -3.95%
DAX 40 -244.89 (-1.54%) 15,664.02
RISERS
RWE AG +0.33% €39.12
SAP +0.08% €122.18
Munich Re Group +0.06% €334.00
E.ON SE -0.04% €11.31
Deutsche Telekom -0.12% €20.745
FALLERS
Covestro -4.85% €36.06
Continental AG -4.74% €62.28
Porsche -3.92% €51.90
Rheinmetall -3.59% €236.40
Allianz -3.55% €199.98
CAC 40 -111.05 (-1.54%) 7,098.70
RISERS
Capgemini +6.82% €162.80
Veolia Environnement +1.1% €27.54
Dassault Systemes +0.88% €41.11
Sanofi +0.6% €94.88
Eurofins Scientific +0.46% €61.64
FALLERS
Renault -4.32% €31.29
EssilorLuxottica -3.74% €168.44
Stellantis NV -3.47% €14.19
Michelin -3.17% €26.56
Louis Vuitton -2.64% €813.90
FTSE 100 -75.93 (-1.01%) 7,446.14
RISERS
B&M European Value Retail +8.03% 509.8p
Endeavour Mining +5.8% 2,152p
Sage Group +1.66% 871p
AstraZeneca +1.41% 11,660p
Auto Trader Group +1.38% 630p
FALLERS
Prudential -6.13% 1,056p
Ocado Group -5.84% 369p
Entain -4.04% 1,319p
Abrdn -3.03% 198.5p
Barclays -2.86% 151.34p