Asia report: Markets mixed as Covid cases surge in India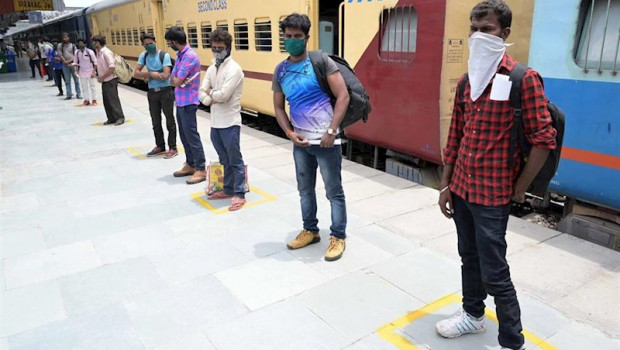 Markets in Asia closed in a mixed state on Monday, as investors monitored a spiralling Covid-19 situation in India.
In Japan, the Nikkei 225 was up 0.36% at 29,126.23, as the yen strengthened 0.17% against the dollar to last trade at JPY 107.70.
Of the major components on the benchmark index, automation specialist Fanuc was up 0.66%, fashion firm Fast Retailing added 0.83%, and technology conglomerate SoftBank Group was ahead 1.3%.
The broader Topix index rose 0.17% by the end of trading in Tokyo, to settle at 1,918.15.
On the mainland, the Shanghai Composite was down 0.95% at 3,441.17, and the smaller, technology-heavy Shenzhen Composite lost 0.75% to 2,281.30.
South Korea's Kospi was up 0.99% at 3,217.53, while the Hang Seng Index in Hong Kong slipped 0.43% to 28,952.83.
Seoul's blue-chip technology stocks were in a mixed state, with Samsung Electronics up 0.85%, while SK Hynix closed down 0.75%.
The coronavirus situation in India continued to cause consternation, with more than 350,000 new Covid-19 infections registered on Monday.
Overnight, the Biden administration in the United States said it was immediately making materials available for vaccine production in India, following similar moves from France, Germany and the UK over the weekend.
"Unfortunately, India highlights the risks involved when vaccination levels are low, with daily cases rising from 47,000 to 321,000 in the space of a month," said IG senior market analyst Joshua Mahony.
"Until vaccinations build a strong base layer of protection, countries will have to continue the fine balancing act that involves knowing greater economic freedom will often come with higher risk of widespread infections."
Oil prices were lower at the end of the Asian day, with Brent crude last down 0.17% at $64.97 per barrel, and West Texas Intermediate losing 1.77% to $61.04.
In Australia, the S&P/ASX 200 was off 0.21% at 7,045.60, with the hefty financials subindex slipping 0.03% by the end of the session in Sydney.
The big four banks were mixed in the sunburnt country, with National Australia Bank up 0.76%, while Australia and New Zealand Banking Group was down 0.04%, Commonwealth Bank of Australia lost 0.38%, and Westpac Banking Corporation off 0.16%.
Across the Tasman Sea, traders in New Zealand were taking a long weekend for the ANZAC Day holiday.
The down under dollars were both stronger on the greenback, with the Aussie last ahead 0.54% at AUD 1.2852, and the Kiwi advancing 0.22% to NZD 1.3861.