Market buzz: EU tariffs, US yields lower, ECB surprise, OPEC, Brexit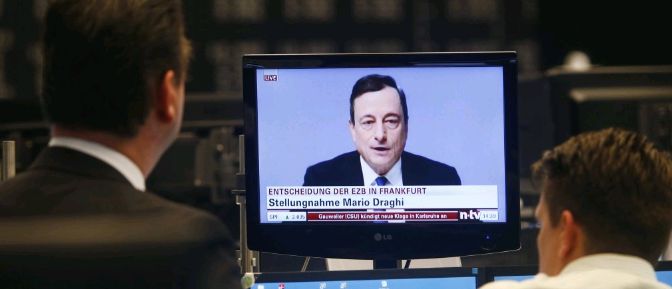 1606: EU has reportedly reached an agreement on retaliatory trade tariffs against US made goods.
1603: MP Anna Soubry tweets that parliament will have a "meaningful vote" on an exit deal and there will be no 'hard Brexit' when the EU Withdrawal Bill is approved.
1601: According to Interfax, Opec+ countries are considering the option of adjusting their output commitments from 1.8m barrels a day to 1.5m b/d.
Brent futures down 1.12% to $75.89 a barrel in reaction.
As an aside, same newswire cites (tongue in cheek we presume) that Putin tells Saudi Crown Prince he cannot wish Saudi team success at World Cup match.
1551: US 10-year Treasury note yield lower by two basis points at 2.94%, that on the two-year is down by one basis point to 2.56%.
1434: ECB Q&A going into overtime:
Draghi says ECB projections do not include the impact of trade protectionist measures which have not been implemented.
Draghi says impact of even just trade threats on economic and investor sentiment hard to judge.
Draghi defends need to maintain post-WWII multi-lateral framework.
1358: ECB Q&A:
Draghi calls for euro area countries to substanially "step-up" macroeconomic reforms.
Draghi says "soft patch" may last somewhat longer; however, underlying medium-term strength in economy is "unchanged"...."adequate".
Draghi says decisions on "future guidance" as regards the date and state-dependent conditions was "unanimous".
Draghi emphasising GC's desire to maintain "optionality" on all elements of monetary policy.
Draghi says GC is also unanimous that APP is not "disappearing", it will remain a part of the 'toolbox'.
When asked about 'redenomination' risk, Draghi says there is none, points out that 340m persons use the euro, with 74% valuing it "positively" and more countries keen to join.
Draghi says euro is "irreversible" because it is in no one's interest for it to be otherwise.
1337: Dovish ECB (offsets Fed?), stocks up, euro down (by 0.59% to 1.17231 versus the US dollar at last count).
Here's ING's take: "The hawks finally got their end-date for QE, while the doves still have their open door for more if needed. Nicely done."
1335: Commenting on the ECB's announcement, Marchel Alexandrovich, senior European economist at Jefferies, says: "So the ECB is sending a signal that rates are to remain on hold for 6-9 months after QE finishes. Draghi's last Press Conference and Q&A is on 24 October 2019 (he leaves the ECB at the end of October 2019) – so the focus will now be on whether he can raise rates before he departs."
Yet Pantheon Macroeconomics's chief Eurozone economist, Claus Vistesen, has already made up his mind, telling clients: "We are inclined to see this as a dovish signal. Mr. Draghi is putting markets on notice; 'don't go overboard and start pricing in rate hikes immediately after QE is ending.'
"It is also a signal that markets should not expect further changes in the guidance on rates until Q2 next year, later than currently expected by markets. We will be very interested to hear how Mr. Draghi qualifies this in the press statement. It looks like a signal that the president will be leaving the ECB without implementing a rate hike at all, though, our base case remains that the central bank will increase the deposit rate, at least once, in the latter part of the year."
1314: Nordea Bank still thinks the first ECB rate hike "is distant", but await more information at the 1330 BST presser with Mario Draghi.
"An era is ending, as today it was the ECB's turn to announce that the end to its net asset purchases is in sight," said Nordea. "More specifically, the ECB intends to end net purchases by the end of the year after net purchases of EUR 15bn per month between October and December."
After the ECB also strengthened its forward guidance, Nordea said: "We do not think that the inflation outlook has changed sufficiently to warrant quick rate hikes, and find the new guidance to be in line with our expectation of the first 25bp rate hike taking place only in December 2019."
1249: The ECB says monthly QE will be reduced to €15bn a month in September and to zero by the end of December this year.
In its initial statement the ECB said the Governing Council expects key interest rates to remain at their current levels at least through the summer 2019 "and in any case for as long as necessary to ensure that the evolution of inflation remains aligned with the current expectations of a sustained adjustment path".
1238: As mentioned in the midday market report, Unilever said at a conference today was "extremely unlikely to be included in FTSE UK series" and warned that first-half organic revenue growth will be below the bottom end of its 3-5% medium-term guidance range.
At the time of Unilever's Q1 results (19th April) management indicated that organic sales growth would be towards the lower end of that range. The 1H miss is expected to be made up in the second half, so analysts at RBC Capital Markets says on the surface this is an issue of phasing and not much else.
"The blame is being placed on Brazil, where the truckers' strike is expected to have a Q2 impact of €150m. This seems a lot. We estimate that Brazil accounts for c.4% of Unilever's sales. A €150m hit for Q2 would equate to 25% of Unilever's Brazilian sales in the quarter. Are there other problems in Brazil? We would regard an 11-day transport strike in Brazil as business as usual for a globally diversified FMCG conglomerate like Unilever.
"That management feels the need to lower market expectations for 1H as a result indicates that there's nothing in the rest of the group doing sufficiently better than management's previous expectations to compensate."
1216: More previews of the imminent ECB announcement, Goldman Sachs' last-minute preview sees "no change to key policy settings" expected, predicting there will also be "little detail" on the outlook for asset purchases beyond an acknowledgement that the asset purchase programme was discussed at the governing council.
This is contract to BoA Merrill Lynch, which expects the meeting to result in the ECB announcing it will end of QE by December 2018. "We still expect the first depo rate hike in September 2019. We believe the ECB may be in a hurry to close the QE chapter. We think this is essentially political, as the ECB would not want its monetary policy to be affected by claims of supporting or conversely impairing the new policy course in Italy."
Taking in volatility in bond, currency and commodity markets, political risks around Italy and the US, plus further evidence of slowing growth and spiking inflation, HSBC reckons Mario Draghi is likely to announce a three-month QE extension, but expect the announcement to come later, with July a more likely candidate. "So we do not expect any policy announcements or changes to forward guidance on QE and policy rates at the upcoming meeting."
1214: Turning to the imminent ECB announcement, Craig Erlam at Oanda says that while the Fed showed a willingness overnight to tolerate above target inflation, the uptick has clearly been a key influence in its decision to signal a fourth hike this year. "There will naturally be some concern among investors about the potential negative impacts that tightening too fast will have which may have contributed to the slight decline we've seen in equities but generally, they do appear comfortable with them."
Looking at the ECB, he thinks Mario Draghi and co are likely to be far more cautious in its approach to tightening monetary policy. "This has been evident by its insistence that the winding down of quantitative easing is not tapering, clearly an attempt to disassociate itself with the taper tantrum the Fed experienced when it was going through the same process.
"Today we should get some insight into the ECBs plans for when the current purchases expire in September. While I don't expect the central bank to commit to anything yet – be it an short extension and reduction or anything else – they may hint at discussions that have been had and the options that are on the table. Naturally, there'll be plenty of questions in the press conference after on its plans beyond QE but I expect President Mario Draghi to keep his cards relatively close to his chest."
1213: London's midday market report finds stocks still in the red, weighed down by weakness in the mining sector and a stronger pound, as investors digested better-than-expected UK retail sales data and a hawkish Fed update, ahead of the latest policy announcement from the European Central Bank.
The FTSE 100 was down 0.5% to 7,662.04, while the pound popped up 0.4% against the dollar to 1.3423 and 0.1% versus the euro to 1.1350 after data from the Office for National Statistics showed that UK retail sales rose more than expected in May thanks to boosts from warmer weather, the royal wedding and the FA Cup.
1201: In small caps, ITM Power shares are down on a trading update that says FY to April revenue will be £14m with a cash loss of £5m. Year end net cash was £22m. Received new orders in last 12 months of £21.9m and has a deal pipeline of £39m of which £33.5m is under contract.
Revolution Bars is drowning its sorrows after warning that adjusted earnings for the year would be in line with last year's results and below analysts' expectations amid challenging trading conditions, with the blamed laid on weather and the absence of a CEO.
Rocketing 26% the other way, is ValiRx after is reported on the completion of data collection from a recent Phase II trial on its lung cancer treatment and said it was now taking steps towards completing a clinical study report for submission.
1105: Barclays on the UK retail sales: "ONS retail sales appear to be the most optimistic indicator in May, raising questions regarding the sustainability of the rebound. We think today's data support our forecast of 0.4%q/q Q2 GDP growth with downside risks."
1036: Today's retail sales numbers do suggest the UK consumer has perked up in the second quarter, but, says Howard Archer of the EY Item Club, the Bank of England still looks a "racing certainty" to keep interest rates unchanged next Thursday after the June MPC meeting but could shorten the odds on an August hike."The robust May retail sales performance will likely lift expectations that the Bank of England will hike interest rates in August, but it currently looks a very close call given recent mixed news on the economy," Archer said.
1023: Dixons Carphone shares in positive territory despite stories that it could face a fine of more than £400m for the huge data breach it revealed yesterday. It emerges that it took the retailer nearly a year to discover the attack on its IT systems, which is believed to have been caused by an advanced computer virus that penetrated processing systems of Currys PC World and Dixons Travel stores.
The size of the fine depends on whether there was unauthorised access on or after 25 May 2018, when the GDPR rules came into force. The Information Commissioner's Office said that it was investigating whether the breach should be treated under the new GDPR rules, which carries fines of up to 4% of turnover, or the previous regime, which would cap any penalty at £500,000.
1010: Commenting on the latest ONS retail sales figures, British Retail Consortium analyst Rachel Lund said they were consistent with BRC's numbers earlier this month.
"The arrival of a consistent spell of summery weather unlocked latent demand for summer wardrobes and outdoor goods. This comes as a welcome sign for retailers that shoppers are still willing to spend, however, one swallow doesn't make a summer.
"Trend sales growth remains low; with average year on year growth in volumes dropping to just 1.6% over the last twelve months, compared to the 4.2% recorded at this time last year. The economic environment remains tough for both consumers and retailers alike and is likely to remain so for some months to come."
0940: UK retail sales were boosted by warmer weather, the royal wedding and FA Cup, the Office for National Statistics says, up 1.3% month-over-month in May, which better than the 0.5% consensus estimate.
0920: In big company news, Rolls-Royce shares are up 2% after it announced 4,600 job cuts – mainly in the UK – to save £400m a year in the latest round of restructuring under chief executive Warren East. The aero-engine maker will cut support staff and management over the next two years with a third of the jobs disappearing by the end of 2018. The cost of the restructuring will be £500m.
Imperial Leather owner PZ Cussons is down 6% as it said that trading conditions in Nigeria had tightened further and it expects profit before tax for the full year would still be in the range previously indicated, albeit towards the bottom end of the range.
Aveva is up 11% after it confirmed a strong performance by its heritage business fuelled a 6.8% rise in annual profit as the engineering and industrial software group set out a target for £25m of cost reductions from its reverse takeover of France's Schneider Electric.
0903: Thursday's London opening market report finds stocks down in early trade, taking their cue from downbeat US and Asian sessions following a hawkish update from the Federal Reserve, as investors looked ahead to the latest policy announcement from the European Central Bank. At 0830 BST, the FTSE 100 was down 0.6% to 7,654.08, while the pound was flat against the euro at 1.1341 and 0.1% firmer versus the dollar at 1.3392.
0839: Comcast made an offer of $65bn offer for Fox last night and may now need to make a formal offer for Sky plc under UK Takeover Panel rules, analysts reckon.
RBC Capital Markets said it believed this Comcast offer would translate to around £13.18.
"While strict application of Rule 9.1 would mean a mandatory offer by Comcast for Sky based on the inferred premium for Fox assets, it is possible the Panel rule that this is now a competitive process and decide not to enforce Rule 9.1."
0833: The FTSE 100 has opened lower, down almost 35 points to just under 7,669, a 0.45% drop. Not helping matters is the fall in the dollar despite the Fed's interest rate hike overnight.
The pound is up 0.2% against the greenback to 1.3396.
0837: It's the European Central Bank and the World Cup vying for attention today, after the US Federal Reserve's turn last night.
As we said in our preview, the World Cup kick off in Russia could prove underwhelming compared to the ECB policy meeting and press conference, which has got many in the City positively frothing with excitement.
Here's Lee Wild at broker Interactive Investor:
"US interest rates were raised for a second time this year overnight, and we're now told to expect four hikes in 2018. This more hawkish sentiment is not enough in itself to derail global equity markets, but US policymakers are divided over how aggressive the Federal Reserve must be this rate tightening cycle. As Fed chairman Jerome Powell acknowledges, the risk remains that officials overcook it and bring an end to the Trump trade once and for all. Achieving the 'not too fast, not too slow' Goldilocks approach to monetary policy will be key to extending the equities bull run.
"Despite a short-term blip, Wall Street loves President Trump's pro-business agenda and aggressive foreign policy, and there's a clear reluctance to bet against an economy growing at a fair lick and boasting a record-low jobless rate. This could backfire on Trump, however, if his unconventional approach triggers a sharper than expected increase in inflation. The threat of damaging trade wars with China and others is very real, and the perceived threat to financial markets is still able to make buyers think twice.
"It's the European Central Bank's turn to outline their policy plans Thursday lunchtime. Expect further detail on stimulus withdrawal and whether the ECB will begin unwinding QE in September. It's not a forgone conclusion, but consensus is that the eurozone's shift toward economic normalisation will begin sooner rather than later."