Italy's Conte warns Covid-19 debt row could split EU
PM says some restrictions could be lifted by end-April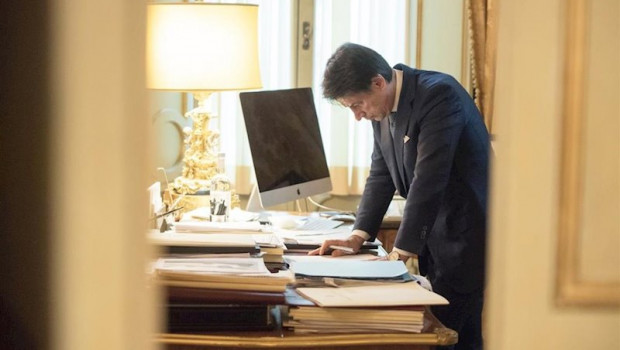 Italian Prime Minister Guiseppe Conte warned the European Union could fracture over tensions on how to deal with the coronavirus crisis as he said the current lockdown could be eased by the end of the month.
Conte called for co-ordinated policy action to help countries hit by the Covid-19 pandemic. Italy has fallen out with France and the Netherlands over its demand for an issue of so-called "corona" bonds where all members of the 27-nation bloc would share the debt and repayments.
"If we do not seize the opportunity to put new life into the European project, the risk of failure is real," Conte told the BBC.
Analysts at Shore capital said the topic was "hotly debated" since some member states argue it would remove the external incentive from the markets for countries to manage their debt levels and reignited the North-South divide within the Eurozone.
Italy has been the hardest hit country in the Continent, with 17,669 deaths from almost 140,000 cases. There were 3,693 people in intensive care, down from 3,792 on Tuesday - the fifth daily decline in a row.
The infection rate in Italy is slowing - the latest figures show positive cases increasing from the previous day by a little over 1%. Two weeks ago, the rise was 7%.
Conte warned Italy not to lower its guard and said that the national lockdown, imposed on 9 March, could only be eased gradually.
"We need to pick sectors that can restart their activity. If scientists confirm it, we might begin to relax some measures already by the end of this month."
The prime minister also defended his plan to restrict movement that culminated in a total lockdown for the country after a delegation from the Chinese Red Cross came to Milan in mid-March and attacked what they saw as a lax approach.
"Going back, I would do the same", Conte said. "We have a completely different system to China. For us to severely limit constitutional freedoms was a critical decision that we had to consider very carefully. If I had suggested a lockdown or limits on constitutional rights at the start, when there were the first clusters, people would have taken me for a madman."
Italy attributes the large number of reported cases to performing more tests daily than many other western countries.
The UK claims it is now averaging around 14,000 tests per day while Italy was around double that figure and in the past day carried out more than 50,000 tests.
Conte said a non-intensive testing regime was like "coping with the situation in the dark".