Fed's Bullard says inverted yield curve 'not a good place to be'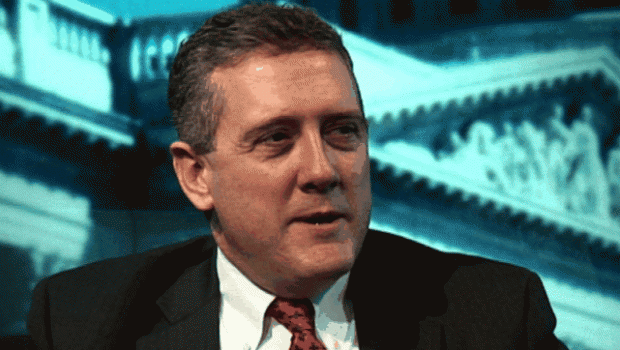 A top US central bank official argued for more interest rate cuts as "insurance" against the ongoing downturn in global manufacturing, arguing that the monetary authority could always take it back "next year" if things just blew over.
Indeed, he reportedly believed that there would be a "robust" debate around the need for a 50 basis point cut in September.
The head of the Federal Reserve bank of Atlanta, James Bullard, framed the debate in terms of the recession that was underway in manufacturing across all regions in the world.
In remarks to broadcaster CNBC, Bullard said: "The question is: Looking forward, how much risk are we facing from the fact that you've got a global manufacturing contraction going on and possibly more to come?
"So there is some downside risk, and I think you'd like to take out insurance against that downside risk."
He also pointed out the potential negative implications of the inverted Treasury yield curve.
"The yield curve is inverted here. We've got one of the higher rates on the yield curve here. That's not a good place to be," he said.
The central banker also argued that rate cuts would help lift inflation in the States.
Bullard did wield a vote on the Federal Open Market Committee in 2019.
On Thursday, Kansas City Fed chief Esther George (FOMC voter) had said she did not see a need at the moment for more rate cuts and Philadelphia Fed president Patrick Harker (FOMC non voter) said he had offered "tepid support" to a cut in July but did not see a case for a further reduction at present.
The Dallas Fed's Kaplan meanwhile said: "I'd like to avoid having to take further action but I think I'm going to have an open mind about taking action over the next number of months if we need to."
Kaplan said he would be watching whether the recession in global manufacturing "seeped" into US consumer spending.
Cleveland Fed boss, Loretta Mester, was of a similar mind, saying she would keep an "open mind" on additional easing but would probably favour staying put.