Eurozone industrial production tumbles in December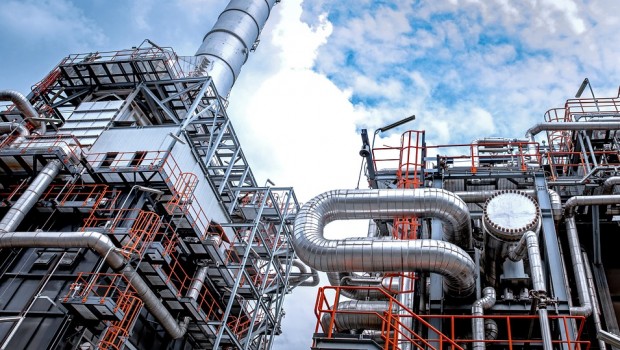 Eurozone industrial production slumped in December, as the monetary union's beleaguered economy continued to be buffeted by global headwinds.
According to Eurostat, the European Union's statistics office, industrial production was down 2.1% in December compared to the previous month, and by 2.0% across the wider 27 member states.
Year-on-year, industrial production in the bloc slumped 4.1% in December and by -1.7% over the year. In the EU27, it fell 3.9% year-on-year in December and 1.1% across 2019.
Analysts had been expecting a month-on-month decline of 2.0% in December and a year-on-year fall of 2.5% in the Eurozone.
Claus Vistesen, chief eurozone economist at Pantheon Macroeconomics, called the figures "terrible" and said they were likely to prompt a downward revision to fourth-quarter GDP.
He continued: "The advance country data had been warning about this print, so it won't be a surprise to anyone who has been paying attention. That said, it is still a nasty headline all the same.
"Output was constrained mainly by a -4.0% month-on-month crash in production of capital goods, though output in consumer and intermediate goods slipped too, as did production in energy. The weakness was broad-based across almost all economies, though the 2.5% month-on-month increase in Greece stood out on the upside."
Germany, the Eurozone's biggest economy, recorded one of the largest decreases year-on-year, down 7.2%. France eased 3.2% and Italy saw a 4.3% decline, while Estonia reported the biggest fall, at 9.9%.
Vistesen said next week's construction data would be "similarly horrible due primarily to a plunge in German civil engineering".
Bert Colijn, senior economist, eurozone, at ING, said: "The contraction in production, which has now completed its second full year, has left production 6.9% lower than it was at its December 2017 peak. November production had shown a slight uptick, but December indicates that it is too soon to call an end to the Eurozone industrial recession."
The Eurozone has been hit by weakening domestic demand, a slump in the car manufacturing industry, in large part prompted by the emissions scandal alongside declining demand for traditional petrol and diesel models, and the US-China trade war.
It was hoped that the phase one truce agreed by Washington and Beijing would help kick start a turnaround for the Eurozone.
Said Colijn: "The decline in new orders seems to have been halted in January, suggesting that a soft recovery should be in the making sometime in the first quarter. But uncertainly about the impact of the coronavirus on the global supply chain has put a spanner in the works."
Tomas Dvorak, Eurozone economist at Oxford Economics, said: "A meaningful pick-up in industrial output for the bloc is being made still more elusive for now, given that the ongoing and still developing disruptions to supply chains and activity from the coronavirus outbreak. The eurozone autos sector remains particularly vulnerable, given that China's Wuhan province is a major automotive hub."