ECB plots steady course, 'significantly higher' PEPP purchases to continue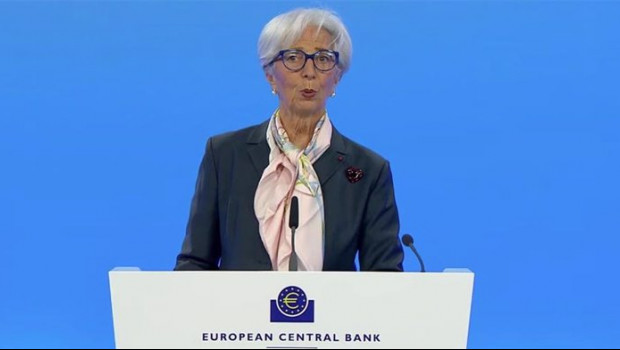 Rate-setters at the European Central Bank plotted a steady course at their latest policy meeting.
In particular, the ECB's governing council said that net asset purchases under its Pandemic Emergency Purchase Programme would continue over the next quarter "at a significantly higher" pace than in the first months of 2021.
That was in line with forecasts from the likes of Barclays Research for PEPP purchases to be conducted at the same pace as in the second quarter.
As well, in her post-meeting press conference, ECB chief, Christine Lagarde, said the GC was "somewhat more optimistic about the economic outlook than it had been three months ago."
As an aside, both Lagarde and ECB vice-president, Luis de Guindos, both attended Thursday's press conference in Frankfurt - without masks.
Nevertheless, in her introductory remarks just moments before, she noted that "uncertainties remained", even though they were "broadly balanced" overall.
Inflation pressures on the other hand were still expected to prove transitory even if an acceleration was still anticipated in the back half of the current year.
In fact, although in 2021 euro area CPI was seen at 1.9%, the ECB staff's latest projections, which were also published on Thursday, foresaw CPI slipping back to 1.4% in 2023.
Furthermore, even in 2021, core CPI was seen by the ECB's staff at just 1.1%, rising to 1.4% by 2023, at the end of its policy horizon.
Lagarde also warned against a "premature" withdrawal of fiscal support and emphasised the importance of the European Union's Next Generation EU long-term budget in underpinning a sustained expansion and boosting potential growth.
As an aside, when queried by reporters regarding El Salvador's recent decision to adopt Bitcoin as legal tender, Lagarde said running a dual tender economy could be tricky.