Bank of Canada stands pat on rates, signals no rate cut until 2023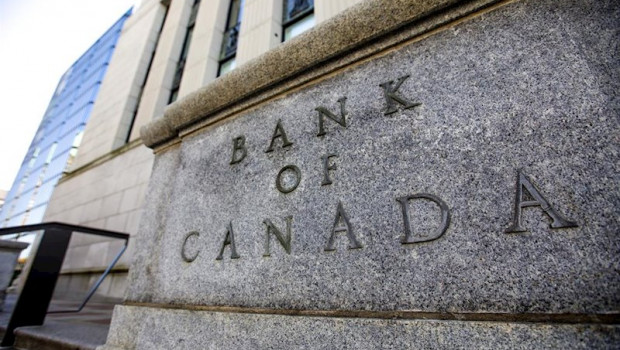 The Bank of Canada left interest rates unchanged on Wednesday as it signalled there was little chance of a rate hike until 2023.
The BoC kept rates at 0.25%, as expected. The Bank also said it was recalibrating the quantitative easing programme to shift purchases towards longer-term bonds, which have more direct influence on the borrowing rates that are most important for households and businesses.
Total purchases will be gradually reduced to at least $4bn a week from $5bn previously, it said.
"As the economy recuperates, it will continue to require extraordinary monetary policy support. The Governing Council will hold the policy interest rate at the effective lower bound until economic slack is absorbed so that the 2% inflation target is sustainably achieved. In our current projection, this does not happen until into 2023," the BoC said in its statement.
"The Bank is continuing its QE program and recalibrating it as described above. The program will continue until the recovery is well underway. We are committed to providing the monetary policy stimulus needed to support the recovery and achieve the inflation objective."
ING economist James Knightley said: "Markets were likely expecting a policy message that would have the 'lower-for-longer' pledge at the centre, and the announcement only added some marginal pressure to the Canadian dollar in a very grim day for pro-cyclical currencies.
"In the longer term, the prospect of rates locked at the lower bound is hardly a game changer for CAD as the BoC does not particularly stand out as a dovish outlier in the G10 ultra-accommodative environment.
"Actually, the BoC remains the least dovish central bank in the G10 $-bloc considering both the Reserve Bank of Australia and the Reserve Bank of New Zealand appear set to add more stimulus soon."
Knightley said the announcement that bond purchases will be scaled down should bode well for the BoC-Fed relative balance sheet, which rose dramatically as the BoC started QE but had already flattened up in the past couple of months.
"This may ultimately prove beneficial for a benign USD/CAD decline in coming months," he said, adding that he was maintaining his fourth quarter target at 1.30 for USD/CAD.