JPMorgan Chase kicks off earnings season with a beat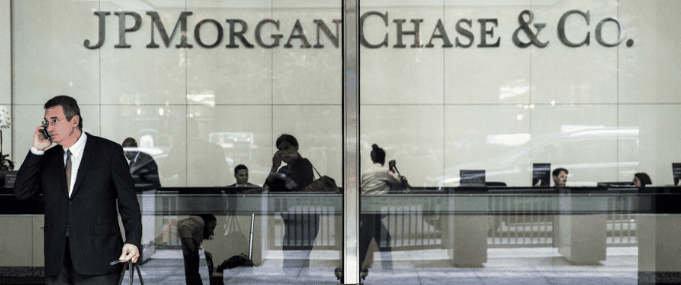 JPMorgan Chase kicked off third-quarter earnings season in fine style, with America's largest bank beating Wall Street forecasts for both revenues and earnings.
The first out of the blocks in what is a key reporting season due to stock market wobbles earlier in the week, the lender unveiled managed revenue of $27.8bn, down 2% on the preceding quarter but up 5% on the same quarter last year and topping the $27.5bn analyst consensus.
Earnings per share came out at $2.34, up 2% on the preceding quarter, 33% ahead year-on-year and beating expectations for $2.25.
Weakness in bond trading led to nar flat net income for corporate and investment banking at $2.6bn but this was counterbalanced by a stronger than expected performance in retail banking, where net income surged by $1.5bn to $4.1bn.
Chairman and CEO Jamie Dimon described it as a "strong" set of results this quarter with top-line growth across the group.
"The U.S. and the global economy continue to show strength, despite increasing economic and geopolitical uncertainties, which at some point in the future may have negative effects on the economy."
He acknowledged the "mixed results" in fixed income markets but pointed to strong performance in equities.
"We are extremely excited to be expanding again, as smart regulatory policy and a competitive corporate tax system help us to deliver on our commitment to invest in our customers and communities," said Dimon, who has had some public spats with President Trump.
"We just opened our first branch in Washington, D.C., which is one of hundreds of new branches that we will be opening in new markets, including Philadelphia and Boston.".
He also hailed new product launches, including a digital investing platform, You Invest, which has been made available to everyone using the bank's mobile banking app or website, giving users 100 free trades in their first year as a major potential disruption to the investment platform market.