BASF shares tumble after it warns on full-year profits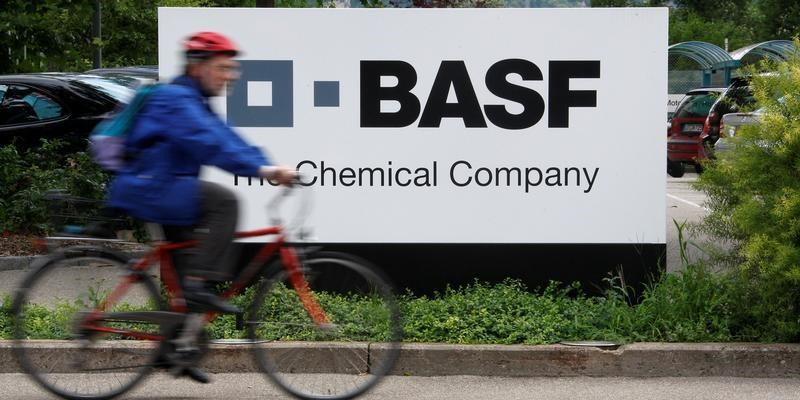 German chemicals giant BASF has slashed its guidance for annual profits by as much as 30%, after industrial production was stalled by the slowing global economy and the increasingly bitter US-Sino trade war.
The company said late on Monday that "significantly" weaker-than-expected industrial production was weighing on volumes and margins. Growth in industrial production was around 1.5% in the first half, BASF added, well below expectations.
"The downturn in growth in the global automotive industry was particularly strong: globally, production declined by around 6% in the first half of 2019," it said. "In China, the world's largest automotive market, the decrease was more than twice as high, at around 13%."
BASF also called weakness in the US agricultural sector in the first half "an additional burden", with planting of key crops down on the previous year because of "difficult" weather conditions.
It continued: "The decrease in earnings prospects for farmers and the trade disputes led to lower demand for crop protection products.
"To date, the conflicts between the US and its trading partners, particularly China, have not eased, contrary to what was assumed in the BASF Report 2018. In fact, the G20 Summit at the end of June has show that a rapid détente is not to be expected in the second half. Overall, uncertainty remains high."
As a result, BASF – which makes chemicals, plastics and foams for a wide range of global industries – said that the preliminary figures for the second quarter were "significantly below current analyst estimates". Sales fell 4% to €15.2bn, while earnings before interest and tax and before special items tumbled 47% to €1bn. Group EBIT is expected to be a hefty 71% lower, at €0.5bn.
Looking ahead to the full year, Frankfurt-list BASF warned: "As a consequence of the considerably weaker-than-expected business development in the second quarter and the slowdown in the global economic growth and industrial production, mainly due to the trade conflicts, BASF now anticipates considerably lower EBIT before special items of up to 30%." That compares to a previous forecast for growth of as much as 10%.
It also expects a "slight decline" in full-year sales, against an earlier forecast for growth of between 1% and 5%.
As at 1130 BST shares in BASF were off 5% at €59.51, although they were trading as much as 7% lower earlier in the session.