Week ahead: US-China trade and US data in focus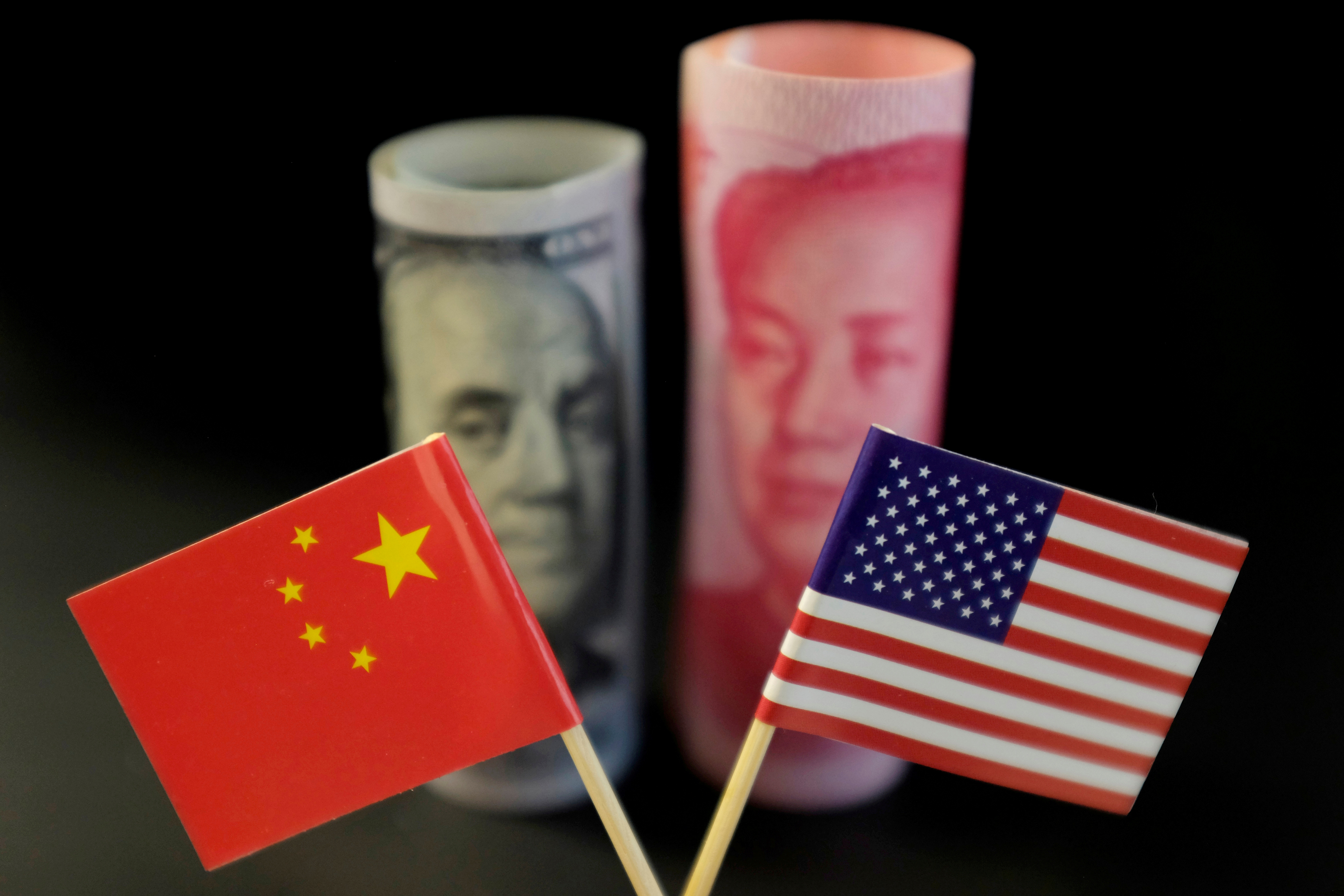 The focus over the coming holiday-shortened week in the States will in all likelihood continue to be on everything having to do with US-China trade relations.
Nevertheless, a raft of economic data is due out in the States on Wednesday, including a preliminary reading on third quarter US gross domestic product, personal income and spending data for October and the Federal Reserve's Beige Book.
US financial markets will remain closed on Thursday in observance of Thanksgiving, with stock-markets open for just a half day of trading on Friday.
Across the Channel meanwhile, the market spotlight will be on the IFO institute's German business confidence index for November, on Monday, and a preliminary reading on euro area consumer prices for November on Friday.
On home shores, all eyes will be on incoming voter polls ahead of the next general election, together with readings on monthly consumer credit, house prices and consumer confidence all on Friday.
Further afield, Thursday will bring with it readings on Japanese consumer prices in November as well as industrial production and unemployment figures for October.
Monday November 25
INTERIMS
Cake Box Holdings, D4T4 Solutions, Sirius Real Estate Ltd., Sysgroup, Thruvision Group
INTERNATIONAL ECONOMIC ANNOUNCEMENTS
IFO Business Climate (GER) (09:00)
IFO Current Assessment (GER) (09:00)
IFO Expectations (GER) (09:00)
FINALS
Cerillion
SPECIAL EX-DIVIDEND DATE
BBA Aviation
EGMS
Cabot Energy
AGMS
Andalas Energy and Power, JPEL Private Equity USD Equity Shares , OPG Power Ventures, PRS Reit (The) , TR European Growth Trust
UK ECONOMIC ANNOUNCEMENTS
BBA Mortgage Lending Figures (09:30)
CBI Distributive Trades Surveys (11:00)
Tuesday November 26
INTERIMS
Augmentum Fintech, Cranswick, Draper Esprit, GB Group, IG Design Group, IMImobile , LXI Reit , Schroder Real Estate Investment Trust Ltd, Victoria
INTERIM DIVIDEND PAYMENT DATE
Invesco Asia Trust
QUARTERLY PAYMENT DATE
Tetragon Financial Group Limited
INTERNATIONAL ECONOMIC ANNOUNCEMENTS
Consumer Confidence (US) (15:00)
GFK Consumer Confidence (GER) (07:00)
House Price Index (US) (14:00)
New Homes Sales (US) (15:00)
FINALS
Compass Group, Paragon Banking Group, Ten Lifestyle Group , Treatt, UDG Healthcare Public Limited Company
AGMS
Bluefield Solar Income Fund Limited, Clinigen Group, Revolution Bars Group, Scotgold Resources (DI)
TRADING ANNOUNCEMENTS
Intertek Group
FINAL DIVIDEND PAYMENT DATE
Close Brothers Group, Ideagen
Wednesday November 27
INTERIMS
Iomart Group, LondonMetric Property, Sosandar
INTERIM DIVIDEND PAYMENT DATE
Toyota Motor Corp.
INTERNATIONAL ECONOMIC ANNOUNCEMENTS
Continuing Claims (US) (13:30)
Crude Oil Inventories (US) (15:30)
Durable Goods Orders (US) (13:30)
GDP (Preliminary) (US) (13:30)
Initial Jobless Claims (US) (13:30)
MBA Mortgage Applications (US) (12:00)
Personal Consumption Expenditures (US) (13:30)
Personal Income (US) (13:30)
Personal Spending (US) (13:30)
Q3
AFI Development
FINALS
AB Dynamics, Britvic, Grainger, Marston's, On The Beach Group
AGMS
Alien Metals Limited NPV (DI), ASOS, Celtic, Croma Security Solutions Group, Crown Place VCT, Filtronic, Genedrive , Oilex Ltd., Orosur Mining Inc, SCS Group
UK ECONOMIC ANNOUNCEMENTS
BRC Shop Price Index (00:01)
Thursday November 28
INTERIMS
Amigo Holdings, Discoverie Group, Ince Group (The), Motorpoint Group, Redcentric
INTERIM DIVIDEND PAYMENT DATE
London Security, Panther Securities, Plus500 Ltd (DI), William Hill
INTERIM EX-DIVIDEND DATE
3i Infrastructure, Aberdeen Japan Investment Trust , Biffa, Capital & Regional, CMC Markets, CML Microsystems, Creightons, Cropper (James), Electrocomponents, First Property Group, Headlam Group, Helical, Hill & Smith Holdings, International Consolidated Airlines Group SA (CDI), JD Sports Fashion, Johnson Matthey, Kainos Group , Liontrust Asset Management, Mckay Securities, National Grid, Norcros, Renewi , Severn Trent, TalkTalk Telecom Group , Telecom Plus, U And I Group, Vodafone Group
QUARTERLY EX-DIVIDEND DATE
Blackrock North American Income Trust , Canadian General Investments Ltd., Diversified Gas & Oil, HICL Infrastructure , Land Securities Group, Volta Finance Limited, Volta Finance Limited NPV (GBP)
INTERNATIONAL ECONOMIC ANNOUNCEMENTS
Business Climate Indicator (EU) (10:00)
Consumer Confidence (EU) (10:00)
Economic Sentiment Indicator (EU) (10:00)
Industrial Production (EU) (10:00)
M3 Money Supply (EU) (09:00)
Services Confidence (EU) (10:00)
Q3
Jadestone Energy Inc NPV (DI)
FINALS
Premier Miton Group, Urban&Civic
SPECIAL DIVIDEND PAYMENT DATE
Hargreave Hale AIM VCT
SPECIAL EX-DIVIDEND DATE
Judges Scientific, Keystone Inv Trust, River and Mercantile Group , Triple Point Income VCT C
AGMS
CAP-XX Limited, CVS Group, DX (Group), Essensys , Mosman Oil and Gas Limited (DI), Pan African Resources, Target Healthcare Reit Ltd, Thor Mining
TRADING ANNOUNCEMENTS
Tclarke
UK ECONOMIC ANNOUNCEMENTS
Nationwide House Price Index (07:00)
FINAL DIVIDEND PAYMENT DATE
Ferguson, Wetherspoon (J.D.)
FINAL EX-DIVIDEND DATE
Bellway, Carr's Group, Craneware, Diploma, Euromoney Institutional Investor, Gresham House Renewable Energy VCT 1 , Gresham House Renewable Energy VCT 1 A Shares, Gresham House Renewable Energy VCT 2, Gresham House Renewable Energy VCT 2 A Shares, Gulf Investment Fund, Lok'n Store Group, Origin Enterprises, River and Mercantile Group
Friday November 29
INTERIM DIVIDEND PAYMENT DATE
Air Partner, Airtel Africa , Anpario, Aquila European Renewables Income Fund (GBP), Global Ports Holding, Hansa Investment Company Limited (DI), Hansa Investment Company Limited 'A' Non Vtg (DI), Hilton Food Group, RTC Group, Senior, The Mission Group
QUARTERLY PAYMENT DATE
APQ Global Limited, BMO Commercial Property Trust Limited, Chenavari Toro Income Fund Limited NPV, City of London Inv Trust, Civitas Social Housing , Custodian Reit , Greencoat Renewables, Picton Property Income Ltd
QUARTERLY EX-DIVIDEND DATE
Kosmos Energy (DI)
INTERNATIONAL ECONOMIC ANNOUNCEMENTS
Import Price Index (GER) (07:00)
Unemployment Rate (EU) (10:00)
Unemployment Rate (GER) (08:55)
SPECIAL DIVIDEND PAYMENT DATE
Artemis VCT, Diverse Income Trust (The), GCP Asset Backed Income Fund Limited, Triple Point Vct 2011 A
AGMS
Grit Real Estate Income Group Limited NPV (DI), IronRidge Resources Limited (DI), Macau Property Opportunities Fund Ltd., Ncondezi Energy Limited (DI), Oncimmune Holdings, PME African Infrastructure Opportunities, Quadrise Fuels International, Range Resources Ltd. (DI), Thinksmart Limited (DI)
UK ECONOMIC ANNOUNCEMENTS
Consumer Credit (09:30)
GFK Consumer Confidence (00:01)
M4 Money Supply (08:30)
Mortgage Approvals (09:30)
FINAL DIVIDEND PAYMENT DATE
Abcam, Clinigen Group, Croma Security Solutions Group, Downing Four VCT DP67 , Downing Four VCT DSO 'D' Shs, Genus, Mid Wynd International Inv Trust, New Star Investment Trust, Sylvania Platinum Ltd (DI), Thorpe (F.W.), TR European Growth Trust