Week ahead: Jackson Hole Symposium, Global PMIs in the spotlight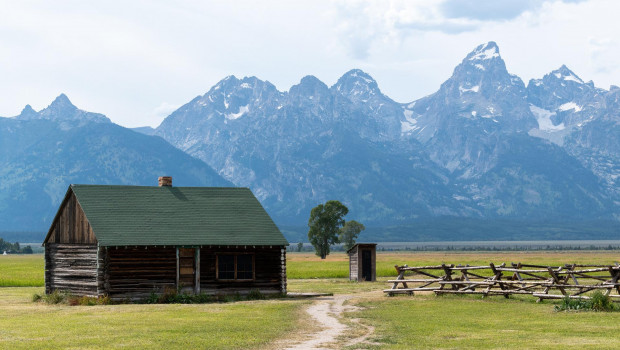 All eyes over the coming week will be on cental banking symposium at Jackson Hole, Wyoming (USA), with investors keen for further guidance on the path that the US central bank's monetary policy may follow in 2023.
Michael Hewson, chief market analyst at CMC Markets UK, is of the opinion that: "if markets are looking for Powell to give any indication that the Fed might be about to go soft on inflation, they are likely to be disappointed.
"The idea that the Fed would start to reverse its rate hiking cycle if inflation is still well above 2% comes across inconceivable and its surprising that the market is even pricing it."
The symposium is scheduled to begin on Thursday.
Against that backdrop, on Tuesday, S&P Global is due to release the results of its Purchasing Managers' surveys for manufacturing and services in the euro area, the UK and US covering the month of August.
PMIs for both factory and services activities in the former two regions are expected to slip, but economists forecast that the PMI for US services will reveal improvement.
Other key data releases in the US will include those for durable goods orders for July, on Wednesday, revisions to Q2 GDP on Thursday and for personal income and spending, as well as inflation, all covering the month of July on Friday.
Also due out at the end of the week is a final reading on the University of Michigan's consumer confidence index for August.
Across the Channel, the IFO Institute's closely-followed business index will be released on Thursday, with the minutes of the European Central Bank's last policy meeting due out later that same day.
Monday 22 August
INTERIMS
Phoenix Group Holdings
QUARTERLY PAYMENT DATE
Supermarket Income Reit
FINALS
Base Resources Ltd , Smoove
AGMS
Argentex Group , Ondo Insurtech, Trackwise Designs
FINAL DIVIDEND PAYMENT DATE
Circle Property
Tuesday 23 August
INTERIMS
AB Ignitis Grupe GDR (Reg S), Aferian, RM
QUARTERLY EX-DIVIDEND DATE
Vaalco Energy, Inc (DI)
INTERNATIONAL ECONOMIC ANNOUNCEMENTS
New Homes Sales (US) (15:00)
AGMS
African Pioneer NPV, Bezant Resources, Edge Performance VCT 'H' Shares, Kendrick Resources, Livermore Investments Group Ltd., Xtract Resources
FINAL DIVIDEND PAYMENT DATE
Oxford Instruments
Wednesday 24 August
INTERIMS
Anglo Pacific Group
INTERIM DIVIDEND PAYMENT DATE
Hercules Site Services
QUARTERLY PAYMENT DATE
JPMorgan Asia Growth & Income
INTERNATIONAL ECONOMIC ANNOUNCEMENTS
Crude Oil Inventories (US) (15:30)
Durable Goods Orders (US) (13:30)
MBA Mortgage Applications (US) (12:00)
Pending Homes Sales (US) (15:00)
EGMS
Joint Stock Company Kaspi.Kz GDR (Reg S)
AGMS
Creightons, Lamprell
FINAL DIVIDEND PAYMENT DATE
D4T4 Solutions
Thursday 25 August
INTERIMS
Anglo Pacific Group, CRH (CDI), Faron Pharmaceuticals Oy (DI), Grafton Group Ut (CDI), Hunting, Macfarlane Group, PureTech Health
INTERIM DIVIDEND PAYMENT DATE
Schroders, Schroders (Non-Voting)
INTERIM EX-DIVIDEND DATE
Arbuthnot Banking Group, Breedon Group , Capital & Counties Properties , Convatec Group , Drax Group, FDM Group (Holdings), Foxtons Group , Glanbia (CDI), Mondi, NATWEST GROUP PLC ORD 100P, OSB Group , Phoenix Group Holdings , Plus500 Ltd (DI), RHI Magnesita N.V. (DI), Rights & Issues Investment Trust , Scotgems, Secure Trust Bank, Sherborne Investors (Guernsey) C Limited NPV, St James's Place
QUARTERLY PAYMENT DATE
Tetragon Financial Group Limited
QUARTERLY EX-DIVIDEND DATE
ContourGlobal , HICL Infrastructure , Land Securities Group, NB Global Monthly Income Fund Limited Red Ord Shs NPV £, Wheaton Precious Metals Corp.NPV (CDI)
INTERNATIONAL ECONOMIC ANNOUNCEMENTS
Continuing Claims (US) (13:30)
GDP (Preliminary) (US) (13:30)
Gross Domestic Product (GER) (07:00)
IFO Business Climate (GER) (09:00)
IFO Current Assessment (GER) (09:00)
IFO Expectations (GER) (09:00)
Initial Jobless Claims (US) (13:30)
Q3
Benchmark Holdings
GMS
NATWEST GROUP PLC ORD 100P
FINALS
Hays, Morses Club
AGMS
Nuformix, Triple Point Energy Efficiency Infrastructure Company
FINAL DIVIDEND PAYMENT DATE
QinetiQ Group
FINAL EX-DIVIDEND DATE
Appreciate Group, Argentex Group , Auto Trader Group , Biffa, Brickability Group , Cake Box Holdings, Cohort, Diageo, First Property Group, Henderson Smaller Companies Inv Trust, LendInvest , XPS Pensions Group
Friday 26 August
INTERIM DIVIDEND PAYMENT DATE
Aberforth Smaller Companies Trust, Aptitude Software Group , Blackrock Throgmorton Trust, Maven Income & Growth 3 VCT, Maven Income and Growth VCT 5, Porvair
QUARTERLY PAYMENT DATE
Greencoat Renewables (CDI), Octopus Renewables Infrastructure Trust
INTERNATIONAL ECONOMIC ANNOUNCEMENTS
GFK Consumer Confidence (GER) (07:00)
M3 Money Supply (EU) (09:00)
Personal Consumption Expenditures (US) (13:30)
Personal Income (US) (13:30)
Personal Spending (US) (13:30)
U. of Michigan Confidence (US) (15:00)
SPECIAL DIVIDEND PAYMENT DATE
Aberforth Split Level Income Trust , Molten Ventures VCT
AGMS
Gail (India) Ltd GDR (Reg S)
FINAL DIVIDEND PAYMENT DATE
Bloomsbury Publishing, Downing One VCT , Mediclinic International , Molten Ventures VCT , Quixant, Riverfort Global Opportunities , Volex