Week ahead: FOMC meeting, Italian presidential election in focus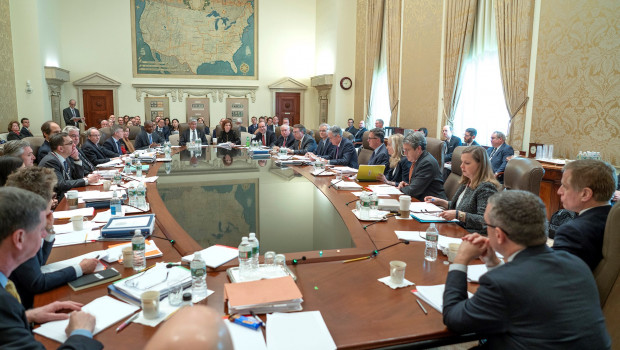 The market spotlight over the coming week will be squarely on the US Federal Reserve meets to decide on policy.
Policymakers on the Federal Open Market Committee are widely expected to keep interest rates unchanged - although some market pundits have made the case for a hike - and to stick to its plans for winding down its quantitative easing by March.
Economists at Barclays Research are expecting such an outcome, but on 21 January flagged to readers the risk that they might decide to wind down their debt purchases more quickly, by February.
Barclays did however stick to their forecast for FOMC officials to signal that the start to running-off the balance sheet would take place during the third quarter, likely at their July meeting.
Against that backdrop, a slew of US corporate heavyweights are due to release quarterly updates, including Microsoft on Monday night, followed by Tesla the day after and Apple on Thursday.
A preliminary reading on US fourth quarter gross domestic product is scheduled for Thursday.
Across the Channel, all eyes will be on presidential elections in Italy and whether the country's well-respected prime minister, Mario Draghi, remains at his current post or is chosen as new head of state, an outcome that financial markets that could displease some market observers.
Italian parlamentarians will begin casting their secret ballots on Monday with several rounds of voting possible before the current president is due to step down on 3 February.
Also on Monday, consultancy IHS Markit will release the results of its closely-followed surveys for euro area manufacturing and services for January.
Factory and services PMIs for the UK are also slated to be published on Monday.
Readings for fourth quarter South Korean, Philippines and Taiwanese GDP are scheduled for Tuesday in the case of the former and Thursday for the latter two.
Monday 24 January
FINALS
Velocity Composites
ANNUAL REPORT
Watkin Jones
AGMS
Pantheon Resources, Vela Technologies
TRADING ANNOUNCEMENTS
Computacenter, Driver Group, Etalon Group GDR (Reg S)
FINAL DIVIDEND PAYMENT DATE
ADVFN
Tuesday 25 January
QUARTERLY PAYMENT DATE
General Electric Co (CDI)
INTERNATIONAL ECONOMIC ANNOUNCEMENTS
Consumer Confidence (US) (15:00)
House Price Index (US) (14:00)
IFO Business Climate (GER) (09:00)
IFO Current Assessment (GER) (09:00)
IFO Expectations (GER) (09:00)
FINALS
Oxford Biodynamics
AGMS
Auction Technology Group , Barings Emerging Emea Opportunities , Marston's, Mitchells & Butlers, Scotgold Resources (DI)
TRADING ANNOUNCEMENTS
Capricorn Energy, TI Fluid Systems
UK ECONOMIC ANNOUNCEMENTS
Public Sector Net Borrowing (07:00)
FINAL DIVIDEND PAYMENT DATE
MJ Hudson Group NPV
Wednesday 26 January
INTERIMS
Hargreaves Services, Scancell Holdings
QUARTERLY EX-DIVIDEND DATE
Marsh & Mclennan Cos Inc.
INTERNATIONAL ECONOMIC ANNOUNCEMENTS
Crude Oil Inventories (US) (15:30)
Durable Goods Orders (US) (13:30)
MBA Mortgage Applications (US) (12:00)
New Homes Sales (US) (15:00)
Q3
Wizz Air Holdings
AGMS
AJ Bell, JPMorgan Elect Managed Growth Shares, Renew Holdings
TRADING ANNOUNCEMENTS
Brewin Dolphin Holdings, DP Eurasia N.V. (DI) , Pets at Home Group , Sage Group
UK ECONOMIC ANNOUNCEMENTS
BRC Shop Price Index (00:01)
FINAL DIVIDEND PAYMENT DATE
Carr's Group
Thursday 27 January
INTERIMS
Diageo, IG Group Holdings, NCC Group, Rank Group
INTERIM DIVIDEND PAYMENT DATE
Hibernia Reit (CDI)
INTERIM EX-DIVIDEND DATE
Brickability Group , City of London 4.2% Cum 1st Prf Stk, City of London Investment Trust 4.2% Non-Cum 2nd Prf Stk, City of London Investment Trust Preference Ord Stk 14% Non-Cumulative 1, Pennon Group, Solid State
QUARTERLY EX-DIVIDEND DATE
City of London Inv Trust, SME Credit Realisation Fund Limited NPV, Tufton Oceanic Assets Limited NPV
INTERNATIONAL ECONOMIC ANNOUNCEMENTS
Business Climate Indicator (EU) (10:00)
Continuing Claims (US) (13:30)
Economic Sentiment Indicator (EU) (10:00)
GFK Consumer Confidence (GER) (07:00)
Industrial Confidence (EU) (10:00)
Initial Jobless Claims (US) (13:30)
Pending Homes Sales (US) (15:00)
Services Sentiment (EU) (10:00)
GMS
Yellow Cake
FINALS
IDOX
SPECIAL EX-DIVIDEND DATE
M. P. Evans Group
AGMS
Aberdeen Standard Asia Focus , Botswana Diamonds, Britvic, Critical Metals , Greencore Group (CDI), Home Reit , InnovaDerma, Ironveld, Sunrise Resources
TRADING ANNOUNCEMENTS
Britvic, Empresaria Group, Euromoney Institutional Investor, Greencore Group (CDI), Intermediate Capital Group, Mitie Group, Polymetal International, PPHE Hotel Group Ltd
FINAL EX-DIVIDEND DATE
Nexus Infrastructure , Paragon Banking Group, Renew Holdings, RWS Holdings, Titon Holdings, Victrex plc, Watkin Jones
Friday 28 January
INTERIMS
Hargreaves Lansdown
INTERIM DIVIDEND PAYMENT DATE
Auto Trader Group , BMO Global Smaller Companies, Burberry Group, Cranswick, Downing Four VCT DSO 'D' Shs, Draper Esprit VCT, Iomart Group, JPMorgan European Discovery Trust, Northern 2 VCT, Northern 3 VCT, TPXimpact Holdings
QUARTERLY PAYMENT DATE
BMO Private Equity Trust, Law Debenture Corp., Marble Point Loan Financing Limited NPV, Standard Life Private Equity Trust, Value and Indexed Property Income Trust
INTERNATIONAL ECONOMIC ANNOUNCEMENTS
Consumer Confidence (EU) (10:00)
M3 Money Supply (EU) (09:00)
Personal Consumption Expenditures (US) (13:30)
Personal Income (US) (13:30)
Personal Spending (US) (13:30)
U. of Michigan Confidence (US) (15:00)
Q3
Larsen and Toubro Ltd. GDS (Reg S)
SPECIAL DIVIDEND PAYMENT DATE
Holders Technology, Next
EGMS
SDIC Power Holdings Co.,Ltd GDR (Reg S)
AGMS
Avon Protection, Hollywood Bowl Group, JpMorgan China Growth & Income , Mosman Oil and Gas Limited (DI), Tertiary Minerals, Treatt
TRADING ANNOUNCEMENTS
Industrials Reit Limited
FINAL DIVIDEND PAYMENT DATE
AB Dynamics, Character Group, JPMorgan Japanese Inv Trust, Majedie Investments, Up Global Sourcing Holdings