Week ahead: BoE, US-China trade talks, Global PMIs in focus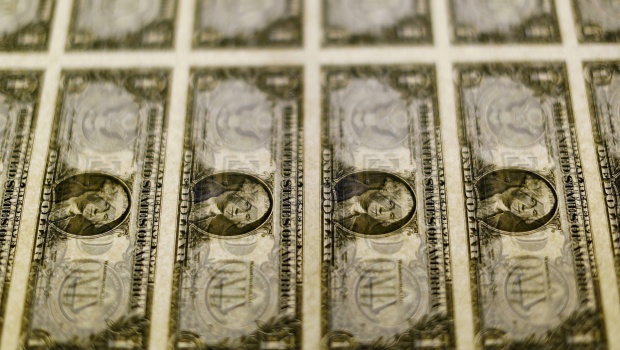 Investors should brace for a week full of big risk events, including policy meetings at the Bank of England and US Federal Reserve, together with the next round of US-China trade talks, all alongside a slew of key economic indicators due out from across all of the world's major economic blocks.
On Thursday, the Monetary Policy Committee is set to meet to decide on rates. The consensus is for no change in policy by a unanimous vote of the MPC's nine members, but there has been some speculation of late that perhaps it most 'hawkish' member, Michael Saunders, might argue for a 25 basis point hike.
At present Bank Rate stands at 0.75%, the size of Bank's asset purchase facility for Gilts at £435bn and the stock of its corporate bond purchase programme at £10bn.
Acting as a backdrop, rate-setters in the US will announce their own decision on rates the night before, even as investors in that jurisdiction wait on the all-important US non-farm payrolls report due out at the end of the week, on Friday.
The day before, on Tuesday, top trade negotiators from the US and China are due to meet in Beijing to kick-off the next round of trade talks between the two countries.
The closely-followed US ISM manufacturing and services sector PMIs are also set for release during the week, on Wednesday and Friday, respectively.
Comparable survey results are due on those same two days in the UK.
In the people's Republic of China, the government compiled factory sector PMI is due out on Tuesday, followed by the typically more closely-followed and market-moving one from Caixin on Thursday.
To take note of, South Korean export figures covering the month of April are scheduled for release in April.
Across the Channel meanwhile, euro area money supply data for March is expected on Tuesday, followed by German unemployment figures for April the next day.
Monday April 29
INTERIMS
Lok'n Store Group, Proactis Holdings, Up Global Sourcing Holdings
QUARTERLY PAYMENT DATE
Schroder Income Growth Fund
INTERNATIONAL ECONOMIC ANNOUNCEMENTS
Business Climate Indicator (EU) (10:00)
Consumer Confidence (EU) (11:00)
Economic Sentiment Indicator (EU) (10:00)
Industrial Confidence (EU) (10:00)
M3 Money Supply (EU) (09:00)
Personal Consumption Expenditures (US) (13:30)
Personal Income (US) (13:30)
Personal Spending (US) (13:30)
Services Confidence (EU) (10:00)
FINALS
Horizon Discovery Group, Nasstar, Xpediator
SPECIAL EX-DIVIDEND DATE
Croda International
AGMS
Holders Technology
TRADING ANNOUNCEMENTS
Evraz, Evraz
FINAL DIVIDEND PAYMENT DATE
CLS Holdings, Octopus Titan VCT , Old Mutual Limited NPV (DI)
Tuesday April 30
INTERIMS
C4X Discovery Holdings , Image Scan Holdings
INTERIM DIVIDEND PAYMENT DATE
Abbey, Ferguson, Manchester & London Investment Trust, RIT Capital Partners, Tristel
QUARTERLY PAYMENT DATE
BMO Private Equity Trust, Ediston Property Investment Company, Middlefield Canadian Income PCC, TwentyFour Select Monthly Income Fund Limited
INTERNATIONAL ECONOMIC ANNOUNCEMENTS
Chicago PMI (US) (14:45)
Consumer Confidence (US) (15:00)
GDP (Preliminary) (EU) (10:00)
Import Price Index (GER) (07:00)
Pending Homes Sales (US) (15:00)
Unemployment Rate (GER) (08:55)
FINALS
Animalcare Group, Dillistone Group, Inspiration Healthcare Group , Novacyt S.A. (CDI), Xeros Technology Group
SPECIAL DIVIDEND PAYMENT DATE
Billing Services Group Ltd., Royal Bank of Scotland Group
AGMS
AFC Energy, Anglo American, Aquis Exchange , BBGI SICAV S.A. (DI), Countrywide, e-Therapeutics, Elementis, Grupo Clarin SA GDR (Reg S), Hammerson, Independent News & Media, JPMorgan US Smaller Co. Inv Tst, LSL Property Services, Maven Income and Growth VCT 5, Proteome Sciences, Scotgems, Symphony International Holdings Ltd., Weir Group
TRADING ANNOUNCEMENTS
Essentra, Greene King, PPHE Hotel Group Ltd
UK ECONOMIC ANNOUNCEMENTS
Nationwide House Price Index (07:00)
FINAL DIVIDEND PAYMENT DATE
CRH, HGCapital Trust, Royal Bank of Scotland Group, Sureserve Group, Wynnstay Group
Q1
BP, Samsung Electronics Co Ltd (ATT) GDR (Reg S)
Wednesday May 01
INTERIMS
Avon Rubber, Connect Group
INTERIM DIVIDEND PAYMENT DATE
1pm, NWF Group, Smith (DS)
INTERNATIONAL ECONOMIC ANNOUNCEMENTS
Auto Sales (US) (20:30)
Construction Spending (US) (15:00)
Crude Oil Inventories (US) (15:30)
ISM Manufacturing (US) (15:00)
ISM Prices Paid (US) (15:00)
MBA Mortgage Applications (US) (12:00)
PMI Manufacturing (US) (14:45)
FINALS
Circassia Pharmaceuticals, Sainsbury (J)
ANNUAL REPORT
Cambridge Cognition Holdings
AGMS
Alpha Fx Group , Getbusy, Just Eat , Lancashire Holdings Limited, Lighthouse Group, London Stock Exchange Group, Ocado Group, Ocado Group, Pennant International Group, Persimmon, RM ZDP , RPS Group, Spirent Communications, Unilever, Witan Inv Trust
TRADING ANNOUNCEMENTS
IWG , London Stock Exchange Group, Rank Group
UK ECONOMIC ANNOUNCEMENTS
M4 Money Supply (09:30)
Q1
Inmarsat
Thursday May 02
INTERIM EX-DIVIDEND DATE
AB Dynamics, McCarthy & Stone, Royal Bank of Scotland 11% Cum. Prf, Royal Bank of Scotland 5.5% Cum. Prf., Swallowfield, Wetherspoon (J.D.)
QUARTERLY EX-DIVIDEND DATE
APQ Global Limited, Funding Circle SME Income Fund, JPMorgan Claverhouse Inv Trust, SQN Asset Finance Income Fund Limited, SQN Asset Finance Income Fund Limited 'C Shares', SQN Secured Income Fund , Unilever
INTERNATIONAL ECONOMIC ANNOUNCEMENTS
Continuing Claims (US) (13:30)
Factory Orders (US) (15:00)
Initial Jobless Claims (US) (13:30)
PMI Manufacturing (GER) (08:55)
PMI Manufacturing (EU) (09:00)
Retail Sales (GER) (07:00)
FINALS
Morses Club
SPECIAL EX-DIVIDEND DATE
EP Global Opportunities Trust, Ferrexpo, Moneysupermarket.com Group
EGMS
Dolphin Capital Investors Ltd
AGMS
Aberdeen Smaller Companies Income Trust, Arabian Food Industries Company Domty S.A.E. GDR (Reg S), Barclays, BlackRock World Mining Trust, Dalata Hotel Group, EKF Diagnostics Holdings , Empiric Student Property , Equiniti Group , Eve Sleep PLC, F&C Investment Trust, Fisher (James) & Sons, Gresham Technologies, Howden Joinery Group, International Personal Finance, JPMorgan American Inv Trust, Kaz Minerals , Kerry Group 'A' Shares, MPAC Group, Personal Group Holdings, Phoenix Group Holdings , Reach, Rolls-Royce Holdings, Schroders, Urban Exposure
TRADING ANNOUNCEMENTS
Coca-Cola HBC AG (CDI), Paddy Power Betfair, Smith & Nephew
UK ECONOMIC ANNOUNCEMENTS
BoE Interest Rate Decision (12:00)
PMI Construction (09:30)
PMI Manufacturing (09:30)
FINAL DIVIDEND PAYMENT DATE
Hammerson, SEGRO, The Simplybiz Group
FINAL EX-DIVIDEND DATE
Aurora Investment Trust, Bakkavor Group , Cenkos Securities, Coats Group, Contour Global , Derwent London, Elementis, EP Global Opportunities Trust, Franchise Brands, G4S, H&T Group, Harworth Group, Highcroft Investment, Holders Technology, Hydrogen Group, LLoyds Banking Group 9.25% Non-Cum Irredeemable Pref Shares, LLoyds Banking Group 9.75% Non-Cum Irredeemable Pref Shares, London Stock Exchange Group, Luceco , Menhaden, Morgan Advanced Materials , NMCN, Octopus AIM VCT 2, Playtech, Porvair, Relx plc, Rightmove, SafeCharge International Group Limited (DI), Senior, Tribal Group, Volga Gas
Q1
Indivior, Lancashire Holdings Limited, Royal Dutch Shell 'A'
Friday May 03
INTERIMS
Numis Corporation
INTERIM DIVIDEND PAYMENT DATE
Tracsis, Volution Group (WI)
QUARTERLY PAYMENT DATE
BMO UK High Income Trust , British Land Company, Marble Point Loan Financing Limited NPV
INTERNATIONAL ECONOMIC ANNOUNCEMENTS
ISM Non-Manufacturing (US) (15:00)
Non-Farm Payrolls (US) (13:30)
PMI Composite (EU) (09:00)
PMI Composite (GER) (08:55)
PMI Composite (US) (14:45)
PMI Services (EU) (09:00)
PMI Services (GER) (08:55)
PMI Services (US) (14:45)
Producer Price Index (EU) (10:00)
Unemployment Rate (US) (13:30)
SPECIAL DIVIDEND PAYMENT DATE
BMO UK High Income Trust B Shares, Quartix Holdings
AGMS
InterContinental Hotels Group, Intu Properties, Kingspan Group, Merlin Entertainments , Petrofac Ltd., Symphony Environmental Technologies
TRADING ANNOUNCEMENTS
Convatec Group , Intu Properties, Smurfit Kappa Group
UK ECONOMIC ANNOUNCEMENTS
PMI Services (09:30)
FINAL DIVIDEND PAYMENT DATE
AIB Group, Anglo American, Capital Drilling Ltd. (DI), Foresight VCT, Meggitt, Nichols, Quartix Holdings , Spirent Communications, XLMedia
Q1
HSBC Holdings