Oil price under pressure ahead of crucial Opec meeting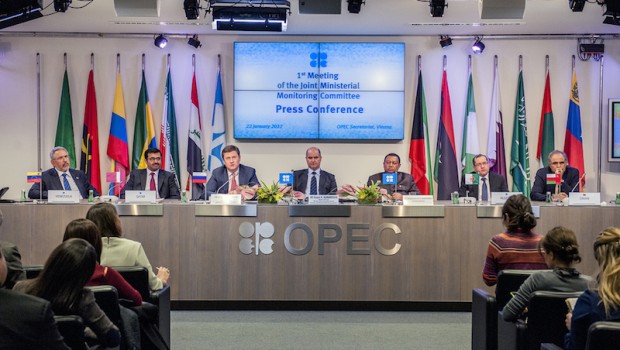 Oil prices slipped on Thursday as comments emerged from the fringes of the meeting of Opec oil-producing nations in Vienna on Thursday.
The consensus among analysts is that Opec will vote to cut in production and so bolster the oil price, but markets are unsure how big the supply reduction will be.
The oil price has struggled recently over concerns about the global economy and a potential supply glut, caused in large by rising production in the US. The price of Brent crude oil futures trading in London fell below $60 a barrel, to $58, in morning trading, compounding a recent decline that has seen them lose around 30% of their value.
Saudi Arabia's oil minister Khalid al-Falih said on Thursday that the kingdom expected to secure an agreement on cutting oil production this week, saying a reduction of one million barrels a day "would be adequate".
He added that this required getting "the non-Opec countries on board" and "if everybody is not willing to join and contribute equally, we will wait until they are".
However, they risk irking US President Donald Trump, who favours a lower oil price and has been vocal in his opposition to Opec cutting production.
On Wednesday he tweeted: "Hopefully Opec will be keeping oil flows as is not restricted. The world does not want to see, or need, higher oil prices."
Estimates for the production cut range from 1m to more than 1.3m barrels per day (bpd).
The 1m barrel cut mentioned by the Saudi oil minister is lower than the market is expecting, said Markets.com analyst Neil Wilson. "Anything below 1m bpd would be a disappointment and would likely lead to a breach of the $58 level for Brent on the downside, calling for a retreat to the Oct 2017 lows around $55. If OPEC disappoints Brent could be back at $50 by year end. The stakes are high now for OPEC."
Chris Beauchamp, chief market analyst at IG, said selling had "intensified" across oil markets, adding: "Barring some kind of surprise, Opec looks to be heading towards a cut that fails to assuage concerns about oversupply but at least might avoid the ire of the [US] President."