Commodities: Stronger US dollar puts gold on the backfoot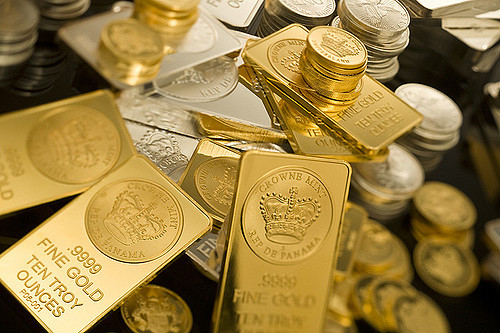 The greenback traded higher on Monday against a basket of currencies, up 0.54% to 91.864 by 1720 BST, thanks to reduced tensions in North Korea.
As a result, safe haven gold traded 1.05% lower to $1,332/oz. and the December contract down 1.08% to $1,336/oz.
The precious metal has benefited over the last couple of weeks from North Korean missile launches and the impact of Hurricane Harvey.
"The short-term stage has been set for some consolidation (in gold prices). Much depends on where the dollar and bonds decide to go," said Ole Hansen at Saxo Bank.
"The net long is getting close to elevated levels," said Hansen. "The long to short ratio is above 20. We haven't seen that for nearly five years."
In other precious metals, silver traded 0.51% lower to $17.88/oz., platinum was 1.17% down to $997/oz. and palladium was up 0.41% to $940/oz.
Regarding palladium, analysts at Commerzbank said the metal used by the auto industry in emissions-controlling catalytic converters was benefiting from strong Chinese car sales data but that sales there are likely to weaken.
Bargain hunters weighed in on the copper market on Monday, taking advantage from large sell-offs on Friday to buy at lower levels.
The base metal was also buoyed by positive Chines data out on Saturday, showing inflation was up year-on-year to 1.8% and producer prices were also up 6.3%, both beating analyst expectations of 1.7% and 5.7% respectively.
The spot copper contract was up 0.9% by 1740 BST to $6,749/tonne.
Robin Bhar at Societe Generale said, "We've come up so much and seem to overrun the fundamentals that a period of consolidation or correction would seem to be overdue now."
The copper market has been defying fundamentals, JP Morgan analyst Natasha Kaneva said in a note, forecasting prices to fall to $5,600 in the fourth quarter.
Oil prices were initially down on the day as heavy selling was seen, but recently recovered with West Texas Intermediate (WTI) for December delivery up 1.22% to $49.14/barrel and the January benchmark Brent contract up 0.2% to $53.58/barrel.
Hurricane Irma knocked out power to nearly 5.8m Florida homes and businesses on Sunday after millions were told to evacuate ahead of the storm.
Goldman Sachs analysts said in a note, "we believe that Irma will have a negative impact on oil demand but not on oil production or processing".
Oil markets were buoyed on the day as Saudi Arabia said that it would be open to another OPEC (Organisation of the Petroleum Exporting Countries) cut extension.
The deal agreed late last year to reduce output by about 1.8m bpd (barrels per day) until March 2018 helped to keep prices as high as $58 a barrel in January, but they have since sagged as global stocks have not fallen as quickly as expected.
Saudi Arabian Energy Minister Khalid Al-Falih agreed with his Venezuelan, Kazakh and U.A.E. counterparts to keep all options open in their push to re-balance world oil markets, including the possible extension of output cuts beyond next March.
In agriculturals, soybean futures for November delivery were 0.15% down to $9.61/bushel, March corn was relatively flat at $3.70/bushel and New York December cotton was 2.68% lower to $0.7275.
A US Department of Agriculture (USDA) poll forecast that U.S. corn crop would be rated 61% good to excellent as of Sunday, steady with the previous week, with the estimated percentage of the soybean crop at those levels dipping to 60% from 61%.