Broker tips: Marks & Spencer, Man Group, Intu Properties, Royal Dutch Shell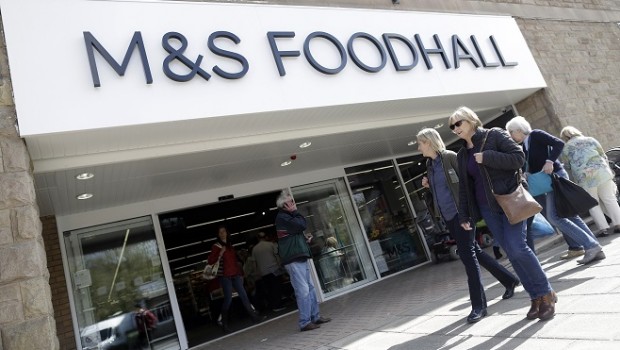 Citi upgraded its recommendation on Marks & Spencer shares to buy' from 'neutral' on Monday, as it argued that the investment case is "evolving".
"Understanding the cultural change and the Ocado Retail JV is paramount to understand the rationale for this pivot," it said.
Back in February, M&S said it was buying a 50% share of Ocado's UK retail business for up to £750m. It said at the time that the JV would accelerate its food strategy as it enables the company to take its food online in an "immediately profitable, scalable and sustainable way".
Citi, which also lifted its price target on M&S to 330p from 290p, went on: "Accordingly we have undertaken a detailed bottom-up scenario analysis of the Ocado Retail JV with Citi's Food Retail analyst Nick Coulter. We consider the aggregate of the structural changes has the potential to re-invigorate the M&S business to a greater degree than investors expect."
It said the Ocado JV is an "elegant" solution to a structural gap in the M&S business model and reflects a bold decision to buy into a market leading online proposition.
"M&S is a business which is making itself more relevant for the next decade," Citi said, adding that its bottom-up scenario analysis suggests a possible £4.7bn sales base and £334m EBITDA after 15 years.
Goldman Sachs has downgraded its rating on Man Group and cut 2019 earnings forecasts, over concerns about the strength of the market and the firm's portfolio.
Assets under management at Man Group, an active investment management firm and hedge fund, decreased by 1% in 2018 against Goldman's expectations for 15% growth.
In a note published on Monday, the bank stated: "The lower starting base of AUM for 2019 will materially impact the future revenues on our estimates.
"Despite our expectation of AUM growth of 12% for 2019 from the new lower base of 2018, we see no growth in management fees for 2019 year-on-year, due to the loss of AUM concentrated in the fourth quarter of 2018."
It continued: "Additionally, performance fees in 2018 of $127m fell significantly below our expectations of $200m. As the performance fee-paying funds started 2019 on average 4.7% below high watermark, and given the current market volatility, which we believe will negatively impact the performance of Man's key performance fee-paying strategies, we decrease our expectations for performance fees in 2019 to $200m, from $220m previously."
The bank said it had adjusted its forecasts to reflect "the more recent trends in the market and in Man's portfolio", cutting its estimates for 2019 earnings "materially" and slashing its price target to 150p from 205p. It now has a 'neutral' rating on the stock, downgraded from it's previous 'buy' recommendation.
However, Goldman Sachs did concede that "higher or lower than expected net flows and significant swings from our fee margin forecasts could materially affect our estimates".
Shopping centre owner Intu Properties slumped on Monday as JPMorgan Cazenove downgraded its rating on the stock to 'underweight' from 'neutral' and cut the price target to 94p from 116p saying there was more downside from here.
JPM said that despite a tough 2018, the outlook for Intu hasn't stabilised.
It said values should continue to fall and the possibility of selling UK assets at book value is diminished given a weak rental outlook. In addition, JPM said Intu Trafford financial break costs could reduce net asset value by around 20p, contributing to a 30% drop in NAV this year.
"Despite the recent material cut to rental growth guidance (up to -6% in 19) the shares are flat over the last three weeks and up 7% from a 52 week low in May, but there remains no dividend, the earnings outlook is hard to quantify and relative to other retail peers (that pay dividends) the future earnings per share multiple does not look compelling," said JPM.
"There are few anchors for the share price in our view. New CEO Matthew Roberts and team are doing all they can, but we don't see the outlook turning around soon."
Analysts at HSBC revised their recommendations for Royal Dutch Shell's A and B shares from 'hold' to 'buy' following the oil major's latest quarterly figures, telling clients that they saw "little, in general, to give us concerns on the outlook."
Given that the break-even price of oil for the oil majors was in the low-$50s, they concluded the group was now set to enjoy "a period of sustained excess free cash flow and strong cash distributions, and the growth outlook is solid."
Valuations looked attractive across the sector, particularly in light of the recent 5% correction, and now anticipate the group will be able to keep up a $10bn annual pace of share buybacks past the 2020 end date for the current programme.
The analysts also indicated that they were "increasingly comfortable" with Shell's financial framework.
"Any messaging in this regard at the 4 June Management day could be important for investor sentiment, as would reassurance that the capital framework includes any possible acquisitions," HSBC said.
The buybacks would also allow the dividend cost to be cut "to more manageable levels" and the 4% reduction they implied in the company's equity base would offset its relatively lower top-line volume growth.
HSBC nudged its target price for Shell's A shares up from 2,710p to 2,740p and that for its B shares from 2,730p to 2,740p.