Broker tips: Bellway, Eckoh, Cineworld, HSBC, Barclays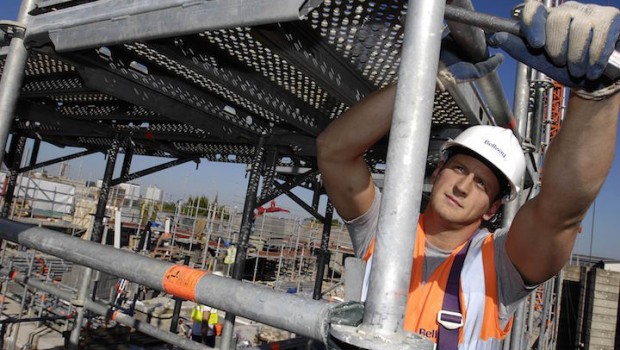 Analysts at Berenberg raised their target price on construction firm Bellway from 3,240.0p to 4,180.0p on Wednesday, stating the group's record land buying showed "fresh confidence".
Berenberg said so far in 2021, Bellway had been "one of the best performing housebuilders", up 22% versus the sector and, as a result, the share price had closed the discount to its historic average multiple of 1.3x book value.
Despite this, the German bank still thinks that upside to forecasts remain in the near-term and, longer-term, said it was "confident" that Bellway will continue to be "managed well" and can increase volumes towards its roughly 4,000 capacity while delivering "attractive returns" for shareholders.
Berenberg, which stood by its 'buy' rating on the stock, noted that Bellway was the only volume housebuilder with an unbroken dividend track record and that it had grown tangible book value per share by 159% over the last decade.
The analysts also highlighted that for the last several years, Bellway had maintained its landbank at four years, the lower end of its guided range of 4-5 years. Berenberg stated that management had indicated that it wishes to increase it closer to five years and, in the first half, it contracted to buy a record 8,848 plots and hopes to complete 16,000 deals in the year.
Analysts at Canaccord Genuity raised their target price on software and services firm Eckoh from 75.0p to 88.0p on Wednesday, stating the group was "well-positioned" for the 2022 trading year and beyond.
Canaccord said Eckoh had posted revenues in line with market expectations and adjusted underlying earnings "slightly" above the prior, meaning that second-half revenues had increased a low-single-digit percentage and adjusted EBIT was flat.
The Canadian bank views this as "an impressive performance" considering the second half of the prior year was "essentially pre-Covid-19".
Canaccord noted that Eckoh's statement also outlined 2022 full-year guidance for revenue and profit to be comparable with 2021 before "material year-on-year revenue and profit growth" in the 2023 trading year, leading the analysts to reinstate their forecasts for 2022 and 2023 and remain with their 'buy' recommendation.
Barclays reinstated coverage of Cineworld at 'equalweight' on Wednesday with a 115.0p price target as it said a blockbuster year was needed to aid deleveraging.
The bank said that while vaccine news flow is encouraging, until consumers have a full content offering it is very hard to predict the trajectory of recovery.
"Our perspective is that Covid has clear implications for areas such as the release window. However, far from being the death knell of cinemas, the pandemic has shone a light on the important role cinema plays in creating interest in high profile content for when it is available in the consumer's home," it said.
"A shorter window creates less revenue for cinemas, but in 2019, the top-20 releases generated 89% of their box revenue after 31 days, and 95% of revenue after 45 days. This would be a headwind, but not a game-changer for the industry, in our view, and is consistent with our FY23E revenue/EBITDA (IAS-17) of 95/94% FY19."
Barclays also noted that the 2019 US box office was weaker than 2018, so it is not comparing against the peak year.
Analysts at Numis have upgraded their view on shares of HSBC following the lender's first-quarter results but cautioned clients that there was a risk of a "short squeeze" in the stock at some point.
The analysts upgraded their recommendation from 'add' to 'buy' and hiked their 12-month target price from 465.0p to 525.0p, reflecting a 10.0% upward revision to their estimate for HSBC's full-year normalised free cash flow, higher expected dividend payouts between 2021 and 2023 and projections of greater excess capital at the end of 2023.
Numis also stated that the lender's net interest margin would bottom in the second quarter of 2021, before initiating a gradual recovery.
"The speed and scale of this will be largely rate dependent, but with medium-term rates already rising we believe the risk is to the upside. With loan growth recovering to c4% per annum we believe net interest income should comfortably grow at 5-6% from 2022E, driving total revenue growth of at least 4-5%," they explained.
"With many investors structurally underweight HSBC, reflecting the amount of stock held by Ping An (8%) and Hong Kong retail investors (c.30%), we believe there is the risk of a squeeze in the share price at some point."
Analysts at JP Morgan reiterated their 'overweight' stance and 210.0p target price on shares of Barclays, telling clients that the lender's earnings recovery was on track despite management's messaging on costs.
JPM bumped up its estimate for Barclays' 2021 earnings per share by 6%, while it kept its EPS estimates for 2022/23 unchanged, in anticipation that higher costs would be offset by revenues and impairment.
In particular, they highlighted how Barclay's actions, including the real estate restructuring, would likely be accretive to the group's cost-to-income ratio in 2022/23, with consensus estimates currently not expecting the lender to achieve its 60% CIR target by 2023.
JPM also continued to see "scope for significant improvement in Barclays' retail and cards revenue into 2022", with consumer borrowing "likely to increase" and management "likely to adjust structural hedging" in order to reflect increased deposit balances and a steeper yield curve.