Broker tips: AO World, 3i, Ferguson, Tyman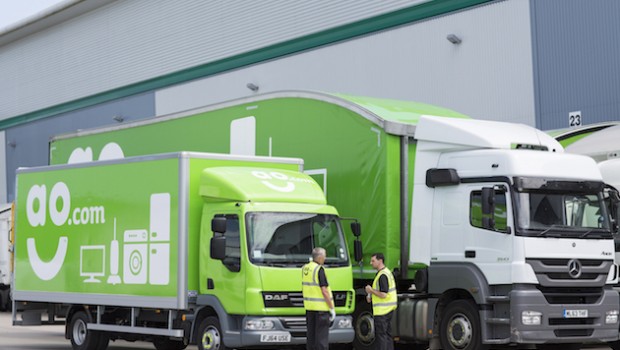 Shore Capital upgraded its stance on AO World to 'hold' from 'sell' on Friday following recent share price declines.
Shore noted that shares of the online electrical goods retail have fallen to 79p from 111p over the past month and dropped 53% over the last 12 months, currently standing towards the broker's fair value range of 60p to 79p.
"Our view on the company for the last 18 months has been that the share price was too far ahead of events, but given the recent material share price movement downwards, we believe that now is the right time to pause for breath," said analysts Greg Lawler and Clive Black.
Shore said AO's annual results showed continued momentum in the UK, with revenues up 10.1% and 5.7% on a like-for-like basis, excluding revenues from the recently-acquired mobile phones business.
"The company continues to move towards a breakeven point for the European division during FY2021 and this will be an important strategic milestone," it said.
As far as the valuation is concerned, the analysts noted that AO trades on a one-year EV/EBITDA multiple of 43.0x, falling to 25.4x in FY2021.
3i Infrastructure deserves its premium rating but is fully valued, Royal Bank of Canada said as it downgraded the investment company to 'sector perform'.
3IN's portfolio assets have growth potential and the company's strong balance sheet gives it options for further investments, RBC analysts said. Returns are likely to be at the top of 3IN's 8-10% medium-term target and the dividend may also increase faster than expected.
Despite these positives, RBC cut its rating on the shares from 'outperform' after their strong performance left 3IN trading at a near-record 23% premium to ex-dividend net asset value. The broker kept its 295p price target on 3IN shares.
"We believe that the strong premium is justified given the organic growth prospects for the portfolio and market leading returns," RBS said. "However, we await a better entry point for 3IN as we see the stock as fully valued on a 12-month view."
Analysts at Berenberg downgraded their rating for Ferguson shares from 'buy' to 'hold' on Friday amid concern over a slowdown in US construction activity outside of the residential sector and in the Canadian housing market, following years of "exceptional" growth, adding that it would take time for the effects of Trian's stake building in its capital to make themselves felt.
In a research note sent to clients, analysts explained that while new build housing data had softened since autumn 2018, the company's other end markets had held up.
But more recently, there had been an across the board slowdown, with with repair, maintenance and improvement indicators such as the National Association of Home Builders' remodelling index and non-residential indicators such as the Architecture Billing Index pointing to a slowdown in growth.
This slowdown has started to impact the numbers, with US like-for-like growth at the plumbing and heating products producer slowing to 3.3% in the third quarter from 9.6% over the first half.
"With management having already reduced guidance for H2 to 3-5% like-for-like growth, we now also apply this to our outer year forecasts. We still believe Ferguson will be able to outperform peers given its focus on service and position in the market. However, with reduced certainty in end-markets, and the softening in the Canadian housing market, we think there is limited upward pressure on earnings," said the note.
Berenberg lowered its earnings per share estimates for 2019-12 by between 4.0-7.0%.
The analysts also cut their target price for stock from 6,500p to 6,000p, noting Guernsey-based activist shareholder Trian Investors decision to take an approximately 6% stake in Ferguson with the aim of closing the discount with US peers.
Analysts at Canaccord Genuity downgraded their recommendation for shares of engineer Tyman to 'hold' from their previous 'buy' rating, cutting their target price on the homebuilding products firm's shares to 265p from 300p after revising its estimates lower on the back of macro uncertainties.
Cannaccord highlighted recent macro data points and trading comments from peers, which it felt pointed to "an abrupt slowdown" in the US construction market, with growth "grinding to a halt".
"Residential markets have been particularly weak year to date and this is a key end market for Tyman; US public construction has been the strongest end market and the group has negligible exposure to this. In the context of weaker US markets, we cut our US forecasts for the group," said Canaccord.
The Canadian broker also noted that Tyman had recently had a "poor track record" of taking market share and with a relatively stretched balance sheet, it believed growth was unlikely to be supported by further sizeable acquisitions.
Canaccord also pointed to other potential risks stemming from further macro downside and disruptions caused by tariff changes in the US.
"While the rating looks low and the shares appear to offer value over the medium term as management improves operational performance, this will take time to deliver and show through," said Canaccord.
"In the near term, trading conditions in the US have become more challenging than expected earlier this year and leverage continues to be relatively high compared to peers."
As a result of its concerns Stateside, Canaccord cut its 2019 pre-tax profit estimates on Tyman to £79m from £82.5m and lowered its revenue forecast to £644.3m from £654.7m, noting it would likely be 2020 at the earliest that investors could expect to see any results from operational improvements.
"Shares are on a low rating at c.6.5 times EV/EBITDA for 2019E with a dividend yield of c.5.5%. There is clearly potential for a re-rating but with weak US markets hampering earnings momentum and it still being early days for the new CEO and CFO, we are cautious in the near term despite the low rating," concluded Canaccord.