EU to offer checks 'away from Irish border' to break deadlock in negotiations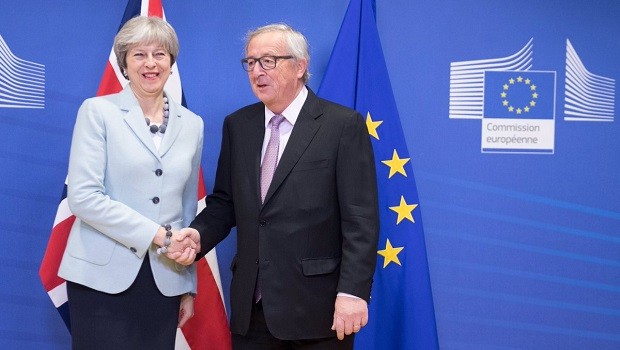 The EU is set to table a proposal that would involve checking goods destined for Ireland close to their source, rather than at ports, in a bid to try and avoid a hard border in Ireland and down the Irish sea.
According to The Guardian, in a move designed to break the deadlock in Brexit negotiations, the proposed checks "away from the Irish border" and as near as possible to the source could take place across the country and not just at ports such as Holyhead or Liverpool.
The proposal might help reduce the concerns of the Democratic Unionist Party regarding a border down the Irish sea that would separate Northern Ireland from the rest of the country.
The DUP, whose support is essential for Theresa May's government, threatened to vote against any Brexit deal that would single out Northern Ireland.
This means that if the EU's backstop proposal, that would see Northern Ireland remain aligned with the EU after Brexit, is included in a potential Brexit deal the DUP would withhold its support in Parliament.
Another option for the UK would be to remain aligned with the EU in some areas, such as a veterinary agreement that would reduce the need for health checks on food produce.
Although until recently the possibility of any sort of alignment with the EU was opposed by Tory Brexiteers, who claimed the government would be acting against the will of the British citizens, it seems that Tory rebels are ready to give the PM some space to manoeuvre.
According to the Times, Brexiteers warned the PM on Sunday that she could keep Britain aligned with the EU customs arrangements only until 2022 in a bid to unlock the stalemate in negotiations. If accepted by the EU, this could prove to be a temporary solution to the Irish border issue.
The final Brexit deal proposal is set to be unveiled on 15 October, just days ahead of the EU summit on 18 October.
Senior EU officials Donald Tusk and Jean-Claude Juncker said on Friday they believed a deal was within sight, hopefully as early as 18 October. Nevertheless, the UK government on the other hand, said there remains "big issues to work through" before a deal is inked.
A Downing Street spokesman said on Monday: "It's worth me pointing out that there is a difference between people talking optimistically about a deal and a deal - including both a withdrawal agreement and a future framework - actually being agreed.
"There remain big issues to work through and, as the PM has said, this will require movement on the EU side. There can be no withdrawal agreement without a precise future framework," he added.