Week ahead: Inflation in focus, results from Tui, Galliford Try, Shire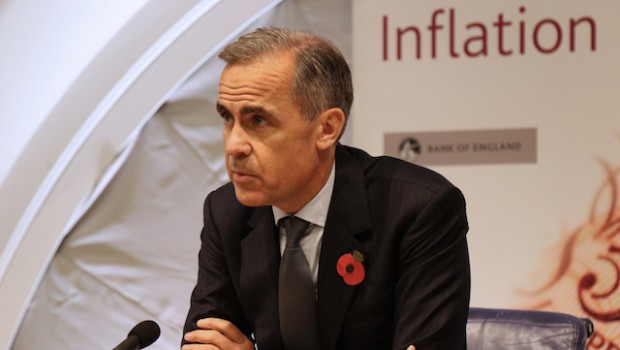 UK inflation data on Tuesday is especially important as markets look for data to strengthen or weaken the Bank of England's conviction to increase interest rates as early as May, with US inflation the following also under the microscope.
Inflation expectations Stateside have been rising but the consumer index price data on Wednesday are expect to show core CPI data for January remains subdued when prices for fuel and food are excluded.
This "might at least temporarily alleviate concerns about a monetary tightening in the US" said Allianz Global Investors global strategist Stefan Scheurer.
RBC Capital Markets was looking for UK CPI inflation to have risen slightly back to 3.1% in January from 3.0% in December, which will require BoE governor to get his typewriter out again.
"In our assessment, though, it is fairly finely balanced, so we would not be too surprised to see inflation remain at 3.0% y/y and that would be in line with the Bank of England's latest short-term forecast contained in the February Inflation Report.
"With the oil price having risen significantly in recent months, it now seems more likely that CPI inflation will be relatively slow to fall in 2018 even though the impact of previous exchange rate depreciation starts to fade."
A second reading on European GDP on Wednesday is not expected to see any revision to the initial 0.6% rate of quarter-on-quarter growth, though Germany and Italy are also reporting their individual growth this week.
The company calendar is not too busy in the UK, with a quiet Monday that has no big names scheduled but numbers from smallcap stock Pendragon; then Tuesday we are due to get prelims from Acacia Mining, quarterly results from Tuiand interims from Animalcare and Hargreaves Services; on Wednesday there should be interims from Galliford Try plus finals from Coca-Cola Hellenic and Shire; on Thursday the agenda has interims from ConvaTec alongside full-year results from Indivior, Lancashire and Relx; with Friday's only FTSE 350 results expected to be Segro's prelims.
Turning to next week for commodity markets, Capital Economics said the lead could continue to be taken from developments in broader financial markets. "We are not expecting a significant rebound in US equities in the coming weeks, but nor do we expect the rout to continue. Away from the markets, President Trump is set to unveil the details of his $1.5trn infrastructure plan on Monday and China's Lunar new year holiday will start on Friday."
Summing up the market and macro themes in their preview of the week ahead, economists Dankse Bank said they viewed the sell-off in stocks as "a correction - the upward trend is supported by strong profit growth", with data this week adding to the picture of a robust global recovery underpinning profits, though they see bond yields as likely to increase further in February.
Monday February 12
Q3
Gail (India) Ltd GDR (Reg S)
GMS
Dechra Pharmaceuticals, Styles & Wood Group
TRADING ANNOUNCEMENTS
YouGov
FINAL EX-DIVIDEND DATE
TUI AG Reg Shs (DI)
Tuesday February 13
INTERIMS
A&J Mucklow Group, Oncimmune Holdings, Pan African Resources
FINALS
Acacia Mining
AGMS
F&C Capital & Income Inv Trust, FastForward Innovations Limited, MXC Capital, Pressure Technologies, RWS Holdings, TUI AG Reg Shs (DI), Watkin Jones
UK ECONOMIC ANNOUNCEMENTS
Consumer Price Index (09:30)
Producer Price Index (09:30)
Retail Sales (09:30)
Wednesday February 14
INTERIMS
Galliford Try
INTERIM DIVIDEND PAYMENT DATE
Puma VCT 10 , Puma VCT 9
INTERNATIONAL ECONOMIC ANNOUNCEMENTS
Business Inventories (US) (15:00)
Consumer Price Index (US) (13:30)
Crude Oil Inventories (US) (15:00)
GDP (Preliminary) (EU) (10:00)
GDP (Preliminary) (GER) (07:00)
Industrial Production (EU) (10:00)
MBA Mortgage Applications (US) (12:00)
Retail Sales (US) (13:30)
Q4
Coca-Cola HBC AG (CDI)
GMS
Rockrose Energy, Vast Resources
FINALS
Coca-Cola HBC AG (CDI), Plus500 Ltd (DI), Shire Plc
FINAL DIVIDEND PAYMENT DATE
Dewhurst, Dewhurst (Non-Voting), Tharisa (DI)
Thursday February 15
INTERIMS
Ashley (Laura) Holding, City of London Inv Trust, InnovaDerma
INTERIM EX-DIVIDEND DATE
Conviviality, Gateley (Holdings) , Hargreaves Lansdown, Henderson Smaller Companies Inv Trust, Mattioli Woods, Mountview Estates, Murgitroyd Group, PRS Reit (The) , PZ Cussons, Rank Group, Residential Secure Income
QUARTERLY PAYMENT DATE
Anglo Pacific Group, Marsh & Mclennan Cos Inc.
QUARTERLY EX-DIVIDEND DATE
BP, MedicX Fund Ltd., Raven Russia Ltd. Cum Red Pref Shares, Royal Dutch Shell 'A', Royal Dutch Shell 'B', Supermarket Income Reit, The Renewables Infrastructure Group Limited, Unilever
INTERNATIONAL ECONOMIC ANNOUNCEMENTS
Balance of Trade (EU) (10:00)
Capacity Utilization (US) (14:15)
Continuing Claims (US) (13:30)
Industrial Production (US) (14:15)
Initial Jobless Claims (US) (13:30)
Philadelphia Fed Index (US) (13:30)
Producer Price Index (US) (13:30)
Q4
Lancashire Holdings Limited
FINALS
Indivior, Lancashire Holdings Limited, Primary Health Properties, Relx plc
EGMS
Hellenic Telecom Industries SA ADS
AGMS
Inspirit Energy Holdings, Paragon Banking Group, Petro Matad Ltd., Sanderson Group
TRADING ANNOUNCEMENTS
Aveva Group, Trifast
FINAL DIVIDEND PAYMENT DATE
Cardiff Property, easyHotel, Euromoney Institutional Investor, Income & Growth VCT , On The Beach Group
FINAL EX-DIVIDEND DATE
Avon Rubber, Henderson Opportunities Trust
Friday February 16
INTERIM DIVIDEND PAYMENT DATE
Consort Medical, Fletcher King, Solid State
INTERNATIONAL ECONOMIC ANNOUNCEMENTS
Housing Starts (US) (13:30)
Import and Export Price Indices (US) (13:30)
Wholesale Price Index (GER) (07:00)
FINALS
SEGRO
SPECIAL DIVIDEND PAYMENT DATE
Victrex plc
UK ECONOMIC ANNOUNCEMENTS
Retail Sales (09:30)
FINAL DIVIDEND PAYMENT DATE
Autins Group, Baring Emerging Europe, CYBG , Dunedin Smaller Companies Inv Trust, Shaftesbury, Third Point Offshore Investors Limited, Third Point Offshore Investors Ltd. GBP Shares, Tracsis, TUI AG Reg Shs (DI), Victrex plc